It's said the French dip sandwich was created in Los Angeles in 1918 by Philippe Matthieu.
The story of it comes from a mere accident, on a fateful day in 1918 a policeman coming in for a sandwich was running late for work. Matthieu dropped the French roll in a roasting pan filled with juice, but the man decided to take the sandwich anyway.
The next day the policeman returned with his friends asking for it to be dipped again. On the corner of North Alameda and Ord Streets lies a classic shop named Philippe the Original.
The relocated Philippe's, open since 1951, greets customers with a candy station to the right and vintage telephone booths to the left. Neon beer signs above the chalkboard menu signal Philippe's is a second home for Los Angeles Dodgers fans.
Walking throughout the first seating room a range of old Dodgers bobbleheads placed in glass cases above the serve-it-yourself water station are seen. Newspaper articles about the Dodgers from the L.A. Times are placed on the walls in glass cases.
It serves people looking for a good quick meal on a casual day, business conversations, workers on their break, lovers on a meal run. It serves it all.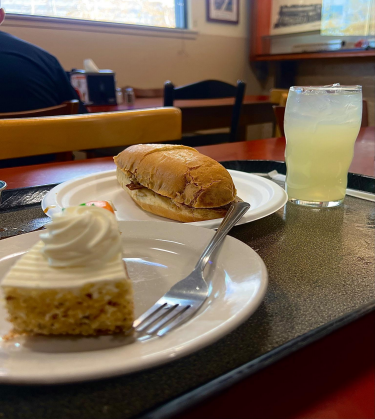 The French dip is a French bread roll dipped in the juices of the roast beef. It's added with sides of choice. Each bite carries the rich flavor of the spices it's cooked with, adding the perfect amount of moisture to the sandwich.
The classic roast beef French dip starts at a whopping $10.95. They offer pork, lamb, pastrami, ham and turkey dips. There are options of having it single dipped, double dipped or wet. Philippe's offers sides of coleslaw, potato salad, macaroni salad, hard boiled eggs pickled in beet juice and pickles. Friendly staff offers quick service along with the choice of house made hot mustard or regular.
They have selections of desserts, as well, including a carrot cake topped with cream cheese frosting which was rather eye-catching.
A lemonade, on the sweeter side, is a mere 90 cents, which may shock some customers. The macaroni salad which has a sweet acidic taste is a wonderful side addition to the juicy roast beef sandwich Philippe's has to offer.
The carrot cake was cinnamon goodness in every bite with a cream cheese frosting, and the texture is on the denser side. They also serve to-go orders giving the perfect amount of juice to take home with you.
There are two seating areas in the restaurant.
In the second seating room, there are about a dozen photographs capturing the history of railroads in the city throughout 1908-2008. Creating an ambience of a classic era only seen in the 20th century.
Philippe's is a classic staple of LA natives and a destination necessary to attend when visiting. The restaurant likes to say nothing but their prices have changed.