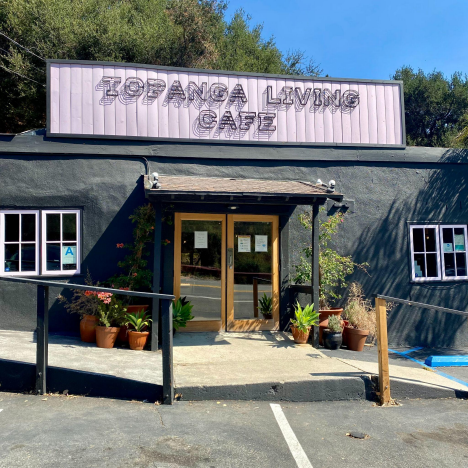 Just off Topanga Canyon, there lies a coffee bar oasis named Topanga Living Café, or TLC as locals call it.
Inside this café lives an all-natural interior with modern wood-paneled walls and plants tucked in every corner. There were porcelain tables with small vases of wildflowers placed on top and stylish wooden chairs beneath the table.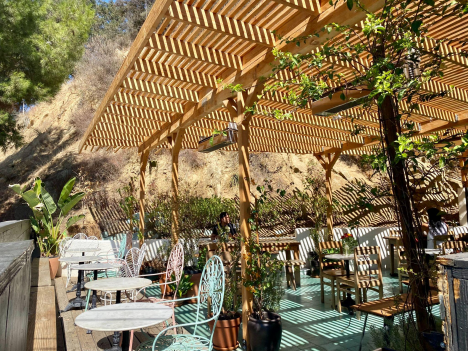 Outside was a dog-friendly patio decorated with wooden tables and colorful metal chairs, all protected by a wooden awning. With vines wrapping around the cover, it offered guests shade as they enjoyed their meals on the outdoor patio.
Back inside, there were charger ports at every table and free WIFI available to customers, making this a great study spot for students. Not to mention their long list of refreshing beverages and caffeinated drinks. Topanga Living Café also has a diverse menu of breakfast and lunch items, each item more enticing than the last. 
Their drink menu consists of lattes, espressos, matcha, teas, and smoothies.
They also have several vegan options, including their neon-colored beet hummus. Topanga Living Café has various toast options, some with avocado, some with hummus, and others with sauerkraut. The café has a list of pastries savory or sweet, everything from spinach and cheese croissants to pistachio buns. TLC has egg breakfasts, tacos, and sandwiches, and colorful salads listed on their menu.
Most dishes were almost too impressive to eat as each plate had beautiful multicolored edible flowers. Even without the decorative garnishes, items like their avocado toast were a lively mix of green, pink, and yellow.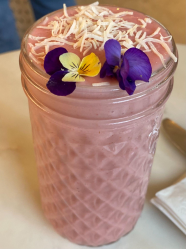 Their Red Rock smoothie was rosy pink with thin crunchy coconut shavings sprinkled on the top, and three flowers rested on the rim of the mason jar.
The smoothie consisted of three simple ingredients (strawberries, bananas, and almond milk). Despite the small ingredient list, the smoothie was flavorful and exciting to drink.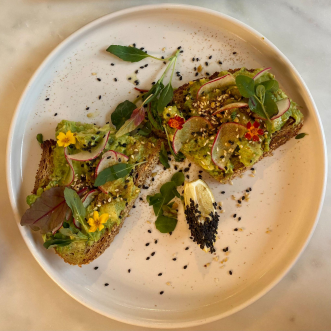 Their "smashed avo" toast is mashed avocado spread across seeded rye toast and thin shavings of radish placed evenly across the toast. Leafy greens, sesame cover the toast, and a lemon slice comes on the side of the dish.
The Topanga Living Café is a great place to visit to study, hang out with friends or grab a quick bite on the way to the beach.
Topanga Living Cafe
1704 N Topanga Canyon Blvd, Topanga, CA 90290
Monday through Sunday 8AM-3PM