Imagine you are walking down the street in Los Angeles on a cool winter day. You are in your seasonal depression zone and happen to stumble upon a cute little storefront that has cats sprinkled all over. You decide to walk in and discover that you can squeeze your depression out, while sipping on a hot chocolate and can walk home with a polaroid of you with your new favorite furry friend.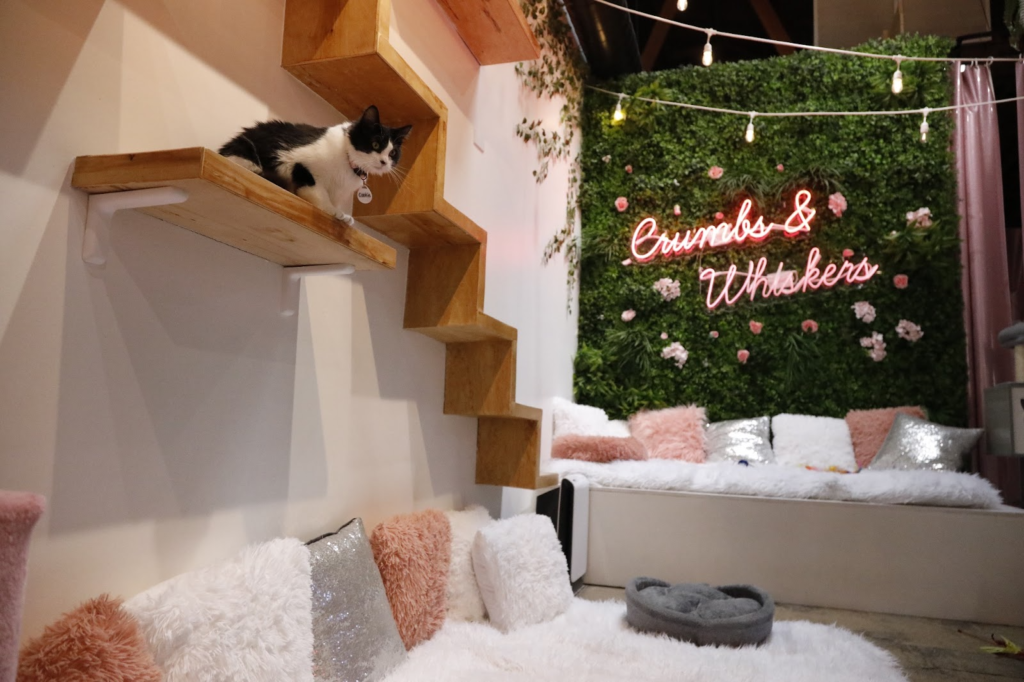 This bitesize shop on the corner of Melrose Avenue is the place to go if you are looking to adopt or even just hangout with cats while snacking on a pastry or sipping on a warm or cold beverage.
Crumbs and Whiskers has a glass window at the front to drag customers and potential adopters inside. Small lounging platforms are scattered over the window and walls for cats to doze on and off on.
Many customers stumble upon Crumbs and Whiskers in the flesh. This non-profit allows walk-ins with reasonable fees per session. Booking tickets for a timeslot is also available online through their website. While tickets are not too cheap, the price is well worth the company.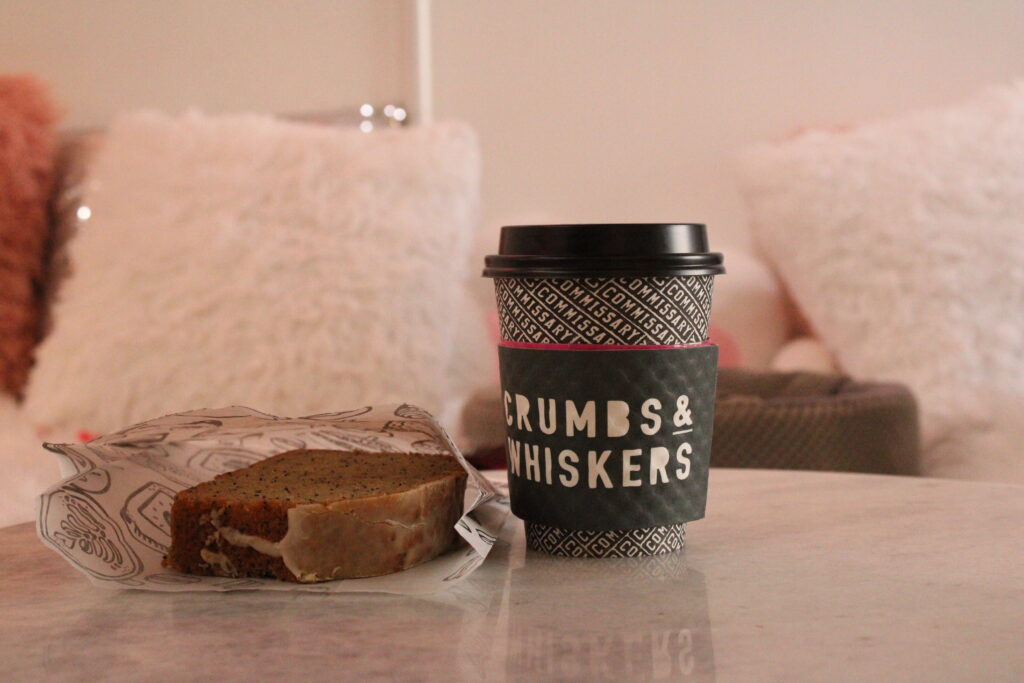 With two thriving locations in Los Angeles and Washington DC, Crumbs and Whiskers offer 'Sips and Nibbles' while passersby enjoy the calming company of the adorable cats and kittens. The delicious Sips range from $3.95 to $4.95. Consumers have the option to veganize any of the drinks with an additional $1. Grumbling stomachs crave the satisfying Nibbles that are between $3.95 to $7.95. The scrumptious melty chocolate chip cookies are great accompanied with a sweet and soothing warm hot chocolate.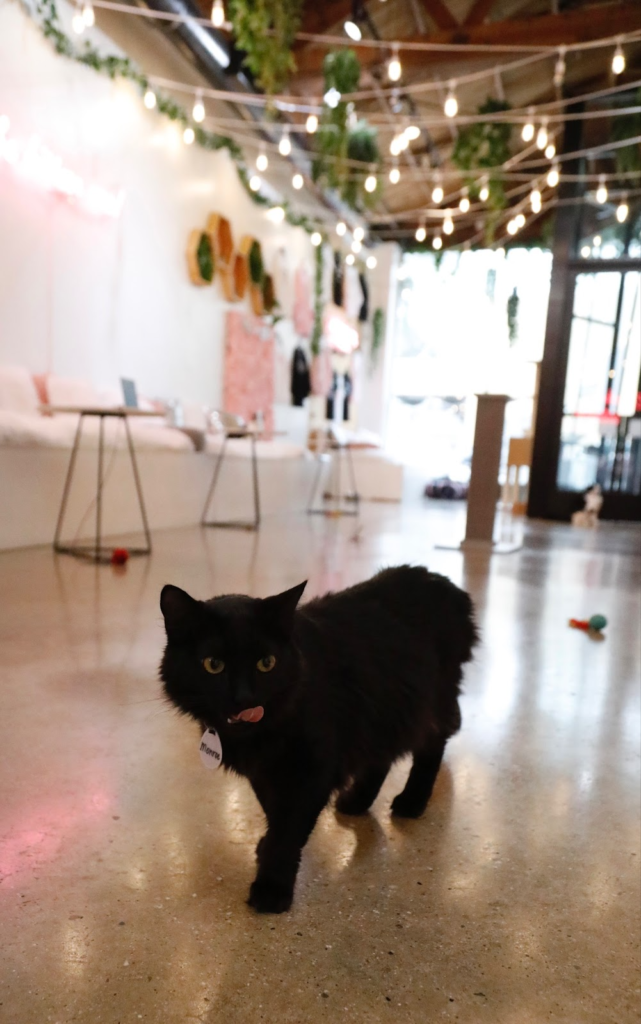 Photo by Rachael Rosenberg
Employees of Crumbs and Whiskers are trained to treat their purring guests with kind intent. Customers receive a two minute guideline speech after cleansing hands and removing shoes to reduce pressure from external limbs onto the cats.
Adoptions are conducted through the organization The Cat's Meow. Adopters go through a homecheck after an application has been approved. The adoption process appears to be easy and the donation recommendation is accommodating to most people.
At the end of each session, customers receive the polaroid along with a sticker. Merchandise is available to purchase. Crewnecks and T-shirts with cute slogans are from $26.50 to $59.50.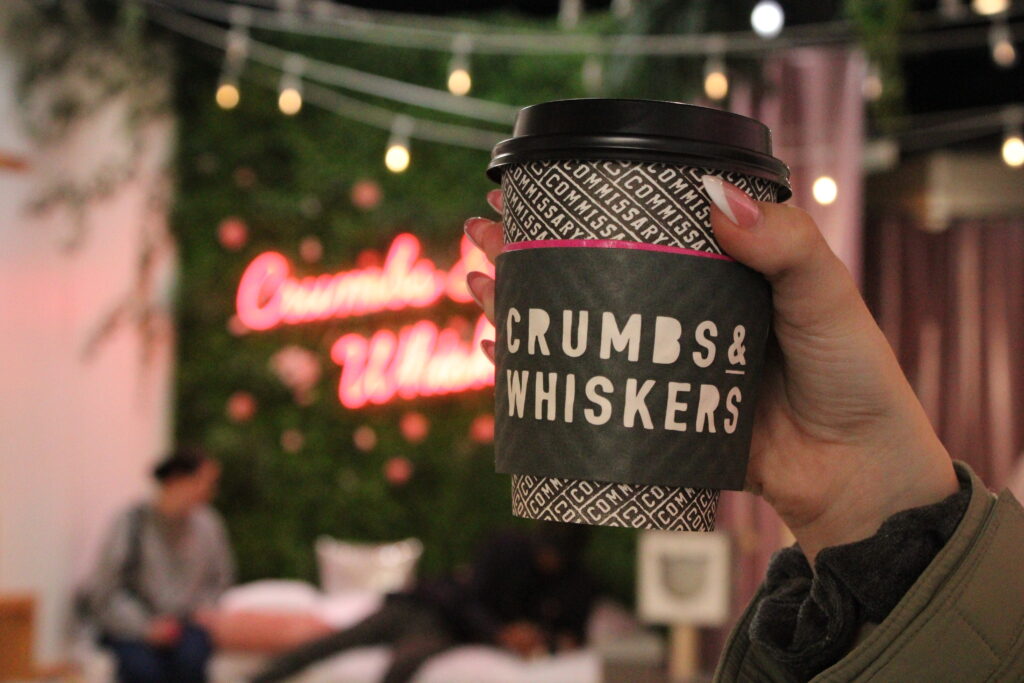 Info Box
For more information, check out crumbsandwhiskers.com and inquire with questions by email– a form is provided on the website– or by phone– 323-879-9413.
Los Angeles location: 7924 Melrose Ave, Los Angeles, CA 9004. Washington DC location: 3109 M St NW, Washington, DC 20007.