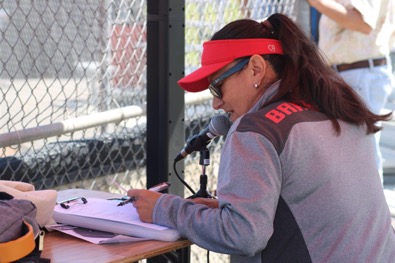 From dreaming about being a doctor to becoming one of the first woman to run the Athletics department at Pierce College.
Susan Armenta is a director and a teacher of Kinesiology and wellness, her main belief is that exercise doesn't have to be so dreadful but can be fun and that your body is able to do amazing things as long as you believe in yourself and train it.
''I enjoy the teaching aspect and the interaction with the students and athletes. So making an impact, whether it's through kinesiology or by teaching health and Wellness'', Armenta commented.
She grew up in Riverside, California, in an area called Rubido, she finished high school in the area.
As she continued studying she changed majors as she discovered what her passions were and what truly made her happy is being able to help students and peers with her knowledge and commitment to the job.
Susan went to College trying engineering and then architecture, graphic design and then English, ending up with a bachelors of science in Kinesiology at Cal State San Bernardino and masters in Kinesiology at San Jose State University in 2009.
Armenta also competed in intercollegiate cross country and track and field at Parkside and at Cal Poly Pomona and the University of Wisconsin.
One of her first main jobs in the field was sports marketing and sports management at a retail sporting goods company in the Bay Area called Sports Basement and also managed a fitness center at Adobe as the program director for a nonprofit called the Bay Area Women's Sports Initiative running an after school programs for girls in 3rd grade through 6th grade and also for the moms.
''It was really, really exciting and fulfilling, I enjoyed it a ton, so those were my main jobs before I got into teaching'', Armenta said.
When things got difficult she never gave up her passion and decided to come back to Southern California and open a fitness center with her brother. They had group exercise classes, boot camp and Zumba. They named it ''move it to fitness'' out in San Bernardino.
''I decided I needed to get another income'' she commented, then she got a part time teaching job in the Bay area, before applying for a full time job at Pierce College teaching Kinesiology and now being the director of the athletics department, according to her peers the department has seen positive progress for the future of the Athletics department at Pierce since Susan took over.
''I literally love Susan, I thought she's been phenomenal as far as advocating for athletics she's been amazing'', soccer coach Adolfo Perez said, he also added that ''it's tough to come in when you don't have enough support and we've done some really good things, as me personally with the baseball program''. He mentioned that more buses and repairs to the field had been done since she took over the athletics department.
One of her most emotional and amazing experiences while teaching was at a Zumba class. A student that had a stroke and wasn't able to move her arm asked if she could join the class. Susan said the student came in limping and couldn't really move.
''She is so student-centered and truly has a concern for the best interest of students and their well-being. She's an extremely empathetic, compassionate, a great leader who has a wonderful energy and a pleasure to be around. She is truly a blessing and we see a light at the end of the tunnel in the Athletics department'', Joseph Roberson, athletics counselor expressed.
Week after week Susan saw the improvement in her student, little by little she was able to move her arm and run. ''She came in after class and she was all dressed up and told me now that she was able to move, she could actually get a job and was helping her family'', Susan said about her student.
''I want to be able to wear high heels one day'' Susan's student said ''you're going to get there don't worry'' Armenta answered. ''She came to visit me and was wearing high heels'' she commented.
''I believe in my students and in people that are trying to put in the effort, you just need to believe in yourself'', Susan said with tears in her eyes.