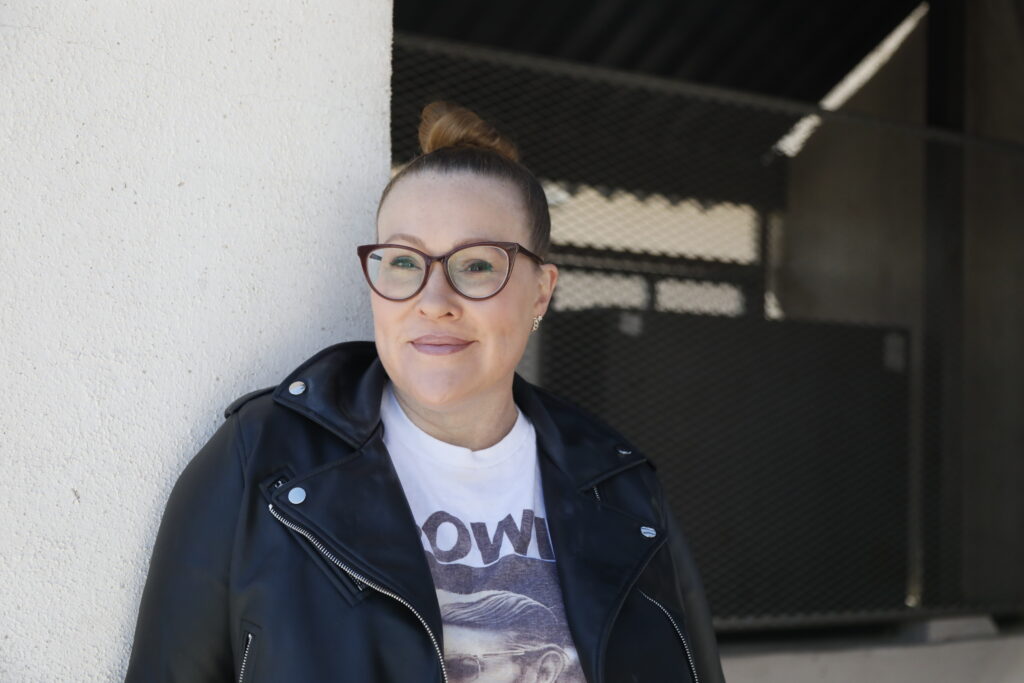 The last thing Stacy Long wanted was to follow in her mother's footsteps and become a teacher. 
Until she got a phone call from her old professor.
"Rob O'Neil called me and he goes, 'Our PR teacher quit,'" Long said. "He goes, 'Listen, do it this one time for me. We have students already enrolled. You have the qualifications, you have the experience, and you have the background. We can get you hired, but we need you Monday.'" 
It was Thursday when Long received this phone call and she was not too happy about it.
A fanatic for heavy metal and punk rock music, she has turned that passion into a career in music public relations.
"I didn't want to teach because my mom's a professor," Long said. "I wanted to be in rock music. But I did it. And I freaking loved it."
She realized—who says you can't do both?
Since that day, Long has been balancing her career as a music PR specialist and a public relations professor at Pierce College and CSUN.
Working with dream clients, including David Bowie and Green Day, Long has gathered years of experience and industry knowledge, making it easier to guide her students.
"I think the teaching has helped my work. And my work has really informed my teaching," Long said. "Because I have my own business, I can make both happen. I've never wanted to change that dynamic, I like doing a little bit of both."
Aside from her career, Long still regularly attends concerts and listens to rock music. She spends her free time going to shows, having brunch with her media girlfriends, and running her cat's Instagram.
"I jokingly call myself the cruise director," Long said. "Because I'm like, 'We're all going to the show and this is what time you have to be here, and here's the ticket. Come on, we're going to a show.'"
Moving from San Luis Obispo to Los Angeles, Long failed her first year in college. She worked in retail for a few years, before enrolling in Pierce College, where she found journalism.
"I joined the Roundup [newspaper] and spent a year and a half there," Long said. "It was there that I was made aware that PR was a thing and I found out you could do PR for bands and music artists."
Long transferred to CSUN and got her degree in journalism with an emphasis in public relations.
"I wanted to advocate in a totally biased way," Long said. "I love journalism. I love all things media. I knew I wanted to do that but I wanted to be on the other side of it. That was when all the pieces fell into place."
Long struggled with work-life balance, especially in a career in the entertainment and media industry.
"When you're younger, you're told that you're supposed to hustle, it's supposed to be hard, and you're supposed to not sleep," she said. "But we are doing our younger practitioners a disservice. Here's the thing. Your job doesn't love you back."
Former Pierce student Danielle Padilla took Long's public relations courses to broaden her journalism skills and further her experience in the media arts department.
"​​She really taught us how to advocate for ourselves," Padilla said. "She loves to hear students, she loves to talk about her experiences, and she loves feedback. Be prepared to learn."
Long opened the door for endless opportunities and inspired Padilla to pursue a career in public relations.
"I work at a children's hospital in Chicago doing communications and PR," Padilla said. "I didn't see myself having this job and this future till I took Stacy's PR class."
Department Chair of Media Arts Jill Connelly can attest to Long's experience in the industry and how it pertains to students at Pierce.
"She has the professional experience to back up the academics," Connelly said. "I think a lot of students are interested in the music industry so they enjoy her class. She's also good at keeping the students engaged while making the class interesting, online and in person."
With one foot in each camp, Long has the ability to continuously grow and learn more about her craft, to better her teaching in the classroom.
"I absolutely have the best of both worlds," Long said. "To teach in something that's growing and changing and evolving, you have to be working in something that's changing and evolving; it's not stagnant. It gives me so much freedom to explore all the things I love about PR, and then bring them into the classroom."