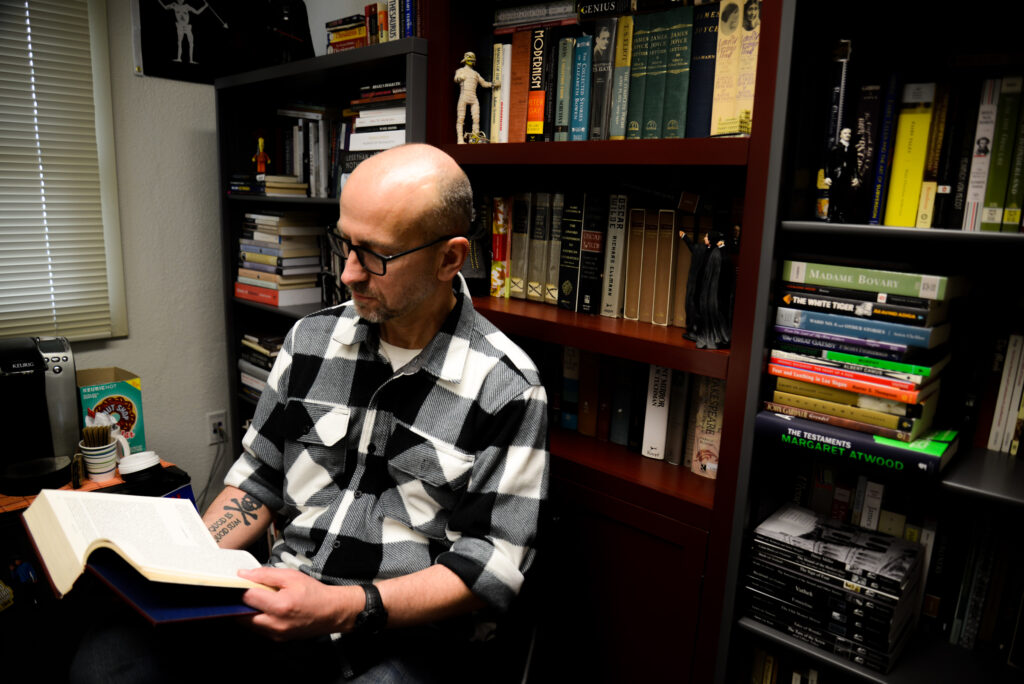 His love of literature is reflected in the shelves that line the walls, full of new and old books. Posters of sci-fi movies and original artwork are hung up where the shelves don't reach, and figurines fill in the free spaces in between. He sat in an ergonomic kneeling chair at his desk, his eyes looking over his email. 
After hours of teaching his classes about English literature, Professor Darren Borg loves to write for publications and conferences in his spare time.
"For me, [writing is] just more of a personal thing, just because this is what my life is all about, the study of literature." Borg said. "I like to learn from others who are studying literature and to contribute to that however I can."
Borg's colleague and friend Professor Chris Corning described him as a scholar.
"He's very curious and inquisitive and intellectual," Corning said. "Always interested in intellectual pursuits, and especially how new and emerging things connect to literature."
Borg has loved to read since childhood, but came to realize literature was his life's passion when he attended Moorpark College. Originally an art student, Borg became an English major after he wrote a paper comparing Joseph Conrad's Heart of Darkness to Francis Ford Coppola's Apocalypse Now. Because he put so much of his time and effort into this paper, his work was recognized by his professor, even going so far as to reading his paper to the whole class.
"For me, I would have been reading books and talking about them anyway, and so it just made sense to get a degree doing that," Borg said.
Borg stated Leo Tolstoy's War and Peace changed his outlook on life as a community college student.
"One of the most important things for me about getting through life is to always have the broader perspective to when things are difficult," Borg said. "Value the little things, things like just nature, taking the time to enjoy the weather, or the food that you're eating; just the small comforts of life."
Borg, along with other English professors and majors, began the English Club in the fall semester of 2017 to bring community to English majors. As a co-adviser alongside Corning, he made an effort to maintain that community even through the pandemic.
"That was kind of all in Dr. Borg, getting the club back up and running," Corning said. "And I came along to help out when I could come to the English club meetings, but otherwise, he really pulled a lot of weight."
Now that the English Club has come back to campus, that community for English majors has slowly gained traction once again. The English Club also has so much to offer for students that are pursuing degrees in subjects other than English.
Alongside the sense of community, Borg's former student Alexandra Espinoza said, "[English Club] always sounds like they're talking about interesting things and having fun, little activities."
Borg stated that his love of literature and desire to nurture the minds of students is what makes his work as an English professor so fulfilling.
"I feel like today, one of the big problems that we have is a lack of education and just a lot of ignorance and uncritical thinking. I think society benefits from not just education, but from a conversation and challenging and testing ideas through discussion and debate. And I think that it's good for democracy for ideas to be examined and defended and explored." Borg said.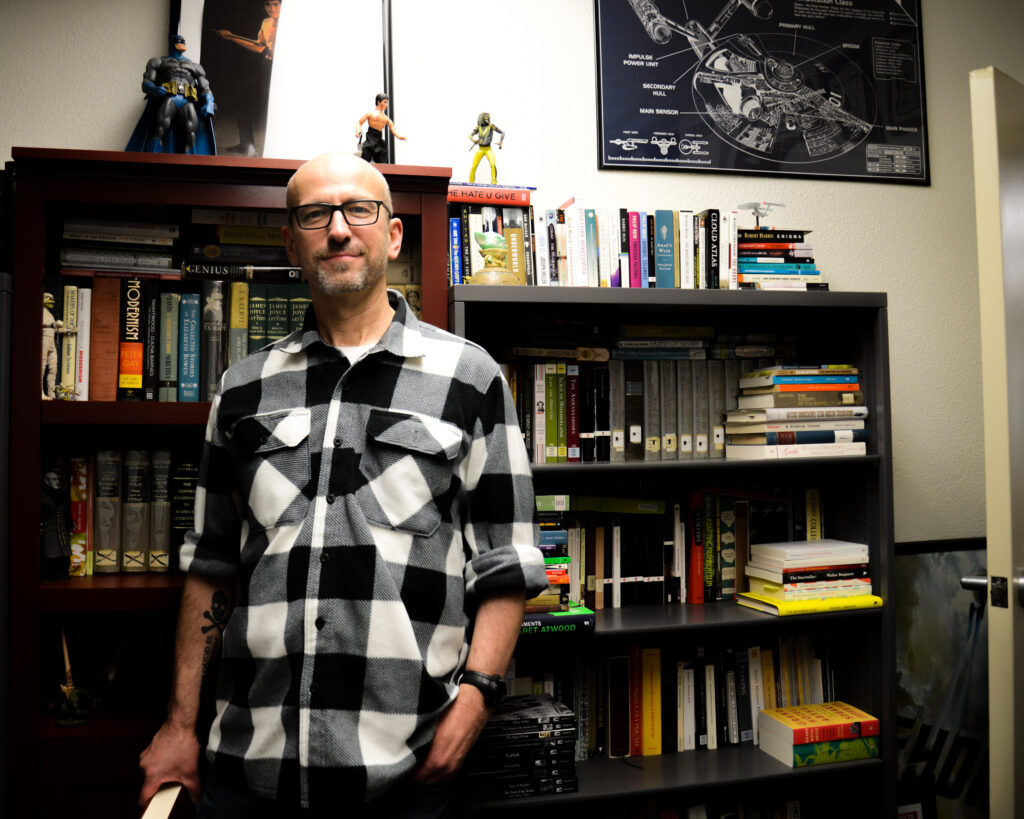 His efforts to decrease the ignorance he sees in the world have not gone unnoticed.
"He really does help all students not only enjoy the stuff that you read, but also get a really good, deeper understanding of it," Espinoza said.
Though the humanities are often undervalued in comparison to the sciences, Borg argued that the humanities are necessary for decision-making.
"I would say that I don't think there's anything more important than the humanities, because if you're thinking of the humanities as opposed to the sciences," Borg said. "For example, the sciences tell us a lot about how the world works and what we can do, but the humanities is about what we should do."
For students that are hesitant to become an English major, Borg has been encouraging others to do what makes them happy.
"One of my favorite authors is Joseph Campbell," Borg said. "He said, 'follow your bliss.' So that's what I would tell them, because it will make your life more meaningful."