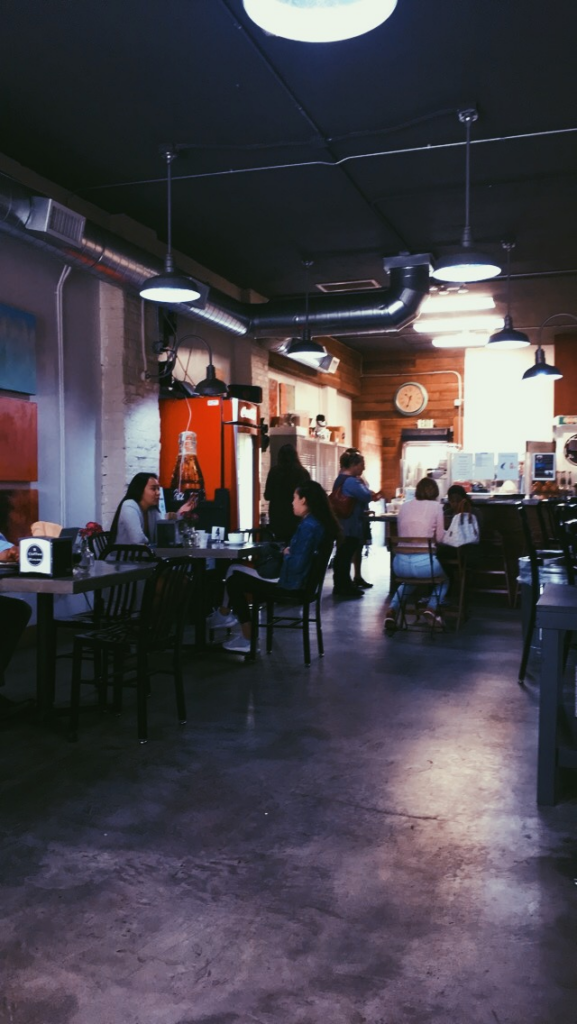 If you're a breakfast person, then R Coffee House is the perfect place for you.
It's a great hole-in-the-wall located on Chatsworth St. in Granada Hills. R Coffee House has a very hipster vibe to it, and the atmosphere is very comfy, yet always buzzing with people coming in and out. The small cafe is always busy with people doing homework, or just hanging out, but the wait is never more than 10 minutes.
R Coffee House is inside a small industrial-like space and is covered in art, every wall has a different statement piece, the most popular one that is on everyone's Instagram is the huge "R" written in a typewriter-style, surrounded by leaves and flowers. Even the menu is its own work of art, written on a chalkboard, surrounded by intricate drawings of lemons, indicating that the lemonade is the special of the day.
When you place your order at the cash register "Keep it Local" is written on the wall in reference to their support for a local artists
The menu ranges from espressos, to house drip coffees, different teas, smoothies, and lemonade blends. They have all kinds of milk and accommodate any allergies. R Coffee House has a constantly changing menu, with all the classics kept all year round.
They are also known for having themed drinks, they recently took down their Game Of Thrones menu, which contained different frappes and Lattes named after their characters.
Their most popular dish is their waffles and crepes. The plate runs for 11.00 dollars and comes with either waffles or crepes with the toppings of your choice (there is a huge variety) and is topped with powdered sugar. Upon entering the small cafe at least five people will already have ordered this and will look completely satisfied.
R Coffee House is also quite popular for its very colorful coffee art. Every latte and frappuccino served comes with different leaves and designs made out onto the whip cream or foam, they are all made by different staff members who admit they are still a work in progress but are happy to be able to express their creativity at work.
Another popular item is their takeout dessert, a brownie named "The Slutty Brownie." It is named this because of how many ingredients are in it. It is a fudge brownie with a chocolate chip cookie cooked inside of it, and then an oreo cooked inside of the cookie. They are constantly selling out of this item.
R Coffee House is most popular for its mostly sweet breakfast dishes, and its menu is full of inexpensive items, with a variety of choices. It's definitely a go-to place if you do not want to spend too much money or wait a long time for a table. It also has more of a cozy ambiance in comparison to chain coffee shops like Coffee Bean and Tea Leaf or Starbucks.