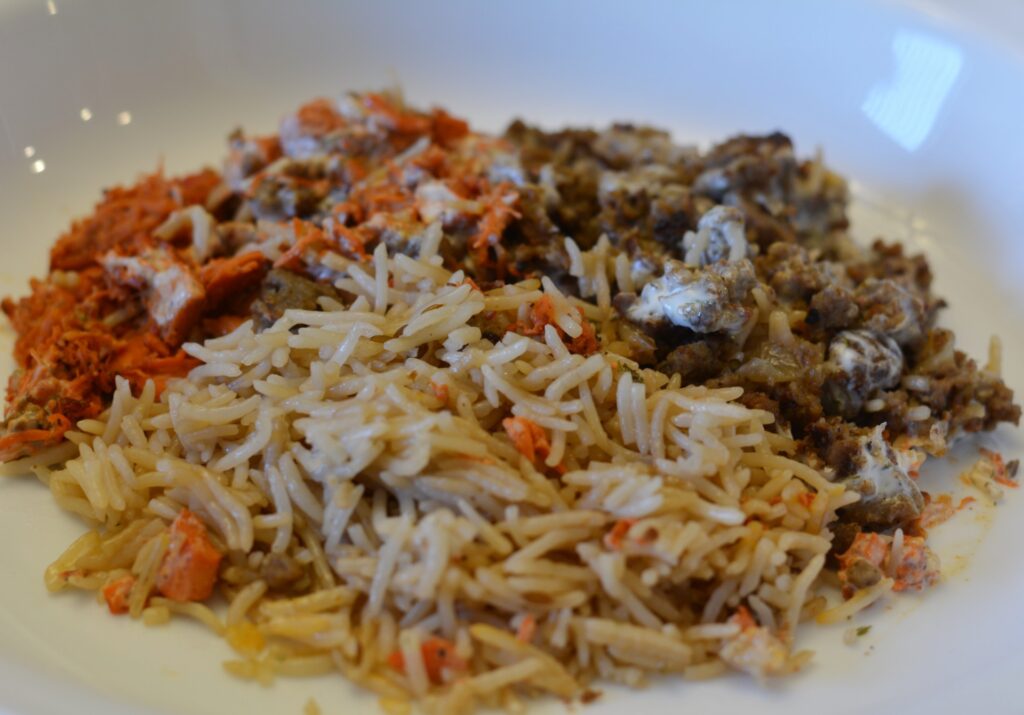 When I lived in New York City, there was a halal truck on nearly every street corner. These food trucks served halal foods such as gyros and meats over rice, and the smell of spices and fried food was unmistakable and irresistible. I frequented the truck on my block at least once a week. It was so convenient and I knew a reliably delicious meal was only a few steps away.
I didn't think I would ever have that experience again since I left New York and moved to Los Angeles—until I saw New York Chicken and Gyro on GrubHub.
The food from this Middle Eastern restaurant took me back to those New York street carts, but it was even better than the real thing. My meal was the perfect mix of spicy, salty, sour and rich.
I ordered the rice platter with the mix of chicken and lamb, or what they call the "best of both worlds." The restaurant gives you the option to choose how much salad you want: half, three-fourths, full salad and no rice, or no salad and full rice. I opted for no salad.
Just looking at the food, I was already excited. When a meal has an array of different colors, you know it's going to be good. The chicken was bright red, the lamb was a deep brown and the rice wasn't your average white rice.
Meat over rice is a fairly common dish in halal food, but nothing about this meal was plain. There were a variety of flavors and every bite was better than the last. It was a comforting hot meal and meaty but not too rich.
The meats were definitely the stars of the show. The chicken was a bright crimson red, a color I assume it has because of all the spices that go into making it. It had a nice kick but wasn't too spicy and was pull-apart tender.
The lamb was melt-in-your-mouth good. It had the texture of ground beef and while it wasn't spicy like the chicken, it was still packed with flavor. It didn't even have a stinky aftertaste like some lamb meals do.
The rice paired with the meats was the perfect side dish, and even it was flavorful. It was herby but not overwhelming and not clashing with the other parts of the meal. It also soaked up the flavors of the sauces and meats nicely.
The sauces added even more delicious elements to an already flavor-packed meal.
The white sauce on top is like what ranch wishes it were. It was creamy and balanced out the strong flavors of the meat. It also adds a nice soft texture to the meal. It was a good thing my order came with extra cups of it because I couldn't get enough.
The red sauce that came on the side was also good. It wasn't like other hot sauces that are just made to burn your taste buds. It actually had flavor and complemented the meat and rice nicely.
Aside from being delicious and balanced, their food is also a bang for your buck. For $8.99, you get hefty servings of two meats and as much rice as you do meat. They give you more than enough food to satisfy your cravings. One serving may even be enough to feed two people.
It also has an added bonus in that everything is halal.
I would definitely buy from them again. New York Chicken and Gyro has quickly become one of my new favorite restaurants.
New York Chicken and Gyro has a location in Canoga Park at 7553 Topanga Canyon Blvd. and a location in West Los Angeles at 11419 Santa Monica Blvd. They also do delivery on Doordash, GrubHub, Postmates, Uber Eats and Seamless.