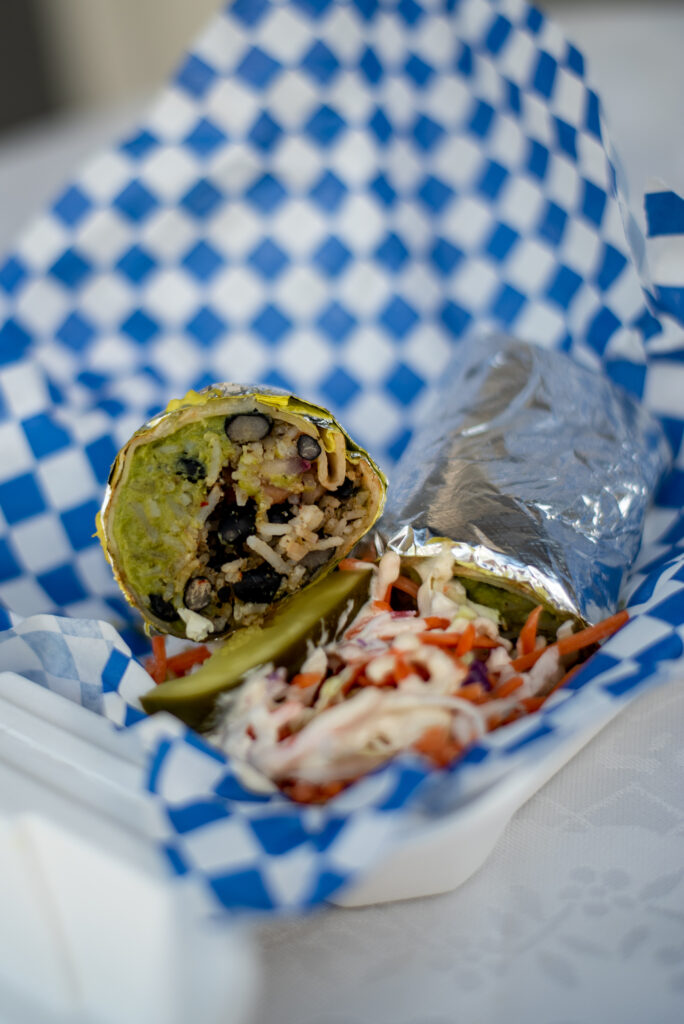 From breakfast burritos to tiramisu, Leo's Superfood Vegan Cafe in Northridge has many options for those with dietary restrictions.
Their menu is 100% vegan and 100% gluten free, and also offers paleo, keto and sugar-free options.
With limited fully-vegan and gluten-free restaurants in the San Fernando Valley, Leo's Superfood Vegan Cafe located on Roscoe Boulevard and Louise Avenue is a great spot for any meal of the day, and they even offer catering.
Leo's Superfood Breakfast Burrito costs $11 and is filled with seasoned scrambled tofu with soy chorizo, bell peppers, zucchini, potato and cheddar cheese with cilantro lime cashew cream. It can be wrapped or in a bowl.
It comes with a side salad of crunchy carrots and red and green cabbage, a slice of a pickle and a bit of dressing on the top.
The soy chorizo has a powerful flavor with a bit of spice, while the zucchini and potatoes are more mellow in comparison. The cheese doesn't impress but it doesn't take away from the great taste of the chorizo and vegetables. The tofu is the perfect texture, not soggy or dry.
The black bean burrito costs $10 and is filled with black beans, garlic rice, peppers, guacamole and pico de gallo.
The rice and beans were dry, and the burrito fell apart when unwrapping it from the aluminum foil. The pico de gallo had a yummy, strong, noticeable presence. The black bean burrito wasn't as flavorful as the breakfast burrito, but it still tasted good.
The burritos were smaller than expected, but both were filling.
When choosing baked goods and desserts, there are so many to choose from. Blueberry cheesecakes, decorated donuts, seasonable pumpkin pie and tiramisu with chocolate chips were just some of the dessert options.
The rich tiramisu pairs perfectly with a hot cup of coffee. The chilled dessert has a smooth, creamy top with three crunchy chocolate chips. The sweet, nutty bottom holds the cake together. It's absolutely delicious, but it costs $9 for a single slice. It's worth it for the occasional treat or for a special day.
The turmeric/ginger almond cookie, however, was not satisfying. The turmeric and ginger are so strong you can feel it in your nose. It's an overpowering spice that a glass of milk can't even overcome.
Overall, Leo's Superfood Vegan Cafe is great for offering a wide variety of vegan and gluten free options.
Signs inside require masks and 6ft social distancing.
There are a few outdoor tables for people wanting the dine-in experience, but no indoor seating available during the pandemic. They also offer pickup through their website or over the phone. They also use delivery apps such as GrubHub and UberEats.
Leo's is located at 8262 Louise Ave. in Northridge. Their hours are:
Sunday 9 a.m. – 3 p.m.
Monday 9 a.m. – 5 p.m.
Tuesday – Friday 9 a.m. – 8 p.m.
Saturday 9 a.m. – 5 p.m.