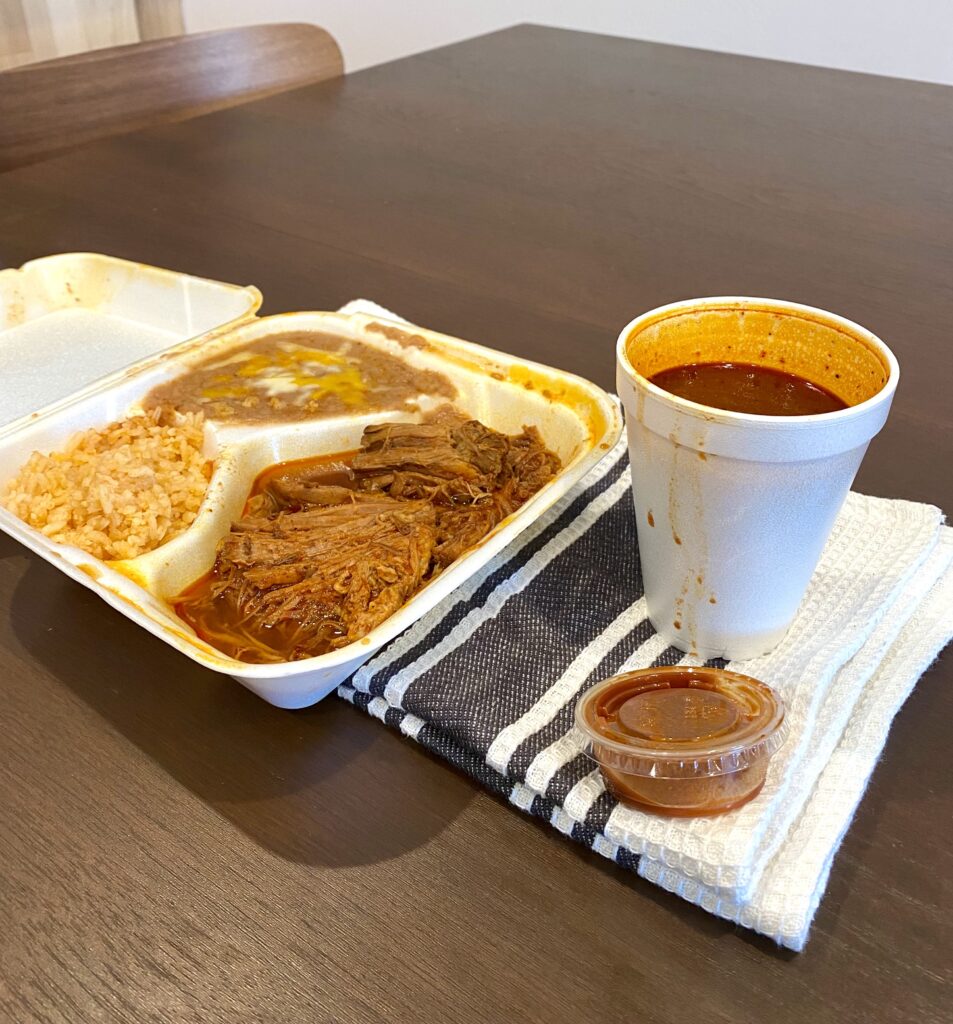 Hacienda Mariana has a lot on the menu, with the Birria de Res being the most  popular item, and at $11.99 it's easy to see why. 
Upon entry, it would be difficult for one not to notice how clean the inside of the restaurant is. It's near the intersection of Imperial Highway and Long Beach Boulevard, and the staff goes above and beyond to maintain a sanitary atmosphere in a busy area. It's near Plaza Mexico in Lynwood, a cultural space for the Mexican-American community in the area.
The smell of the different meats and vegetables being prepared in the kitchen is fresh and fills the room. It's not a formal place, and the food comes out fast and efficiently. No long wait. This makes the fact that they're on most food delivery apps all the more convenient for the customer.
The menu is mostly full of the Los Angeles Mexican staple dishes you're used to seeing. The specials include Chile Relleno, a poblano pepper stuffed with your choice of meat and cheese, coated with eggs, usually served with rice and beans. They also have a breakfast menu, having breakfast burritos with bacon, potatoes, eggs, and three cheeses. There's also chilaquiles, fried tortilla strips topped with cheese, cream, and salsa, paired with eggs. They've also got a breakfast torta, with ham, black beans, and scrambled eggs. There's also your choice of soups, pozole, menudo, or chicken or beef soup. You have your choice of coffee, tea, sodas, or juices for beverages.
You'll find tortas, sopes, mulitas, and the most popular dish is the Birria de Res,  a dish with its flavors centered around a Mexican beef stew, with the meat being slow cooked, packing it full of flavor. It comes with rice, beans, tortillas, and your choice of usual sides: onions, cilantro, limes, carrots and pickled jalapeños, or  red or green salsa. It's a comfort food, coming with consommé, a broth made  out of the beef, with added vegetables for flavor. It's priced at $11.99.  
Many of the dishes taste homemade, a breath of fresh air in comparison to some of the chains of Mexican food in Los Angeles. There's flan or Capirotada, traditional Mexican bread pudding for dessert, as well as a seafood menu, with a few different ceviches and camarones. Parking isn't the greatest, but it's not hard to find some street parking nearby. Everything is around $8-$15, so you won't have to make a big dent in your pocket.
Hacienda Mariana Restaurant
Address: 11035 Long Beach Blvd #1, Lynwood, CA, 90262
Hours: Sun. 8AM-9PM, Mon-Thurs. 8AM-11PM, Fri-Sat. 8AM-12AM
Price: Everything on the menu's price will depend on what meat you may or may not want with your plate or item. The chicken, beef, and goat combos are all  around $8-$11, with the birria plates being $12 for beef, and $15 for goat. The  shrimp or seafood plates will generally run around $13-$18. 
(310) 627-9664, take-out and delivery available.
Online ordering available at haciendamarianarestaurant.com