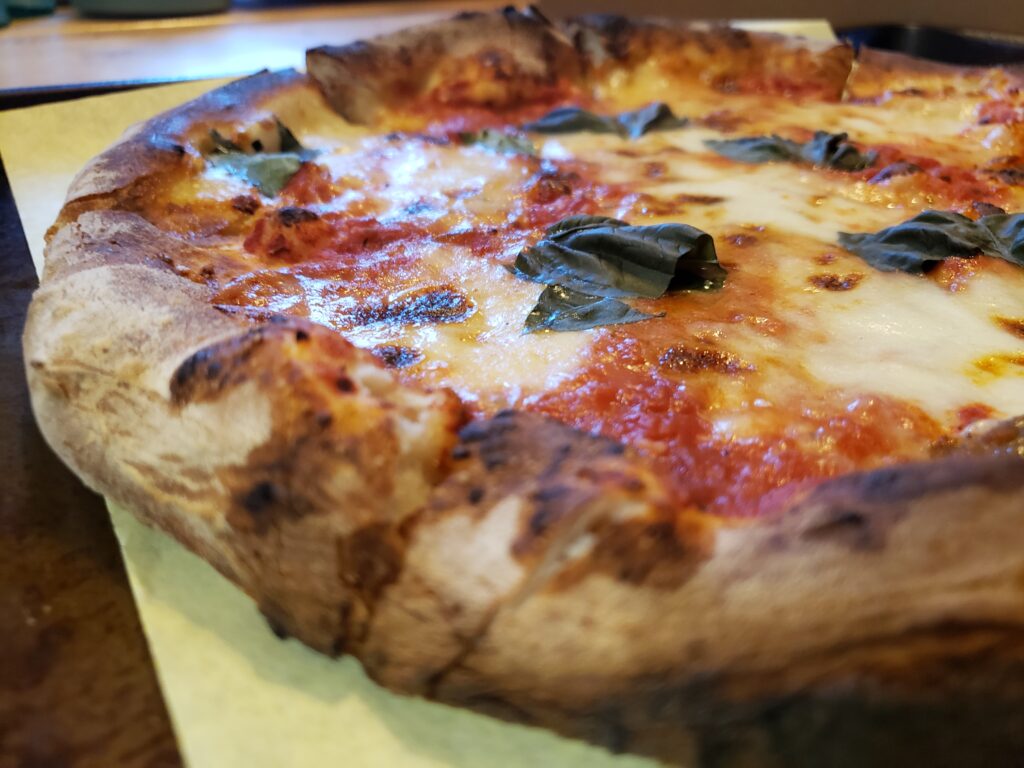 While there is quite the competition among various pizzerias that have set up shop in the San Fernando Valley, situated within a small plaza that intersects Vanowen Street and Tampa Avenue lies one pizzeria that delivers outstanding service and quality pizza, even during this time of nationwide quarantine.
While many dine-in options are limited to either takeout and delivery during quarantine, Flame Pizzeria presents a warm and inviting atmosphere that lets you know you're still welcome to come by and pick up a quality meal. At first glance, the restaurant might appear bunched up and indistinguishable next to a Thai restaurant and pet store, but don't let this presentation discourage you. The true aesthetic of the restaurant can be found beyond its doors.
Upon entry, the first thing one will notice is the scent of freshly-baked dough enveloping the senses. As you take your first few steps inside you will also notice that the room is lit merely by stringing lights along with the natural light that shines through the entryway. To the right, the restaurant's bar can be seen with many wines on display and just in front of it, an open-kitchen where customers can observe the restaurant's head-chef Richard Florczak prepare their pizzas and fire them up in the oven.
Customers taking in the sights of the restaurant are also treated to a classic brick-by-brick wall design that covers a majority of the walls inside the restaurant. The tables and chairs also boast a more modern appearance, matching a darker and glossier finish that contrasts well with the exuberant lighting and atmosphere that the restaurant provides.
The restaurant offers not only a bar, individual tables, and booths for customers, but it also can accommodate larger tables in a wider seating area for those interested in making reservations for any occasion. Whether it's for a birthday celebration or an evening out with co-workers, the pizzeria can cater to a wide variety of events.
Without a doubt, the pizza is the primary selling point for this pizzeria. The restaurant effectively pairs a thick crispy crust with a softer cheese that comes delicious with any toppings. Among its rather tight selection of pizzas, The Margherita and The Lindsey are two delectable options that utterly appeal to the senses. In spite of the fact that each order will cost you anywhere between $15 and $19, the pizza's available order in eight slices arrives at a perfect size and the flavor only serves to exceed all expectations. The menu also offers wings in 3 order sizes and offers 25 different types of sauces to choose from.
Another tops seller for the restaurant is its craft beers and wines. With a selection of 9 beers and 9 different wines, there is sure to be a drink for anyone. Whether you're looking to have a drink with friends after a day at the office or just want to get out and have a beer with a loved one, the restaurant can provide you a momentary escape from the stresses of daily life.
The restaurant's hours of operation are 3 p.m. to 9:30 p.m. Tuesdays through Thursdays and from 1 p.m. to 9:30 p.m. Fridays through Sundays. However, due to the ongoing quarantine, the restaurant remains open from 11 a.m. to 9:30 p.m. Tuesdays through Sundays. Nonetheless, customers are welcome to place takeout orders over the phone, through Grubhub, UberEats, and Postmates delivery apps, and walk-in orders but with no dine-in option currently available
From flavorful pizzas to an exciting and ambient atmosphere, Flame Pizzeria is an excellent stop for friends, families and loved ones to spend an evening out eating delicious food and tasting various beers and wines. Although its initial outer appearance is none too creative and its prices may demand a little more from your wallet, the quality food, service, and dine-in experience provides enough reason for anyone to give it a try. This pizzeria really does flame the competition.