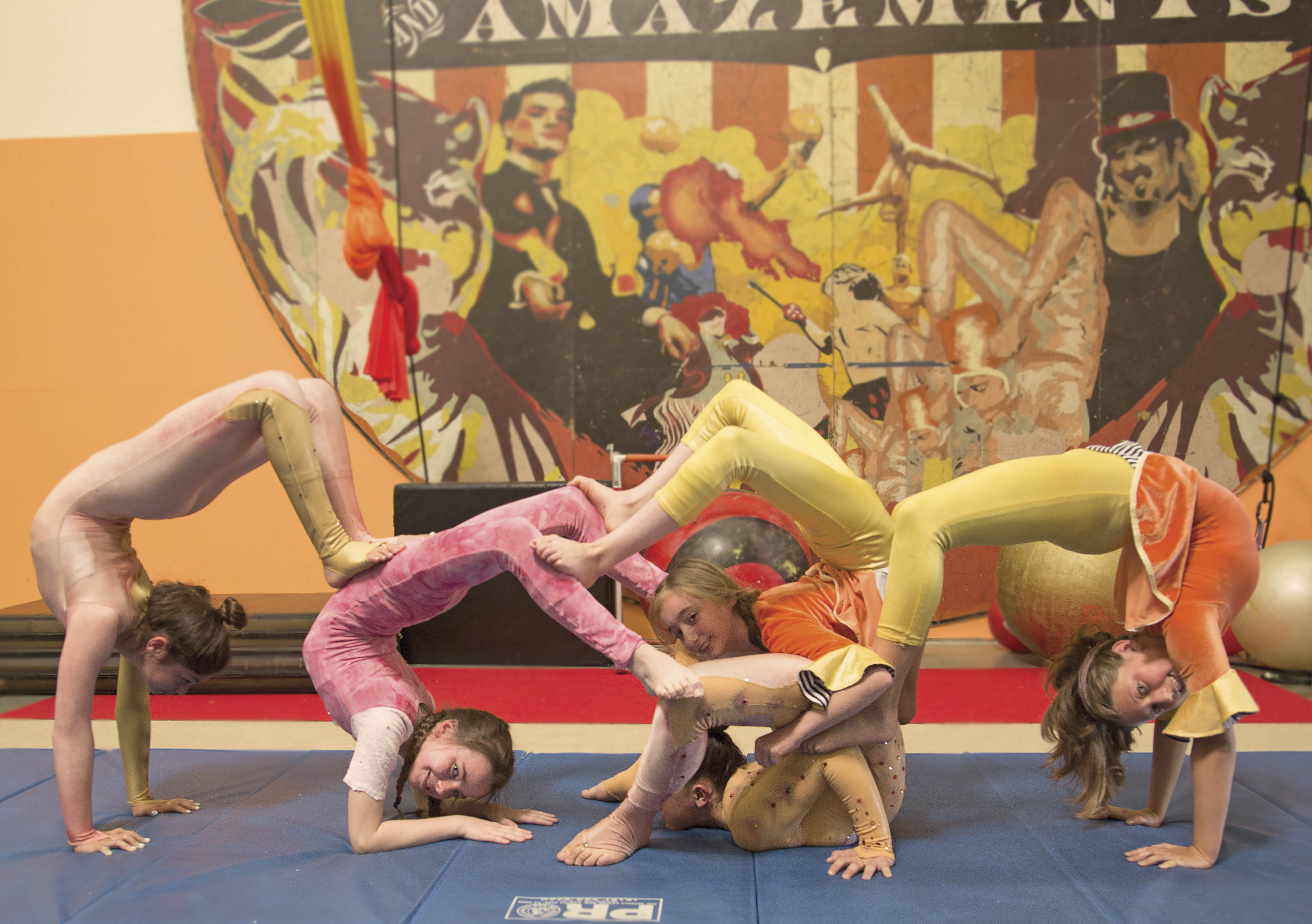 Judging a book by its cover, it looks like they are just playing and running around the studio while Ellie Goulding's "On My Mind" is playing in the background. These children, wearing just their socks, leggings and tank tops, have their hair tied up, regardless if it's nicely done, or just in a messy bun. Some of them are doing squats, while others are doing handstands against the orange and white walls of Le Petit Studio. Although it seems like they are playing, they are actually warming up and stretching, while waiting for Nathalie Gaulthier, the owner and founder of Le Petit Cirque.
Motivated by her mantra that anything is possible, Gaulthier started Le Petit Studio as an inspirational performance program in Montreal, Canada, when she was 14 years old. It was in 2001 that she decided to start Le Petit Cirque. The performers from Le Petit Cirque are children from 5-to-17 years old, and each of them has a focus and specialty in circus performances. The team trains at Le Petit Studio in Inglewood, California. Le Petit Cirque performs across the country and internationally. They're also the only circus that includes humanitarian works in its performances, and whose performers are children.
"I love inspiring audiences into 'anything is possible' and death defying acts. I felt there was a need for performances that were visually mind blowing, while having messages of hope, wonder and inspiration," Gaulthier says. "I decide to train young performers because it helps the kids feel a sense of uniqueness, other than being on a soccer team or dance group. These kids are part of something very unique, which allows them to have a greater sense of self-esteem, and the fact that they are so young has upped the inspiration and wow factor with our audiences."
As the song transitions from the first verse to the chorus, two young artists jump. The palms of their hands are touching their heels in midair, and then they land in a split formation. An artist in the background is climbing a rope with her legs widely spread and balanced, while another artist, an aerialist, climbs a sky blue silk cloth.
On the other side of the studio is a group of contortionists practicing an act for a performance in Panama City, from April 29 to May 9, 2016. One of them is 13-year-old Anne Arellano. She started as an aerialist until she realized that she is more flexible than the other girls.
Before she performed in the circus, Arellano was what she calls "an average kid" who tried joining soccer and softball teams. However, she did not like sports.
"At first, I just wanted to do it because it was fun, and it was before I started getting really into circus, so I didn't have a lot of things in my schedule. But then it became something that I wanted to do and it became more and more often," Arellano says.
According to Arellano, many people she knows have warned her about the danger of what she does.
"They told me I might fall, break a leg or break all my bones. Falling and a drop are my biggest fears each time I perform. Also breaking my arm, because then I can't do anything," she says.
Gaulthier sees a different potential in Arellano.
"Anne Arellano is very strong as well as flexible, and works nonstop training at home as well. She will make it into Cirque du Soleil or overseas in legitimate circuses," Gaulthier says.
With 10-to-15 hours of training a week in the studio, and training on her own at home, Arellano rarely gets the chance to relax, but when she does, she goes over to her friend's house, or she does her homework.
The young artist is in eighth grade. She expects things to be harder once she goes to high school, she said. She expects to build good relationships with her teachers and friends in high school. Arellano has big plans for herself and is determined to succeed.
"For college I want to go to UCLA. I don't want to leave to anywhere, so I want to stay here at home. ENC; that would totally be a choice. But the thing is, I'm an American, and it's in Canada. So that means I would really have to work hard and be successful, which I will. I will work hard," she says.
ENC, or École Nationale de Cirque, is a professional school for performers who want to pursue circus performances as their career, or aspire to be a part of Cirque du Soleil. They can also get their degrees from ENC, according to Brown.
Contortion is the unexplainable flexibility of the body to the extreme. Most contortionists are trained at a young age, and most of them use this as a career. Le Petit Cirque's young artists spend more time practicing their tricks than playing around with their friends. To maintain their flexibility, the young artists make sure that their diet is balanced and healthy.
"I never eat fast food. I barely eat out, also because I just don't like wasting my money. I eat fairly healthy, and I drink lots of smoothies. I eat lots of fruits and chicken. I have a really bad sweet tooth, so fruits have always been my go-to sugar," says Olivia Brown, the 23-year-old head coach of Le Petit Cirque.
Although contortion may look magical to the audience, there are also downsides to a contortionist's flexibility. Reva Woodrow, a physical therapist at UCLA, has something to say regarding a contortionist's health.
"Contortionists stretch the muscles, tendons and ligaments surrounding a joint [two bones meeting] beyond the typical range required to perform activities of daily living. Ligaments are tough, fibrous bands that hold two bones together. Its purpose is to keep the bones aligned and provide stability," Woodrow wrote. "When a joint is overstretched, the ligaments are stretched as well placing the contortionist at risk of a bone popping out of alignment [dislocating]. For example, if the shoulder ligaments are overstretched, simply reaching for a seat belt can cause the bone to dislocate," she adds.
Within three years after starting the circus, Le Petit Cirque raised more than $5 million for different organizations. According to Gaulthier, other than being the only circus who collaborates with humanitarian works, the performers are receiving school and college credits as well as community service hours. They are also fully booked until 2017, including the Panama City performance, followed by a Florida tour and a summer tour across the United States.