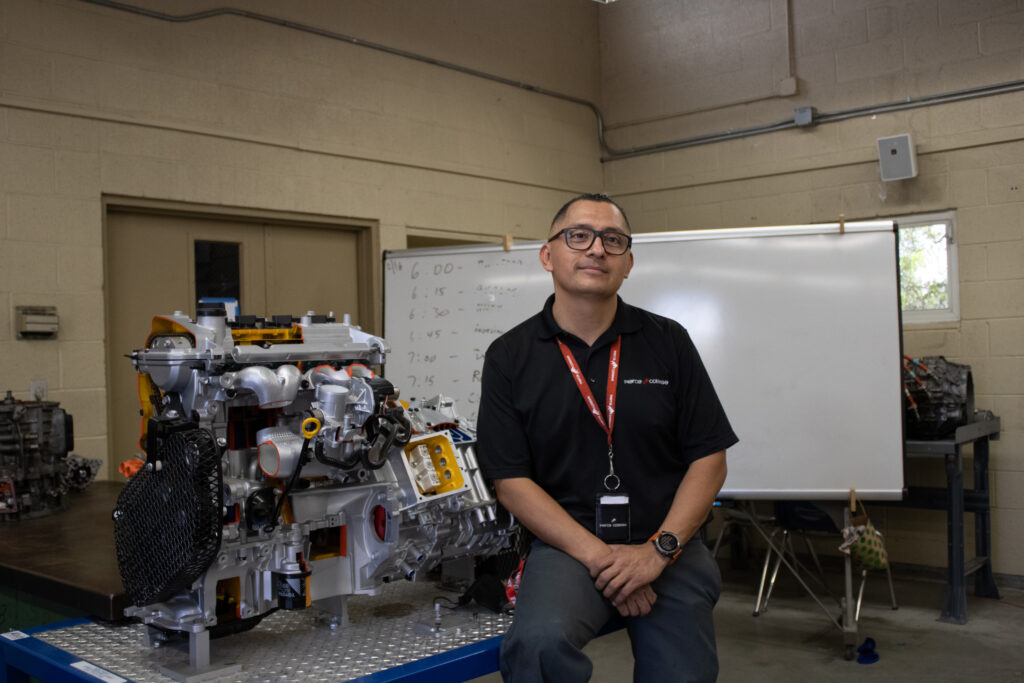 On a sunny Tuesday morning in March, about 10 students wearing black and red coveralls worked at several stations in the Auto Tech shop. Some were learning how to repair breaks, while others looked under the hood of a white minivan.
Each time a question arose, Alex Villalta would walk from station-to-station providing guidance.
Wearing a black Pierce polo and black rimmed glasses, Villalta looks professional and clean, and not like the stereotypical mechanic covered in grease stains. But he knows the entire auto world, from tuning motors to managing employees.
Working at Pierce College since 2008, Villalta is an Automotive Service Technology professor, a co-chair of Industrial Tech, and the Academic Senate Treasurer. He also owns an auto repair shop.
A former Pierce student and a proponent of career technical education, Villalta uses his success story and achievements as examples to inspire students.
"You want to learn how to do breaks and work at Jiffy Lube for the rest of your life? That's not what you are here for," Villalta said. "If that is what you are here for, we want to change that. We want you to be the owner of Jiffy Lube."Villalta's father was a diesel mechanic who worked on heavy equipment.
"I didn't like the industry because my dad did it," Villalta said. "It was dirty. It was hard work."
Villalta's father would do jobs on the weekend and young Alex was there helping.
"I learned how to hate the industry in a way," he said. "I told myself that I am never going to do this again."
He came to Pierce as a student not knowing what he wanted to do, but professor Tom Rosdahl taught him not only to love auto tech—but to also see the opportunities and possibilities in the field.
When he was 24, Villalta opened his shop, which was lucrative, but he worked 14 hours a day, sometimes on weekends.
"When they offered me that [auto tech] class, I truly discovered how much passion I had to teach," Villalta said. "I discovered that I liked teaching, and now I truly enjoy it."
Karlo Malabanan, a Pierce student, said that the professor has a strong work ethic.

"Even on his off days, he gets things done," Malabanan said. "He's like a machine."

Another student, Jacob Esparza, said he knew immediately after taking one of Villalta's classes that he wanted to take more.

"There could be 50,0000 things that could be going on, but he will take your questions," Esparza said. "I'll raise my hand and he'll backtrack as much as I need him to."

Villalta said it's important for him to be approachable and to have good student-professor relationships.

"I am here to serve the students," Villalta said. "I try to make my students comfortable so that they can come to me and ask me anything. Sometimes we learn through the students too. They work on their own new cars. They are put on the lift and we look at the new technology."

Villalta still owns his shop, but now he mostly takes care of the clerical duties rather than the hands-on work. He spends time in his garage doing personal projects.
But teaching remains a priority. He finds it important to bring real life industry scenarios and examples to the students.

"Because of how dynamic our industry is, it is important for the instructors to be out there in the field to bring the relevant information back to the classroom," he said.