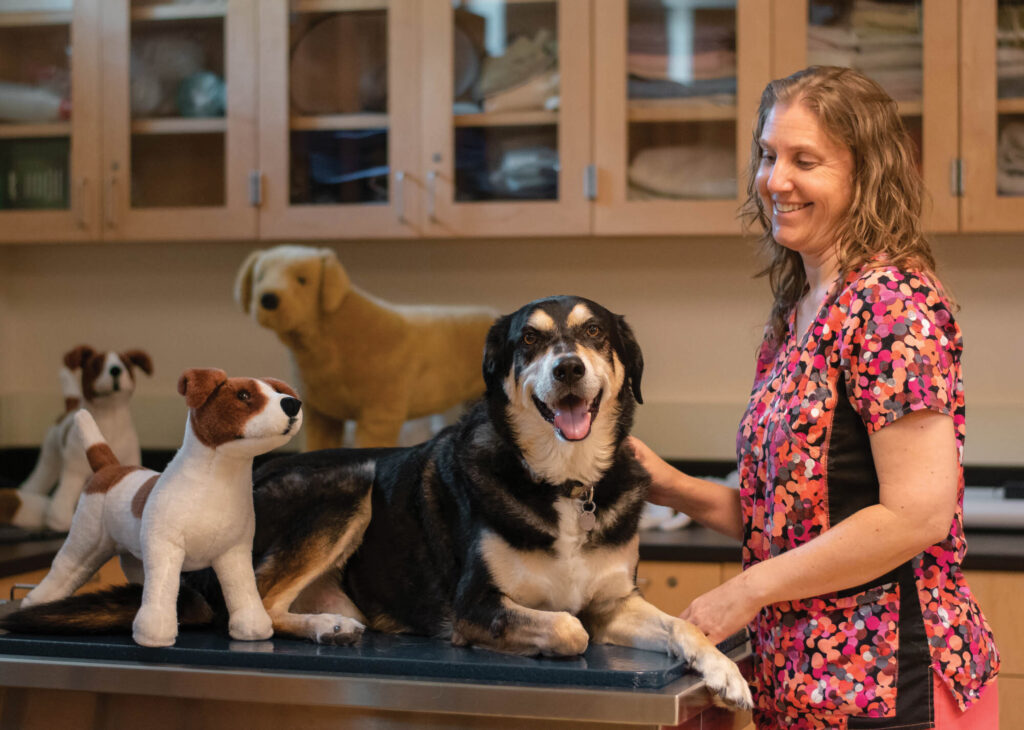 A bottle filled with a month's worth of pills, empty.
A dog, unconscious.
An owner, devastated.
The female boxer was taken to a veterinarian office after she swallowed a bottle of her separation anxiety medication. She had to be anesthetized to control her constant seizures. Despite being put on an IV for days, she still had tremors.
The tremors eventually slowed down, and she was able to fully recover.
That dog was saved in part because of registered veterinary technician (RVT) Angela Killips.
Killips said, however, cases don't always work out this way.
"The compassion, it wears you down," Killips said. "You put everything you have into this patient and sometimes medicine doesn't work or the body doesn't respond to medicine. You've done everything you can for that patient and that patient may not make it. We bonded to those patients. They become our family. That's very hard on the heart."
Killips said what most people misunderstand about the job is the broad scope of being a veterinary technician. RVTs take x-rays, draw blood, operate machines and work with patients.
"I'm always surprised at the fact that people don't understand how much nursing skills are in veterinary technicians," Killips said. "We're the ones that are giving all the TLC. I have nurse friends on the human side, and they still don't understand that I'm also in that same realm."
When community college students in the Los Angeles area aspire to be RVTs, Pierce College is one of their top options.
Pierce, which boasts 200 acres of land devoted to teaching agriculture, has the only RVT program in all of the Los Angeles Community College District.
Dr. Jennifer Adelini is the head of the RVT program at Pierce. She said what she enjoys most about teaching veterinary technician classes is when students make connections with the material and their real-life experiences.
"They're very passionate," Adelini said. "They're very excited about all the topics that we talk about. And it's nice because I think it's exciting, too. So when you have other people to share that with, it's kind of similar to when you tell a joke and everybody laughs."
Adelini said she previously taught a human anatomy class at College of the Canyons but wasn't passionate about it because she wasn't teaching about her favorite topic–animals.
"I like their kind of simple approach to life," Adelini said. "And that they're not judgmental. Their love for us is unconditional. You can always count on them to make you feel better at the end of the day."
In addition to the physical aspects of the job that people cannot handle, Adelini said the job also takes an emotional toll.
"There's a lot of blood and other things that people sometimes can't stomach," Adelini said. "And there's a lot of emotional aspects that we have to deal with. And I think dealing with the people sometimes is even harder."
Killips said the best part about working with animals is seeing her patients after a successful treatment.
"You can have that scared cat," Killips said. "And with your handling skills, your body movement reading and reading their behavior, you can change the way that they're perceiving a scary situation."
The process of being in the RVT program at Pierce starts with taking general education and entry level courses, moving onto the advanced level and finally with taking veterinary technician classes with live animals. From there, students receive an associate's degree in veterinary technology and are qualified for the Veterinary Technician National Exam.
The program has about 30 graduates every year and has a passage rate of more than 80%. The national rate has been around 67% over the past three years, according to Adelini.
Adelini said that after the program, students usually work in small animal private practice.
"I hope that students keep that quest for knowledge, and that it leads them into interesting and exciting places in their career and that they feel accomplished and they love what they do," Adelini said.
Dr. Leticia Gonzalez-Garcia is an alumnus of Pierce's RVT program who returned and teaches animal science at Pierce. Gonzalez said being in the RVT program is like having a second family.
"It was really a great team," Gonzalez said. "So when I had been a student, I said, 'I'm going to come back and I'm going to give back.'"
Gonzalez said Pierce's campus is what makes the RVT program unique.
"The fact that we do have animals on campus is really what sets it apart," Gonzalez said. "We have a nice facility that mimics that of a hospital, which a lot of programs don't have. And then we also have the farm."
Gonzalez said she wants students to know that the program opens them up to a variety of opportunities.
"For the field of veterinary medicine, emergency, anything like that, I want them to know that it's not a narrow pathway, that the sky's the limit for them," Gonzalez said.
Adelini said that Pierce has a great reputation in the veterinary community and that clinics often contact Pierce looking to hire graduates.
"I think students feel confident when they come here that there's an excellent chance that they'll be able to get a good foundation for their career and be able to pass that exam and get their license," Adelini said.
The job of an RVT is not an easy one, but the reward of helping animals in need outweighs the challenges, said Adelini.
"I think it really takes a lot of internal strength and resilience in a lot of cases to keep coming back and keep wanting to help those animals and keeping that focus and not letting the other parts bring you down," Adelini said.