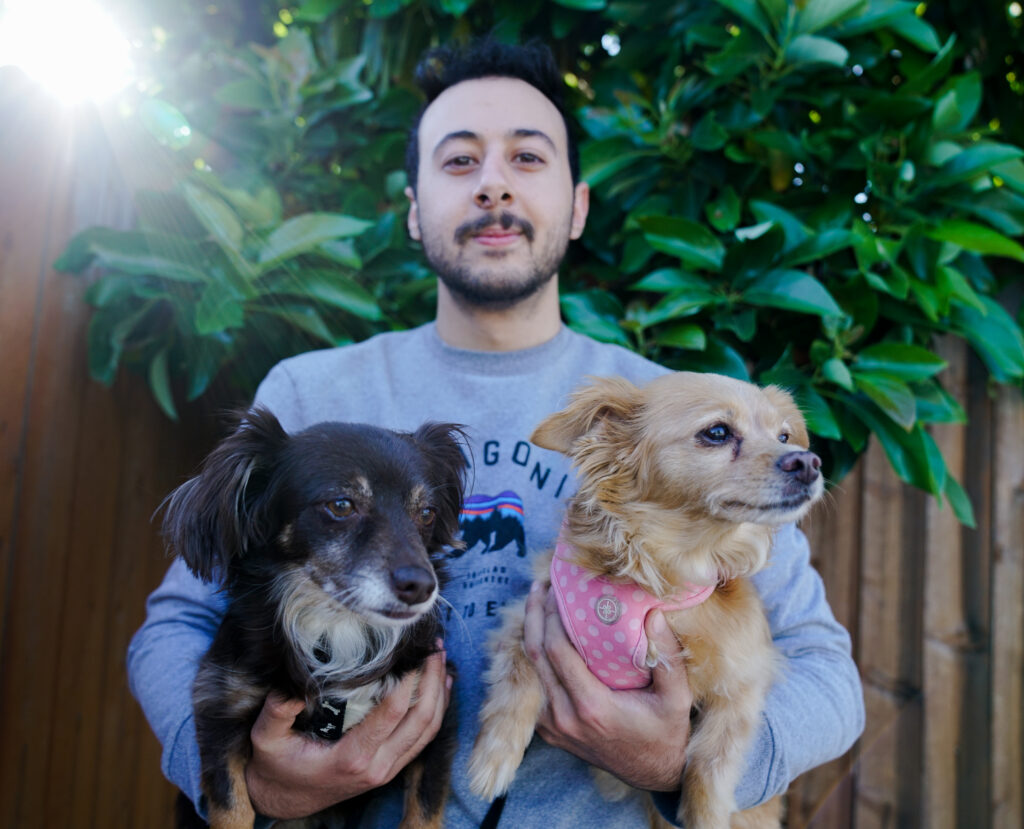 With a tender look in his chocolate brown eyes, 21-year-old Encino resident Daniel Habas gazed upon the gentle frame of his small dog, Molly. As he cradled her seemingly defenseless form in his arms, he looked at her with a heavy-hearted smile.
His fingers lightly stroked the luscious butterscotch cream fur that bunched up around her neck, creating only a more endearing appearance. Her eyes blinked rapidly as she looked upon her owner with the hint that his loving embrace was overwhelming her spirit. At this moment, it became evident that the connection Habas and his animal shared was a bond of immeasurable love and admiration.
As an owner of four dogs, Habas said that experiencing the relationships grow between himself and his dogs throughout his life helped him understand that these animals behave much like humans.
"I've grown up with them, and it's just that they're emotionally connected to people so if you've had dogs for a while they generally pick up on the way you speak, and certain commands and different things," he said. "You get a kind of bond where it's almost like they're a real person."
Habas' dog-loving personality led him to discover a way to make money simply by walking people's dogs.
"I work with a dog-walking company called Wag! that uses an app to connect to people and walkers," Habas said. "I go through the app and I'm recommended through reviews. I drive to the location, talk to the parent, walk the dog and have a good time."
However, in recent months, the COVID-19 outbreak has left many businesses closed and millions of Americans have been left either out of a job or working at home.
The information posted on the company website at wagwalking.com provides company-wide changes to procedure and the ways company-assisted walking can continue while still acknowledging social distancing measures.
According to the site, walkers and pet owners should work together to ensure a safe "hand-off" of the leash at the door of the pet owner's home. Both parties are advised to wash their hands before touching the leash and the company requests that the dog harness and leash be fastened to the animal upon the walker's arrival.
Despite services remaining operational through the app with social distancing measures, Habas said that shortly after quarantine began, he has not been able to find many pet owners who want his service.
"I would look on the app, and it would show me available walks and it gives me a distance of how far they are," Habas said. "I generally set it to five-to-six miles in my area, and I usually have a couple here and there so I do them. But recently I haven't been able to find any walks within even 10 miles."
Habas added that he has not walked an animal through the Wag! app in nearly a month.
Experts in the dog world are also acknowledging the difficulty in finding adequate local animal care and services.
Freelance medical writer and veterinarian Catherine Barnette, DVM, stated in an article published on www.vcahospitals.com that dog walkers and dog owners should work together to create an experience that is safe and that efficiently allows walking services to safely proceed while facing the continued risk toward exposure to the COVID-19 virus.
"Many clients working from home may still want dog walkers to provide daily exercise for their dogs," Barnette wrote. "Clients that become ill may need them now, even more than ever. It is important to understand how to provide care for clients' dogs in a way that is safe for both them and their clients."
Barnette also wrote that walkers and owners should maintain a distance of six feet during conversation and that leashes should be handed off as safely as possible. She advises that both parties should frequently wash their hands and sanitize other surfaces that could cause direct contamination during the services.
In addition, Barnette said animals of owners that may test positive for the virus should be handled with caution.
"Pets' coats could potentially become contaminated with coronavirus," she wrote. "Because there are rare cases of dogs and cats testing positive for COVID-19, it is important to handle pets from homes with COVID-19 positive people with caution."
Another individual animal service provider who has been affected by the ongoing pandemic is Northridge resident Elena Llamas, a mother and wife who works in accounting as her primary source of income. She is an owner of nine small dogs and is a self-proclaimed dog "addict." It is because of her passion for these animals that she also spends much of her time serving as a dog-sitter.
Llamas had been animal sitting since October 2018, but decided that she was going to stick with it indefinitely when she witnessed how many people came to her with their animals during the Woolsey Fire in November 2018.
"At that point, I had like 15 dogs," Llamas said. "Everybody was getting along and they were here from three to five days depending on what was going on with their owners' homes. Many of them lost their homes. Many of them had been evacuated and didn't have a place to go or didn't know wherever they were going."
Taking care of animals who need a place to stay is important to her and she said that she wants dog owners to be at ease knowing they can come to her for help.
"They go with the peace of mind knowing their pet will be in excellent hands," Llamas said. "And that's priceless. It's like taking your baby to a stranger. It's the very same thing."
Llamas said that due to the quarantine, her business in dog-sitting has been slow, except for her two regular clients who still drop by their animals on weekends.
Although Llamas said that normally she was the one taking care of clients and communicating with them for drop-offs and pick-ups, her husband and her son help when she is not there to receive an animal or have it picked up.
"We've become a team," Llamas said. "Each one of us does as we can, helping whenever necessary. It's good because at the beginning there was some reluctance to do it."
Even though it may seem daunting for one to care for up to ten dogs at a time, Llamas said that she never feels too stressed. She believes it's her duty to provide quality care for the dogs.
"I get pleasure out of doing it," Llamas said. "Pets are to be loved and pampered. If you're not going to have a pet and you're not going to do that and be committed to it, then don't have a pet. It's very simple."