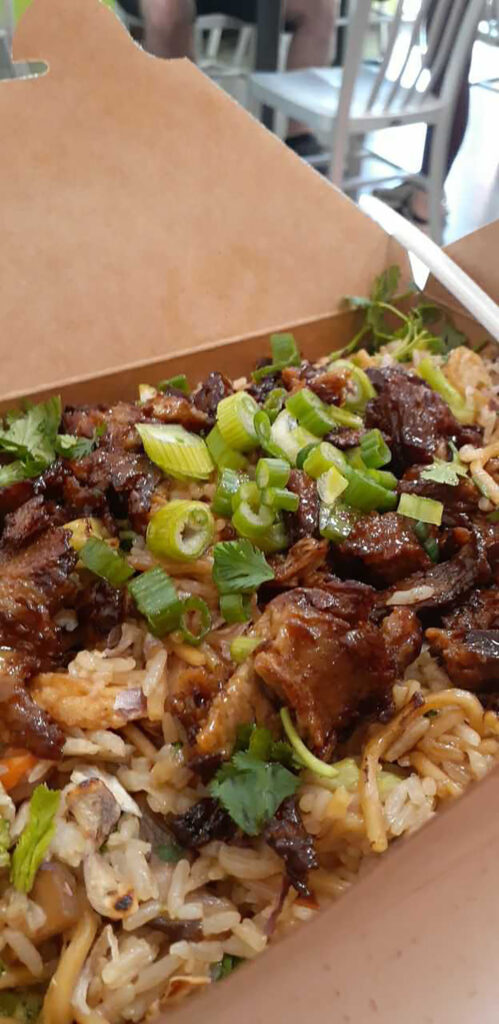 As the years go by, vegan cuisine continues to become popular and more accessible in society.
Trying vegan food can be a gamble. A safe bet would be to explore meals with ingredients you already know and enjoy.
Choosing Vinh Loi Tofu was a no brainer. Combining rich Vietnamese flavors with the uprising trend of veganism is a great starting point for an introduction to vegan food.
Filled with sky lanterns hanging off the roof and a trophy wall on your left when entering, the interior of Vinh Loi Tofu is something to brag about. Comparatively, the exterior of the restaurant is rather unassuming, the sign is big enough to see while driving by but nothing truly eye-catching. Parking can be scarce so parking on the street may be necessary.
Customers are welcomed by whoever works the register. Packaged and ready-to-go meals sit on a table nearby. For a small establishment, their menu is substantial.
As food is being prepared, the woman working the register hands out cups of water with fresh lemon and utensils for the food, such as a fork, spoon, napkins and chopsticks. As customers dine, she is continuously doing rounds and checking in to see if they need anything.
The dishes are cooked in real time. The first dish was the appetizer of vegan popcorn chicken, which looks and tastes like real chicken. Paired with a homemade plum dipping sauce, it is sweet and a great compliment to the fried dish.
The owner's recommendation, a delicious udon stir fry, had rice, noodles, mushrooms, fried tofu and vegetables (broccoli, carrot, and cabbage) garnished with cilantro and green onions.
While somewhat high-cost, the delectable food does make up for the price.
Vin Loi Tofu
Address: 18625 Sherman Way #101, Reseda, CA 91335
Hours: Wednesday thru Monday 11 AM – 9 PM
Prices:
Appetizers: $5 – $16
Drinks: $1.50 – $7
Soups: $15 – $18
Dry noodle meals: $16 – $18
Fried rice meals: $15 – $18
Sandwiches: $10 – $13
Salads: $15 – $17
Steamed rice meals: $15 – $16
Contact: (818) 996-9779, www.vinhloitofu.com