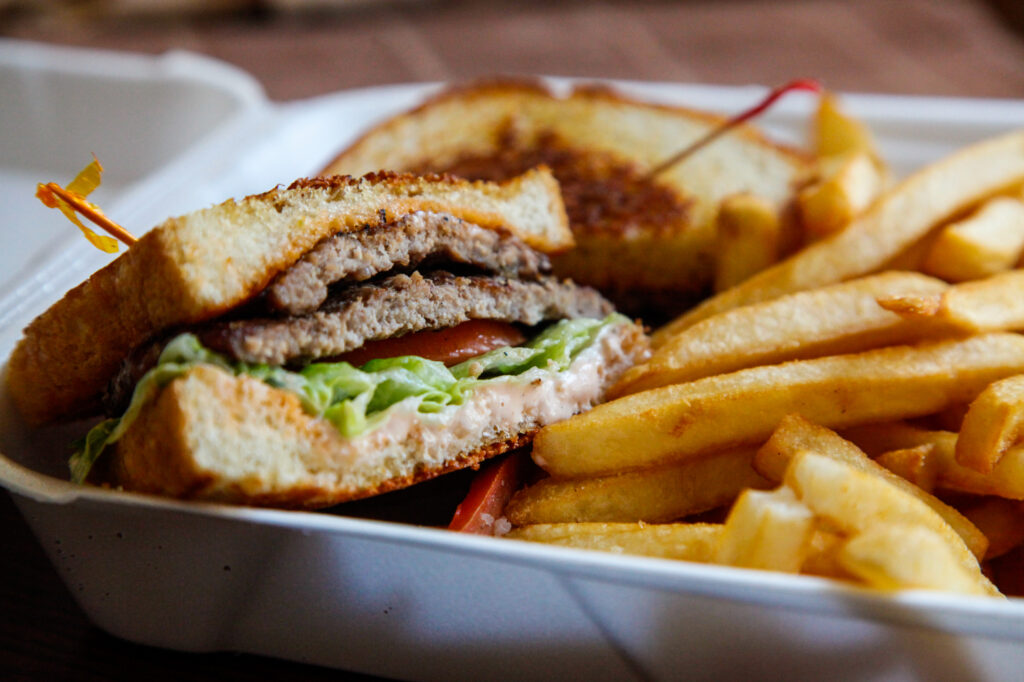 Take a trip to the 1950s at Stars Drive-in in Canoga Park. 
Nestled on the corner of Sherman Way and Mason, Stars Drive-in serves up classic American diner staples in a 1950s time capsule.
The menu features American classics: burgers, sandwiches, salads, wings, hot dogs, fries and milkshakes along with Mexican options such as burritos, huevos rancheros and chorizo scramblers. They even serve a gyro sandwich.
Their breakfast menu really shines with a wide range of options, from an egg burrito to full breakfast plates.
Their menu is available all day and there's a drive-thru window for those who don't want to dine in.
The wait time is a little long compared to fast food because one chef makes everything from scratch, but is still quicker than an average sit-down restaurant.
The french toast special includes thick slices of white bread fried in egg and a hint of cinnamon then lightly coated in powdered sugar, two eggs cooked in any style and a side of hash browns.
The potatoes are thinly sliced, seasoned and fried on one side, which gives it a crispy and soft bite. The seasoning isn't too overpowering and meshes really well with the sweetness of the French toast.
Their breakfast menu gives stalwarts like IHOP and Denny's a run for their money.
The president's burger stands out from the rest of their burger options because instead of a standard bun, two slices of grilled sourdough bread are seasoned with parmesan cheese and then coated in thousand island. Two patties sit atop a bed of lettuce and tomato and served with a side of fries.
Instead of being the home-run one would think it would be, a rogue outfielder jumps the wall and catches it. As the batter's excitement grows from seeing that ball soar, it quickly dissipates as the ball falls in the opponents hands.
The tang from the sourdough is too overpowering to taste the parmesan and doesn't flow as well with the burger. While still a good burger, it was like eating two different entrees at the same time and not being able to decide which to taste, which is a shame because parmesan and bread is a wonderful pairing. The fries are perfectly lightly salted and fried to a light crisp.
Stars Drive-In might be better off switching that sourdough out for a brioche or a ciabatta.
What really sets Stars Drive-In apart from other diners is the atmosphere. Elvis Presley and Betty Boop statues greet people right as they walk through the door. Hundreds of `50s and `60s Hollywood memorabilia are scrawled upon the walls and each table has its own jukebox hooked up to the restaurant's speakers containing all the hits from that era.
There's also a hallway with classic arcade games and a pinball machine for children or for adults to compete with their friends after enjoying their meals.
Overall, this little diner is a wonderful place to get a meal. While their burgers won't wow in a city full of local burger places, the breakfast menu and the experience more than make up for it and is a huge step up from the franchise fast food locations.
Stars Drive-In is located on 20455 Sherman Way. They're open Monday to Thursday at 6:30 a.m. to 9:30 p.m. and until 10 p.m. Friday to Sunday for takeout and outside dining.