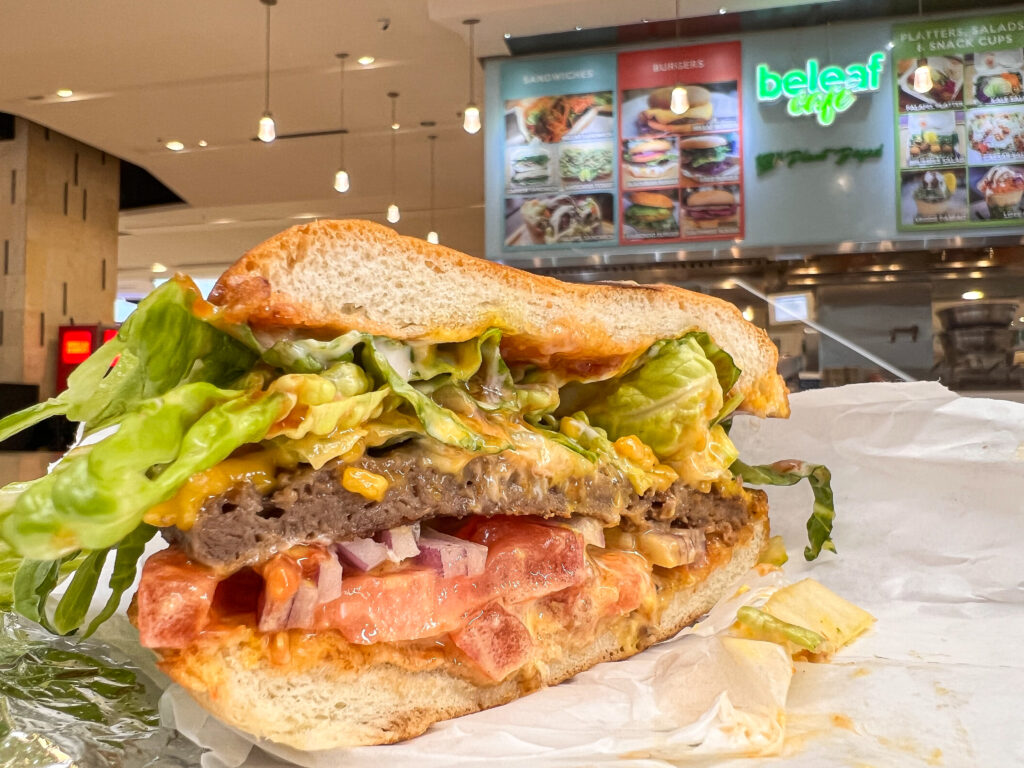 Fast food chains across the globe provide limited vegan options for people to try. Places like Carls Jr. and Burger King only offer one vegan burger. The search for a delicious and quick vegan meal with countless options ends here.
The guilt-tripping taste of junk food is near nonexistent after a bite at the 100% plant-based restaurant Beleaf Cafe in Canoga Park.
Beleaf Cafe is a plant-based restaurant located in the center of the food court at the Westfield Topanga mall. The restaurant offers one other location at the Westfield Century City mall in Los Angeles.
On the exterior, there are large, mouthwatering, eye-catching photos of their food items on the wall. To the left, above the cashier, the menu is presented on a widescreen monitor, accentuated with bright colors.
The shades of green plastered throughout the exterior also complement their message of being plant-based and sustainable.
The menu features classic fast food cuisine, such as burgers, sandwiches, nachos, tacos, wings and french fries—with locally sourced ingredients, making it healthy and environmentally friendly.
The prices are a little more than your typical fast food restaurant, but for food that is vegan, it is pretty reasonable. The average meal is around $11.
The Beleaf Burger has an uncanny resemblance to a classic hamburger. The bun is slightly crunchy on the outside with a soft interior. The impossible patty has a nice, savory, and juicy taste to it. The condiments and vegetables tie it all together, creating a delicious, compact meal.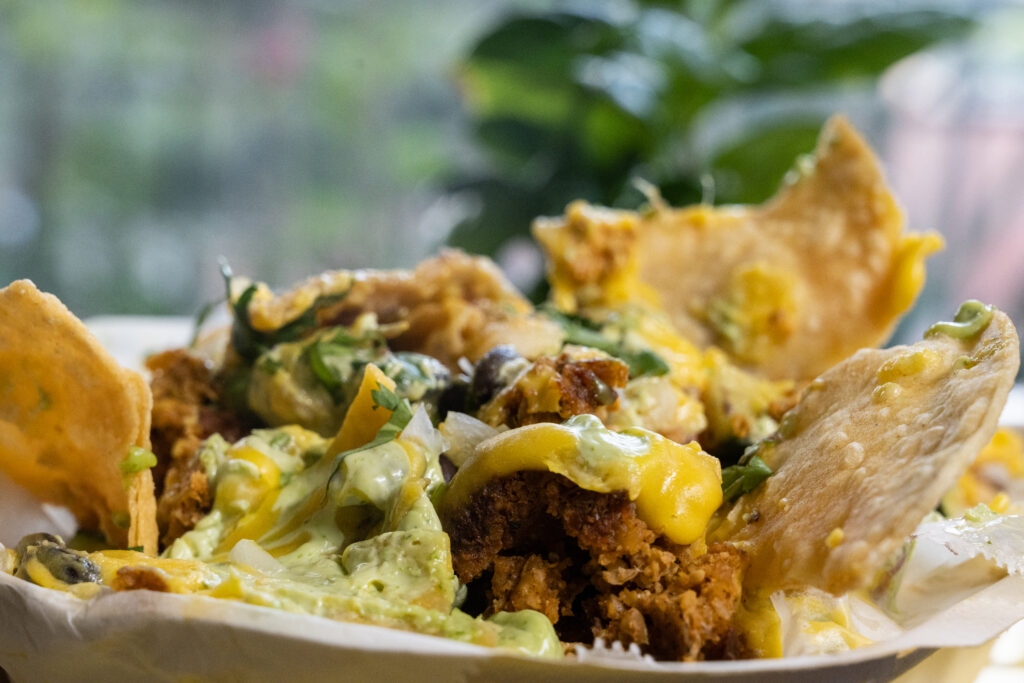 The Nacho Grande has a unique blend of flavors that complemented each other nicely. The taco mix, in particular, adds a rich flavor to the nachos, which are nicely accompanied with juicy cucumber and tomato slices. The chips manage to stay crunchy and avoid getting soggy with its toppings, even the ones at the bottom.
Customers also have the option of adding vegan cheese to any of their items for an extra one dollar. On the Beleaf Burger, the cheese melts into your mouth and has an identical taste to American cheese.
The portions of food are large enough to feed two people.
In addition to being environmentally friendly with its locally sourced ingredients, all of the to-go containers are plant fiber. The containers will turn into soil within 90 days, making it compostable.
Beleaf Cafe brings justice to plant-based food and remains tasty and favorable with its healthy ingredients.
Beleaf Cafe
Location: 6600 Topanga Canyon Blvd FC12, Canoga Park, CA 91303, on the second floor.
Hours: Monday to Thursday: 11 AM-7:30 PM, Friday and Saturday: 10 AM-8:30 PM, Sunday: 11 AM- 6:30 PM
Contact: https://beleafcafe.com/
Beleaf Cafe delivers via popular delivery platforms, such as Postmates, Ubereats and Grubhub.