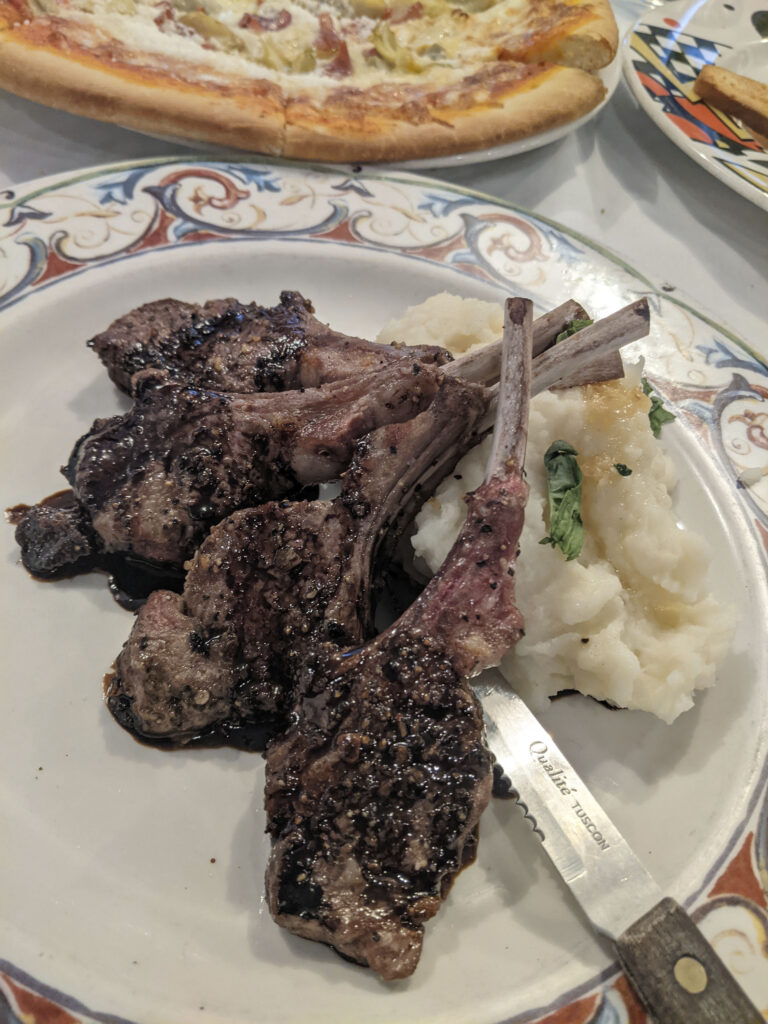 Sometimes, the food you see in shows and movies looks so good that it makes you hungry to try the food on the screen. Case-in-point: HBO series "The Sopranos". Gangsters and anti-heroes aside, one central element of importance to the Italian American characters was the food. The show leaves you hankering for Italian food. That is when you reach for your phone and search through Yelp for an Italian eatery.
On warm nights as the sun sets, Al Italiano in West Hills is the ideal place to indulge in a hearty Italian meal. The meal starts with a classic basket of complementary bread—three enormous dinner rolls served with a saucer of olive oil and garlic mixture that permeates the nose.
Following that is the antipasto—the ever-classic Bruschetta di Pomodoro. Thin and crispy crostini slices, these oblong disks dipped into the tomato chunks drenched in sweet balsamic darkness and olive oil mixture taste sweet and refreshing.
The rack of lamb is served with a generous lump of ultra-garlicky mashed potatoes. If eating this on a date, may your sweetheart also order this pungent side dish in solidarity. If you like rack of lamb dishes, you will enjoy these meaty, fatty meltaways. When it comes to seasoning, sometimes less is more. This lamb dish has minimal seasoning of salt, pepper and a hint of onion powder.
Keep in mind that this is not a Titanic portion of meat. If you have the appetite of a silver slugger, this portion of lamb might feel like a drop in the bucket in your stomach.
The big pizza pie, fit for a party of two, was topped with cross-sections of artichokes and strips of salty prosciutto. Perfect for those who like thin crust pizza. With the porky, savory delight and briny, meaty hearts, a bite out of this pie gives the most satisfying crisp when taking it all in at once.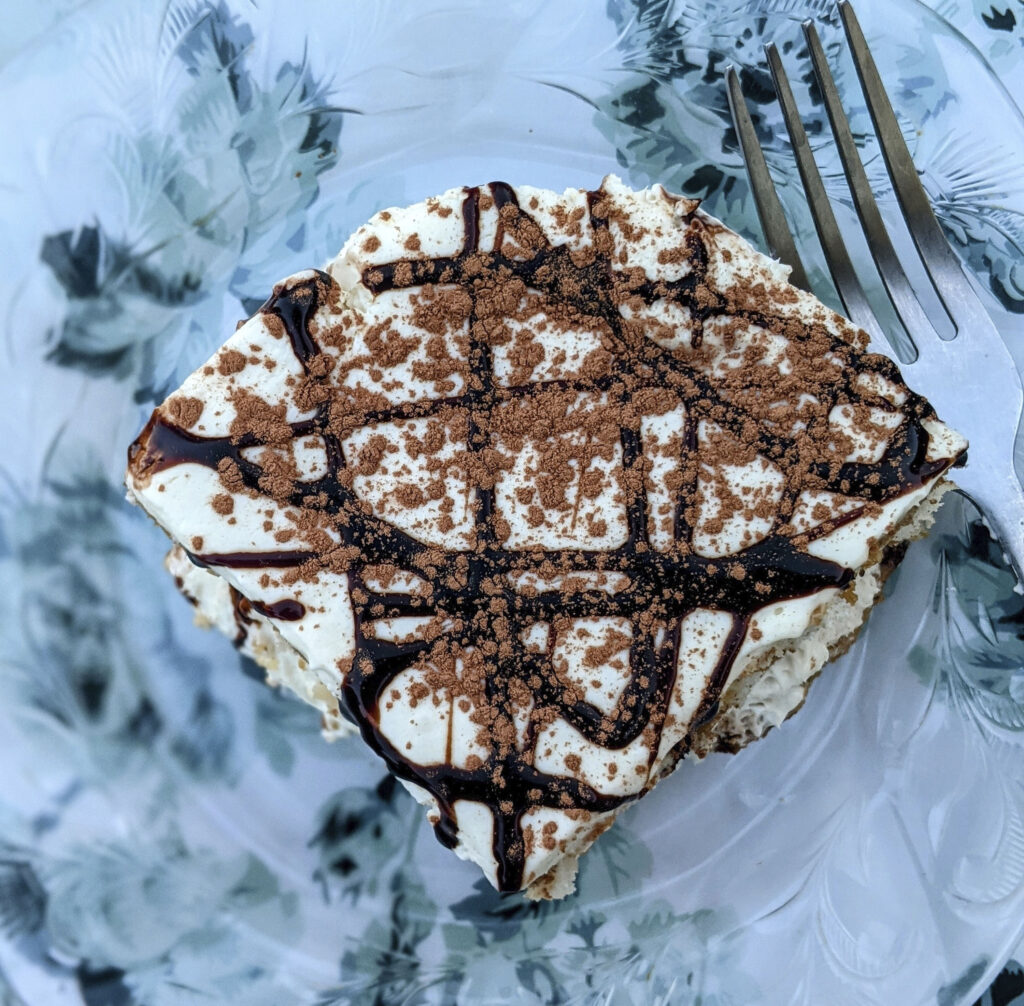 After the savory main courses, it is time to sweeten things up with a slice of tiramisu for dessert.
Drizzled with chocolate like a Jackson Pollock painting, this lovely tiramisu was made in house. The spongy lady fingers bounce as the fork makes an incision through delicate cake layers. The subtle, sweet cream melts upon contact with the mouth. This wedge of decadence leaves a lingering aroma of rum.
If you want all-around good Italian food with freshly made bread and pastries, Al Italiano is the place to go. The menu has something for everyone. Located on a strip mall, parking is a cinch. Sit in the casually romantic patio and enjoy a fine meal along the tranquil edge of West Hills.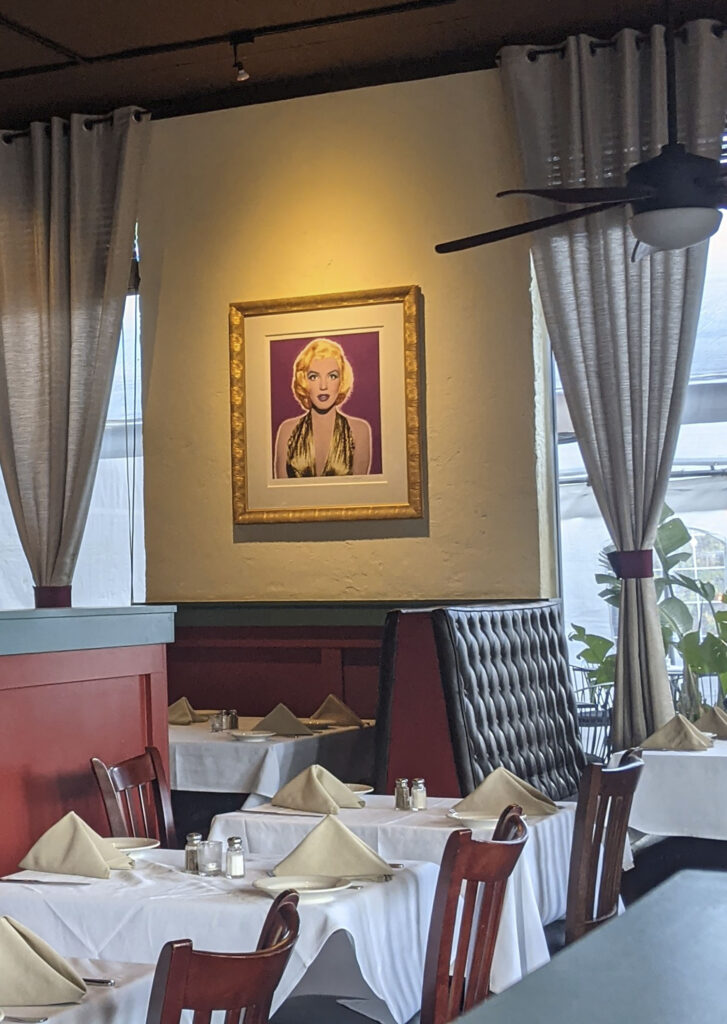 Al Italiano
Location: 23701 Roscoe Blvd, Canoga Park, CA 91304
Hours: Tuesday thru Thursday: 11-2 PM and 5-9 PM, Friday: 11-2 PM and 5-10 PM, Saturday: 5-9 PM, Sunday: 4-9 PM, Monday: 5-9 PM
Price: $$