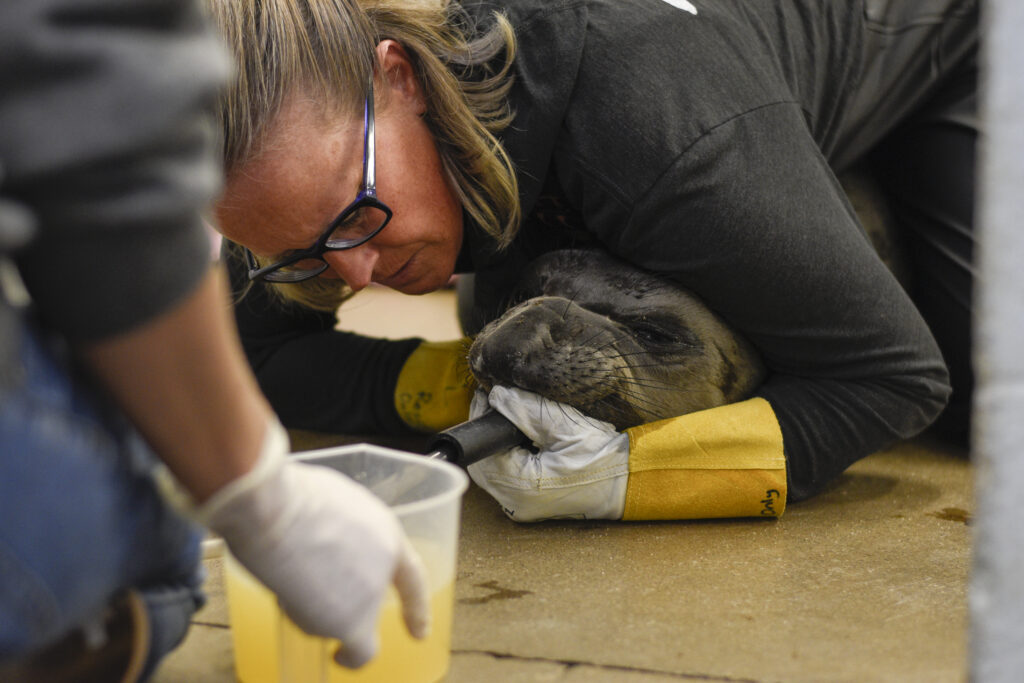 The slapping of flippers and loud barking echoed throughout the barn of a small rehabilitation center in Laguna. Fish formula mixed with electrolytes is prepared and poured through a feeding tube to reach a malnourished baby elephant seal's mouth.
A volunteer works with Wendy Leeds, the animal care coordinator, to keep the large animal pinned to the floor so its nutrients can safely be administered. They decided to name the 68-pound elephant seal Freddy, as her rescue date was Friday, March 13.
"They're scared, they have no idea what we're doing," Leeds said. "We're not hurting them in the sense of when we're taking them down, but they're going to struggle. And so we respect that force."
Leeds works with a small staff at the Pacific Marine Mammal Center (PMMC). Since 1971, they have worked to rescue and release injured marine mammals like Freddy throughout San Onofre to Seal Beach.
Leeds said they use a technique where they are not squishing the elephant seals and can do the procedure as fast as possible with minimal stress. She said it is like visiting the doctor and needing to get a blood test–it is necessary for good health but will be uncomfortable for a few minutes.
Freddy was found and rescued from 1,000 Steps Beach, where she has had an up and down journey to recovery.
"We were keeping an eye on her because she had lost weight, and then later that afternoon she was shaking," Leeds said. "Her whole body was trembling. Her temp was 93.5 [degrees Fahrenheit], very low. We moved her into one of our ICU units with the warm floors and had placed a warm blanket that we call a body hugger. It's a lovely medical device."
While monitoring Freddy's body temperature, they noticed it kept fluctuating. So they agreed to put her on antibiotics and added thickness to the tube feeding to add some more weight to her diet.
"We were vigilant," Leeds said. "By March 29, she had gained eight pounds. We had her on close watch until April 19. We had taken more blood and her blood looked like it was back to normal and things were doing really well."
Freddy is now over 213 pounds and is scheduled to be released in late May.
"She's now eating all her meals, and she's actually even diving," Leeds said. "She's definitely one of those animals that highlight how closely we monitor our animals."
After being tube fed their formula, the seals are then weaned onto a fish diet where they can eventually be stable enough to return back into the wild.
She stated that this is currently the busy season for California sea lions and the elephant seal season barely started this month.
"Typically, we see about 25 to 30 elephant seals a year," Leeds said. "However, we're thinking it could be a big year. We've had up to 76 elephant seals in-house, and those are big babies."
Leeds has been working at PMMC for 24 years. She said there are many different aspects of animal care for volunteers and it's a lot of hands-on training when she prepares them for rescues.
"Typically, cleaning is the number one thing, weighing fish, and then we gradually start bringing them in to get them comfortable," Leeds said. "I try to tell volunteers that I train, 'I'm never going to put you in a situation that I don't feel you can't handle.' I want them to trust me because at the end of the day, we're all working together and these are wild animals."
Leeds said these rescues not only require team communication, but making the right decisions under pressure.
"If we're doing a jetty rescue, which is usually we're going out on a harbor patrol boat, they bow us onto the rocks, and we jump from the boat to the rocks," Leeds said. "Then you've got to net the animal and get the animal from the rocks back onto the boat. For a volunteer who's never done that, myself as the Animal Care Coordinator would go out and train them on how to do that."
PMMC has rescued more than 40 animals in 2020 as of May and that number increases when they are in their "busy season" or a breeding season where many sea lions are likely to mate and be found stranded. They are a nonprofit in Orange County with a small staff of 16 and at least 220 volunteers coming in during different shifts.
PMMC educates more than 10,000 children a year in a variety of their education programs, such as distance learning and girl scout and boy scout programs. Normally, they see about 50,000 guests a year in their visitor yard.
Public Relations and Events Coordinator Krysta Higuchi got involved with PMMC 10 years ago and manages the social media account, attends rescues and assists with animal care when needed. She also has been involved in many exciting and unusual rescues.
"There was an animal that was completely entangled in a gill net and stuck to a buoy," Higuchi said. "So I jumped on the buoy. My teammate jumped on with me. I held the animal, she cut the gill net off, my third teammate held the net up and boom. You've really got to not only trust your teammates, but have those skills and confidence to know what you're doing."
Higuchi said when she started rescue coordinating in 2015, they entered what is called an Unusual Mortality Event (UME).
"A lot of seals and sea lions, thousands of them, sea lions in particular washing up emaciated, starving, dying and we needed extra help coordinating and organizing all of these rescues," Higuchi said. "I became a rescue coordinator part-time. Once I finished school, they hired me full-time."
Retired research biologist Mark Lowry has worked for 36 years studying pinnipeds in Southern California. He received a Bachelor of Arts in biology from Humboldt State University in 1973.
He has worked with gathering specimens from San Clemente Island and San Nicolas Island to monitor California sea lion diets and has studied the census of the sea lion population in the Channel Islands.
When he started working in 1976, the US population was about 60,000 and it has grown to about 300,000. Then that reached what he calls carrying capacity and has been gradually decreasing since.
He said the population is currently in good condition, yet a change in sea lion diets has contributed to the unusual mortality events seen along the California coastlines.
"There were a lot of strandings, mainly pups, because they got the mothers abandoning them," Lowry said. "Some of the pups went out to sea and some of them were strong enough to make it to the mainland. A lot of them died."
After observing the UME, he said strandings weren't the only reason for the high number of deaths.
"There are also other things that happened to them," Lowry said. "You've got leptospirosis infections and there's the algal blooms too that affects them."
Animal Care Supervisor Lindsey ShaVoic has worked at PMMC for 20 years. She volunteered for 13 years and first heard about the organization when she was a Girl Scout.
ShaVoic said there are different roles involved when it comes to being an animal care supervisor.
"As a supervisor, you're making decisions on the animal's care," ShaVoic said. "Those decisions can hurt an animal or help an animal and the same with your team. I'm responsible for my volunteers' safety, so it's my decision who I send out on a rescue and all of that and put it together. Everything has some sort of risk because these are wild animals. There's some sort of responsibility to keep them safe. Managing volunteers is a lot different than working beside them."
She said one of her favorite aspects about working at the center is how many different people get involved with their programs and volunteering.
"They work their butts off, and it's such a privilege to work with amazing people like that," ShaVoic said. "We get people from all different walks of life. They don't necessarily have a bio degree, but we all have helping animals in common, and I think it's really neat that we can get people that want to experience and then people that just want a hobby."
Due to the COVID-19 pandemic, PMMC has stayed closed to the public, but they are still working to rescue as many animals as they can with the donations they receive to keep their facility clean.
The center is offering free distance learning programs on their website that inform people about marine mammals from their home and people can visit pacificmmc.org/free-program to sign up.
They also have a live webcam of their patients so people are able to watch them playing in the rehabilitation pools from home.
Leeds said when they release the animals back into the ocean, the team shares in the joy of the successful recovery.
"By spreading awareness of what it is we do here, and the impact we're having on these animals and how we need to fix the environment that they're living in, that's what keeps me going," Leeds said. "It's what keeps me coming in here and doing all of this for these guys."