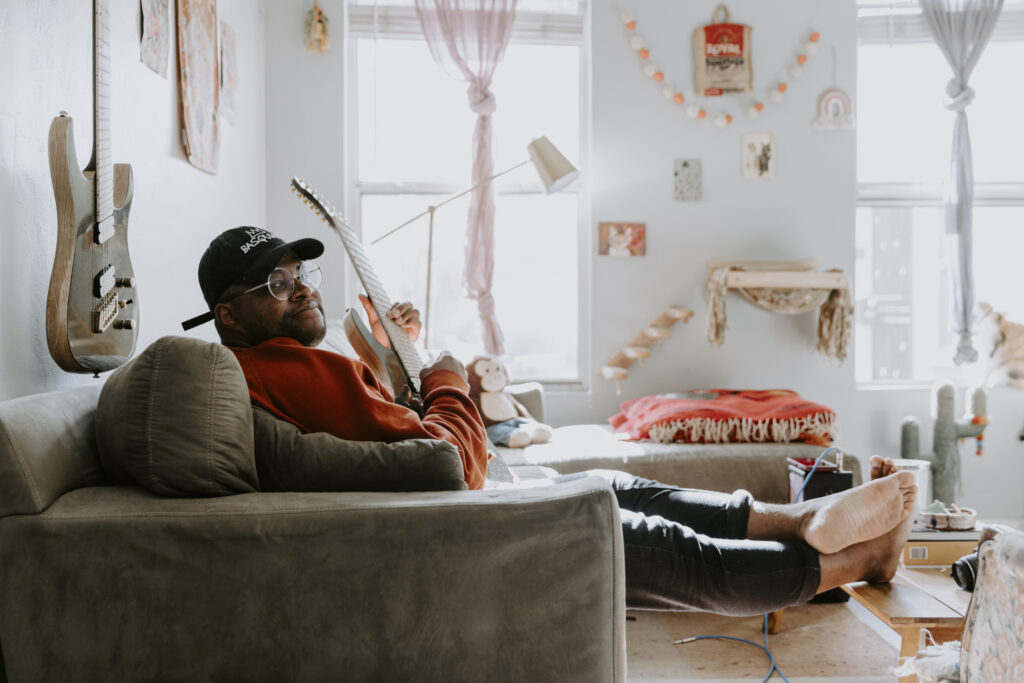 Swiping through Instagram Reels, a video appears. A young man with a silver chain, geometric eyeglasses, a daisy bandana wrapped around his head and a big smile on his face is sitting on a couch. An eight-string guitar with flame-top pink paint that fades to blue as the eye travels from the neck to the body rests in his hands.
Immediately, the sounds of a bass, drums and guitar jump from the phone screen. Only, all those sounds are coming from one guitar and one pair of hands.
Brandon Washington thumps, plucks and strums his Ormsby to create a melodic one-man-band jam.
"I feel happiness from it," Washington said. "I draw life into the conclusion of music and happiness because music is life."
Washington–whose stage name is Ando San–has released five self-published EPs. He continuously posts videos of his jams to Instagram and TikTok where he amassed thousands of followers.
When Washington was 13-years-old, he found his father's bass guitar hiding in the apartment. Enamored, he picked it up and found his calling. He later began learning the guitar at 16 and credits his friends for letting him borrow their instruments.
"When I started playing the bass, it felt very natural," Washington said. "It felt like I was at home and that it was just something that I needed to do."
Washington attended an Animals as Leaders concert that motivated him to be the best guitarist that he can be. The instrumental progressive metal band was founded by Tosin Abasi in 2007.
"At that time, there weren't a lot of Black guitarists that were playing metal, doing what he was doing," Washington said. "From that point, I made it my goal to get really good at guitar because I didn't want to depend on anyone to write music. I wanted to write all the music."
Washington said he experienced a lot of trauma as a teenager living in a poor environment. He said his father wasn't present until his mid-teens and playing music was his coping mechanism.
"It was a good outlet for my emotions," Washington said. "There's a lot of things that I couldn't really put into place, and music was the avenue where I felt safe."
Washington said the biggest struggle he's faced in his music career was finding a community.
"Trying to find a place in the music industry is the biggest challenge for me," Washington said. "It's really hard for me to find community and music because I've always had a hard time connecting with people."
Washington's prowess with an eight-string guitar led to Ormsby Guitars creating a signature model for him–a feat he shares with guitarists such as Fear Factory guitarist Dino Cazares and solo guitarist Rusty Cooley.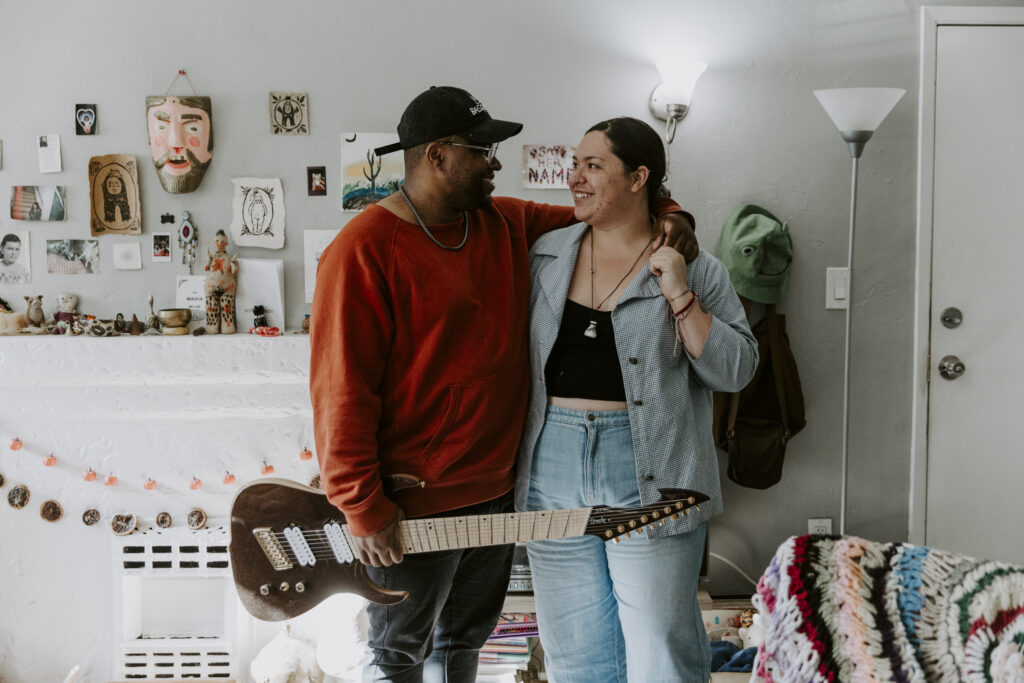 Washington shares an apartment with his fiancé Anissa Orozco in Los Angeles, where they appreciate their love for art together. They met on a dating website in 2018.
Orozco obtained a degree in studio and fine art and teaches kindergarten art and art classes at a community center. She said she really enjoys sharing a creative space together with Washington.
"I think one of the things that brings me the most joy is that we can just be together," Orozco said. "I could be reading a book and he can be playing his guitar. But even though we're doing different things, we're in the same room doing those two things at the same time."
Like Washington, Orozco has faced struggles while working as a ceramicist.
"I'm trying to not make my art and the essence of my art become a commodity where I have to feel like I'm selling myself," Orozco said. "It's hard to not stray from what got you started in the first place."
Orozco said she was glad that Washington understands what it's like to live and work as an artist.
"I love that we both think about art in the same way," Orozco said. "Where it's not something to grind and hustle toward, but to live in comfortably."
Pierce College Music Department Chair Wendy Mazon has seen first-hand how people can find happiness and success in music. Mazon earned her bachelor's and master's in music and a doctorate in musical arts from the University of Arizona.
Mazon said that pursuing a career as a guitarist is a viable option because there are many different styles of music that use the instrument.
"There are a lot of jobs for guitarists," Mazon said. "Anything from education, to studio musician, all the way to a gigging musician and creating your own band. It just gives you a great freedom."
Mazon said working as a musician allows you to collaborate with, evolve and network with others. She said that people who pursue music careers should do it for their own happiness.
"They do it because they have a passion for music, not because it's a job that pays money," Mazon said. "Because what you're doing as a musician is a great responsibility."
Washington said he hopes to sustain his joy in art and music and continue enjoying his life with Orozco.
"Finding joy in small things, because I feel like that's what makes life worth living," Washington said. "It's like going through each day and looking at all the little things that make you happy."
Washington said that aspiring musicians should surround themselves with like-minded people. He said that people will say things to deter someone starting in music from chasing their passions.
"Don't listen to anyone," Washington said. "A lot of people told me, 'it's going to be hard,' and 'you wouldn't be able to do it.' Don't listen to anyone and just do it. Take the advice from the people who are actually doing what you want to do."
Washington said his happiness has changed a lot over the years, especially during the pandemic.
"I guess what used to make me happy was playing music," Washington said. "But now that I'm in a committed relationship, I think it's being with my partner, living and relaxing. Music does make me happy, but I think the real happiness comes from just being home." 
David Pashaee contributed to this story