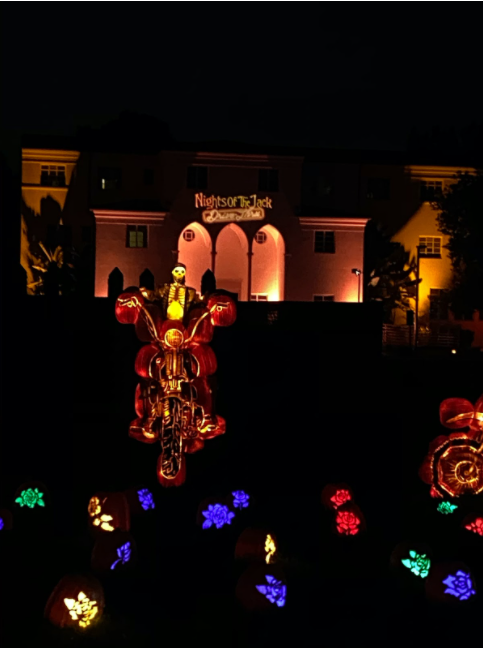 The flickering lights within the hundreds of jack-o'-lanterns catch the attention of the passengers and drivers passing by in their vehicles.
Night of the Jack, the once walk through annual event, has now become a drive-thru because of the pandemic.
Beginning with Spongebob and ending with The Day of the Dead, these carved pumpkins show an extremely vast variation of designs that leave a sweet nostalgic taste in the mouth. The holiday experience, which is located in Calabasas, has been an ongoing event since Halloween 2018. Each year they have different themes placed along the path of King Gillette's Ranch.
In order to attend the event, one must purchase tickets online from their website which is extremely easy to navigate. There, participants will be able to choose a designated time and date.
The attraction begins after people enter the gates of the ranch at their designated time and have their ticket scanned.
From there people are guided onto the path by workers who maintain the lines and traffic of individuals going through. At the end of the line is the official entrance.
Laid out all over the path are pumpkins carved in a diverse amount of patterns, really displaying the talent of the artists who contributed to the attraction. There were pumpkins with the faces of celebrities on them, shaped in the figure of a person, motorcycles and even a giant octopus. It was an extremely impressive sight.
Usually during this time of year, one would be able to go to Universal Halloween Horror Nights, Knotts Scary Farm and haunted houses. Given that all of these experiences are in person walk through events, they have all been canceled due to COVID-19. This leaves Nights of the Jack to be one of the only few attractions left to safely participate in.
This event puts participants in the Halloween spirit, especially those who have not left their homes very often. It was a very good attraction.
If anything, the only issue was that it should have gone on longer. In addition to appreciating the time taken to carve and detail each and every jack-o'-lantern, it was also fulfilling to be able to experience something Halloween-related all while in a comfortable setting.
For those seeking an activity to set the tone for the spooky season, purchase a ticket for this event, but split the cost with at least three other people because the price is on the more expensive side.
Nights of the Jack is located at King Gillette Ranch, Mountains Recreation and Conservation Authority at 26800 West Mulholland Highway in Calabasas. Tickets are $69 per vehicle up to seven people and there is an additional charge of $20 if there are eight or more people.