Valley food bank answers the call for those in need during the pandemic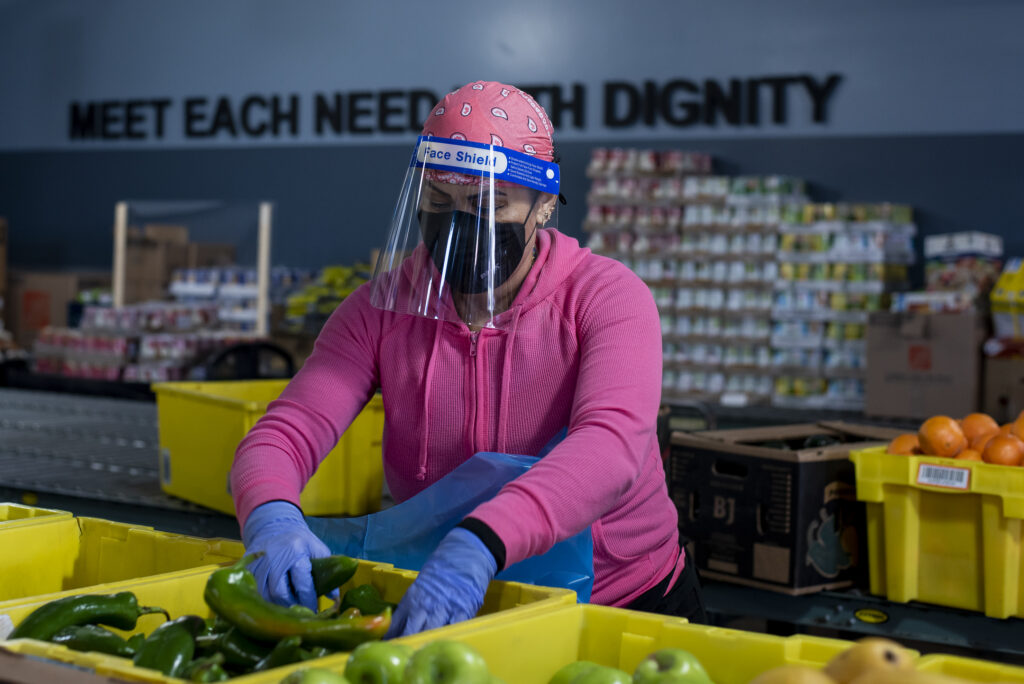 Cars start lining up by 7:45 a.m. on San Fernando Road in Pacoima, to begin a more than two-hour wait for the MEND Food Distribution Center to open its large metal gate to the public. By then, the line of cars can stretch a mile long.
Clients include those who've lost their jobs because of the pandemic, families living in a garage and people experiencing homelessness who need a meal to get through the day.
At the front of the line, people receive one or more large paper bags—depending on the number of people in their household—filled with breads, canned goods, fresh produce, eggs and other donated foods.
President and CEO of MEND Janet Marinaccio started working for the organization in 2017 after a 19-year career in nonprofits. The pandemic has greatly increased the number of people from all walks of life who are in need.
"Today, there was a Mercedes in line, and I don't believe anybody would come and line up for a mile down San Fernando Road if they didn't really need food, regardless of what kind of vehicle they're driving," Marinaccio said.
MEND is one of the largest food pantries in the San Fernando Valley and has operated for 50 years. Since the start of the pandemic, the organization has provided more than 2.5 million pounds of food for more than 150,000 people, according to its website.
MEND offers many support services and programs, including one-on-one guidance through Pathways to Wellness and Family Support Program (FSP) that connects staff and volunteers with clients to set goals to improve their health or living situations and conducts weekly check-ins.
Before the pandemic, MEND also offered many free on-site services, including gently-used clothing drives, "Grab & Go" meals for clients who are chronically homeless and a farmers market called Buen Provecho.
Foodbank Manager Adam Brooks started working at MEND out of an interest in cooking and working with food.
"I think the pandemic has taught us a lot about working together," he said. "And despite the fact that it's done a lot of damage in the community, I think it's helped us become much stronger and much more capable."
In addition to the board of directors and staff, MEND relies on volunteers to assist with food distribution and other services. Many college students volunteer for one-to-five months and often participate in the one-on-one guidance services.
Martha Mendoza has been a client since February when she lost her job and moved into her parents house with her 13-year-old daughter. She goes to the food bank weekly and picks up a few bags for her family.
"It's difficult being a Latina and asking for help, but having MEND here helps," Mendoza said. "It's hard, but I try. I know there's other people out there who are worse off than I am, but it is what it is."
Since the start of the pandemic, MEND has received more than three times its usual amount of clients with half the amount of workers.
"If you've got a family of six living in a garage, it's almost inhumane," Marinaccio said. "It's not a way to live, which is why we're here and why we're doing what we're doing. For me, this work is not a job. It's a calling. I feel like my career path is focused on serving the community."
For more information, visit the MEND website.