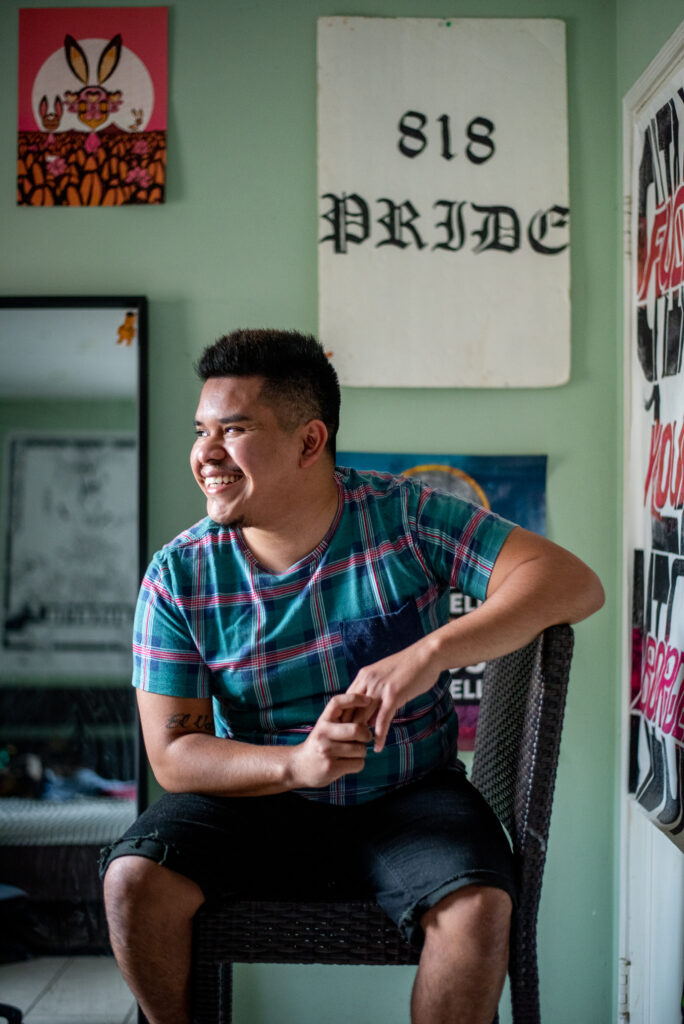 After a long night of dance practice for his cousin's quinceanera, 12-year-old Kevin Perez came home late. His mother was angry—rightfully so, he thought.
But when he sat down for her lecture, she pulled out a notebook filled with love notes he had exchanged with his boyfriend. Then she pulled out a Bible.
His secret was out.
He lived a double life. At school, he was out and proud and accepted by his peers. But at home, he downplayed his queerness, afraid his family would reject him.
"Imagine being in a room and you're always standing out," Perez said. "You're not accepted, yet you're allowed to have your presence there. That really makes you feel used or disposable—like, 'I could love you, but if you show that little bit of queerness or start acting out in front of us, we're going to push you away.'"
Perez grew up in Sun Valley, California, with immigrant parents from Palencia and Saltan, Guatemala. While they didn't go to church every Sunday, religion was still prevalent in their home.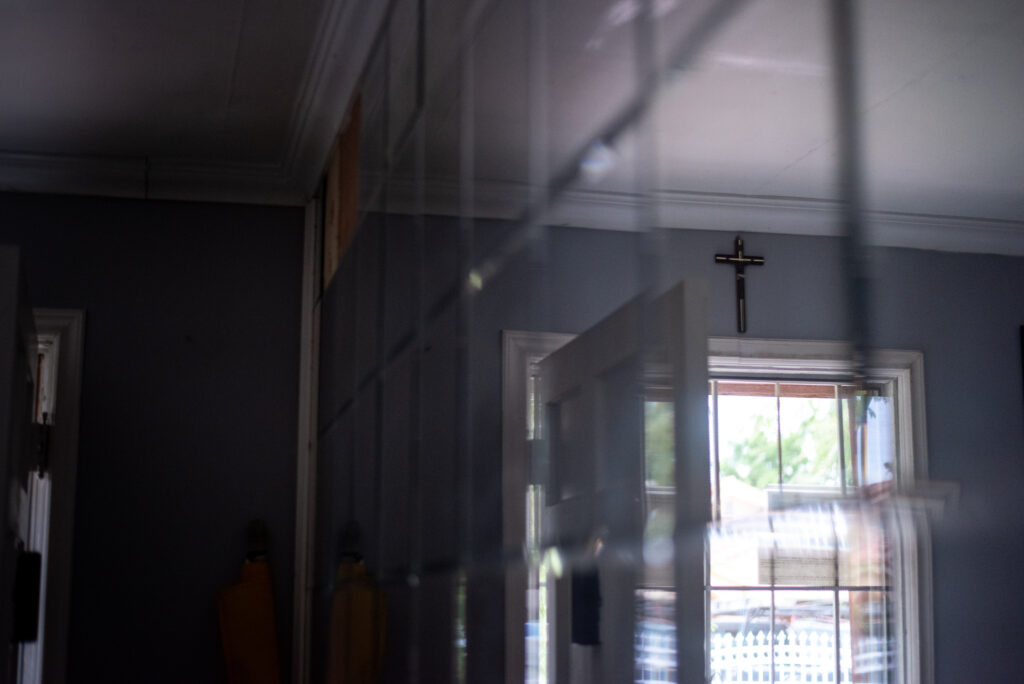 "Religion is used as a fear factor and a tool to oppress and benefit cis and straight ideals, and used to put down or debunk queerness," Perez said. "That's where I realized that I was alone and not really surrounded by support or resources. Those experiences with family rejection, the little comments that you might hear and the bullying in school. It was really traumatizing."
Monika Ramirez Wee, a former art professor at Pierce College and second-generation immigrant from Mexico, explained, "Being Catholic is this core integral part of who you are."
According to Wee, the Catholic faith tells you to be straight, and to be anything outside of that is considered wrong in the religion.
"That makes you feel really terrible inside," Wee said. "You're essentially not a child of God, you don't inherit the kingdom, you don't get all the seven sacraments and all of those logistical things, but it's like what it does to you inside as a person in terms of your sense of confidence."
She recalled figuring out her sexual orientation at a young age. She decided to come out to her mother because she thought not telling her would be lying, which was also against the Catholic faith.
Her mother's immediate response: "'You need to go to confession,' and 'What have I done wrong as a parent,'" Wee said. "I folded under that type of parental rejection. It delivered a really strong message to me. It tells you, 'I don't have a family,' my literal one, and everything that goes along with that. So the holidays, the parties, this sense-of-self that goes with your identity goes away. And then if you're also part of the larger, marginalized population in society, you really don't have a family. That's huge."
Perez also experienced rejection. His mother's reaction instilled fear and anxiety that stayed with him for more than seven years while he lived with his parents.
"It feels like you're living a double life," Perez said. "Throughout that experience, I felt like I was going to get kicked out or put in the streets. I remember crying at the time thinking what alley I was going to go to just to sleep and figure it out in the morning, then trying to go to school and maybe tell them, knowing that some teachers were homophobic. It really felt like you were really alone. I remember trying to plan my survival."
In high school, Perez learned about creating community and "chosen family" as he became active in a Gay Straight Alliance (GSA) club and formed LGBTQ-friendly cliques.
However, there were no nearby legitimate LGBTQ organizations he could turn to for support, the closest being in Hollywood.
During his time at Long Beach State and California State University, Northridge, Perez became more passionate about the social justice movement and wanted to make a difference in his hometown.
What started as a group of friends talking about creating community in the San Fernando Valley turned into Somos Familia Valle (SFV), which translates to "we are the valley family." It's a volunteer-run, nonprofit organization "led by trans queer people of color dedicated to support, empower, train, and mobilize trans and queer people, immigrants, our families, and allies for racial, gender, environmental, and economic justice," according to the group's mission statement.
In 2014, SFV organized what the organization believes is the first ever pride march in the San Fernando Valley. They expected 30-40 people, but were met with 150 people holding signs and ready to march.
"We've been such a need to the community because it's something they've never seen before," Perez said.
As president of SFV, Perez's approach has been to "build community, listen to community and then build from that."
In the first few years, SFV organized monthly and bi-monthly meetings in parks and volunteers' homes. They invited guest speakers such as sex workers and queer couples who were adopting kids.
Since then, SFV created four distinct support groups: Queer & Trans Men of Color, Somos Women of Color, LGBTQ+ Youth Council and a parent support group that is not currently active.
Kevin Perez assembles care packages for the members of the LGBTQ+ Youth Council in Sun Valley, Calif., on Oct. 7, 2020. The packages included voter registration packets, masks, books, stickers, water bottles, artwork and pens. Most of the supplies were donated by local artists and organizations. Photos by Katya Castillo.
One of Perez's focuses is to build a community of self-empowered leaders. He said that LGBTQ+ people are a minority and it's not always safe.
"I think when queer people get put in those situations, we also know how to thrive and how to learn to survive and really navigate the world," Perez said. "They always told us in GSA that this is a safe space. [SFV] is not a safe space. We're in a brave space. We're leaders. We're not victims. If we need something, we need to fight for it. We need to advocate and show up."
Rodolfo Vazquez, a fifth-generation Chicano, joined SFV after seeing a Facebook post about it in 2017 and said he has benefited substantially from the Queer & Trans Men of Color support group.
"No matter what, there's no judgement in who you are," Vazquez said. "They embrace you. In one of the exercises that we do when we're opening up, they say, 'We got your back,' and there's a great power to that. It really helps boost your mood and your mental health. Just being among a group of your peers that you can identify with is so empowering and uplifting."
Perez's experience with familial rejection and lack of support inspired him to create a community for LGBTQ+ people of color in the San Fernando Valley so they didn't feel alone.
"I didn't have accepting parents, I didn't have a school counselor that was there for me and I didn't have an organization that taught me leadership," Perez said. "I don't want them to be victims of their oppression. I want them to be leaders. What I really want for any of our members is realizing you have your own agency, you have your own voice and your identities really do matter."
It took several years for Perez and his mother to talk about his sexual orientation after that first night when he was 13. According to Perez, his work and advocacy broke the stereotype of what his mother expected and feared from a gay man.
"Now she's my mom," Perez said. "She's loving, she's caring and she's there for me. We understand each other and we care for each other now. I think there was a little hate and some built up trauma I had. But now she's very accepting."
Since the pandemic, Perez decided to engage in SFV full-time. In his experience with the group, he saw the value of having a support system.
"I really want folks to be a little bit more vulnerable, especially because in our religious and Latino community toxic masculinity sticks," Perez said. "But we could be proud and say, 'yes I'm crazy but I can still advocate. Yes, I'm a victim but I can advocate and liberate myself.' Just being vulnerable is really what I want for our members, and using that vulnerability to create change."