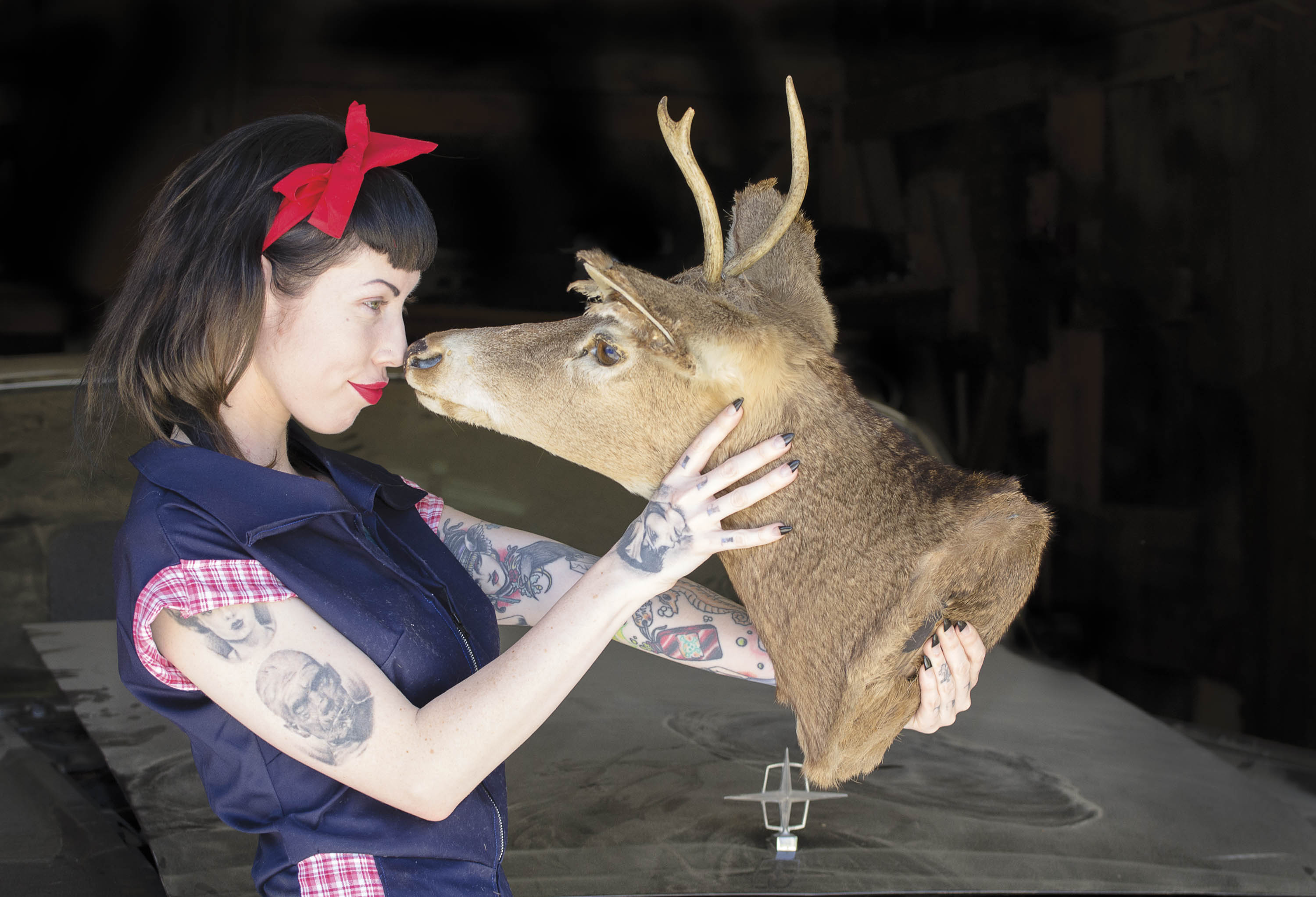 Wearing a retro floral pin-up dress and a silver necklace with a mink vertebrae pendant, both of which she made herself, Connie Lail-Preciado saunters into the room with ladylike charm. A self-described cross between "Leave it to Beaver" and "Elvira," she fuses classy with creepy. Though dainty in demeanor, she is also tough and tatted up. It looks as if the pattern jumped off of her dress onto her pale skin.
"Ever since I was about 14, I started wanting to get my entire body tattooed," Lail-Preciado says. "My left arm is mainly dedications and things for my family. I have movie monsters, sideshow attractions and on my back, from the top of my neck to my tailbone, I have Annie Oakley on her horse."
She has plans to be fully covered in the next three years or so.
Always a creative, Lail-Preciado started selling her crafts in high school, where she would make hair bows and clips for her classmates.
After graduating early, she went to the Fashion Institute of Design and Merchandising (FIDM) in Los Angeles.
"I went through the whole college phase where you are living off of Top Ramen for a long time. I went to fashion school and poured all my money into that," she said.
Lail-Preciado later realized that making fashion for the mainstream wasn't for her.
"I make a lot of really odd things," Lail-Preciado says. "I make most of my own clothes, and clothes for my kids. I love to make 1940's lingerie, that's probably my favorite style and era."
With a wide range of interests, including fashion design, furniture restoration, collecting vintage pieces and all things macabre, Lail-Preciado decided to combine her passions into a new art form to focus on – taxidermy.
With a wide range of interests, including fashion design, furniture restoration, collecting vintage pieces and all things macabre, Lail-Preciado decided to combine her passions into a new art form to focus on- taxidermy.
"I have to tie everything that I love and know into one, so that I can have fun while I'm working at the same time," she says.
Like many of her hobbies, Lail-Preciado got into taxidermy because she really liked the idea of owning some pieces of her own, but couldn't bear to spend a lot of money on it.
"I am an estate sale rat. I go to estate sales pretty much every weekend, and I noticed a lot of really big pieces of taxidermy that I loved but couldn't afford," she says. "I'd buy some here and there, but realized that it would be a lot better if I knew how to do it myself, and if I knew where it was coming from."
Lail-Preciado's taxidermy is distinct and focuses on anthropomorphic style.
"People joke around and say it looks like the taxidermy in [the movie] "Dinner for Schmucks" because I dress them up as people and do funky stuff," she says. "I like to bring to life the beauty that the animal had when it was still alive, and at the same time mix it in with human things."
Lail-Preciado has been practicing taxidermy for three years. According to Vice Magazine, alternative taxidermy is female-dominated, and there tends to be about an 80/20 female to male ratio in classes.
"I started learning things online, and then took a class at the Bearded Lady to learn small taxidermy," she says.
The Bearded Lady is a vintage and oddities shop in Burbank owned by Erick Yaro Wessel and Kyrsten Akikio Bailey. In business for three years, the shop specializes in things of odd nature, and sells everything from ethically sourced taxidermy, to Ouija boards and medical equipment. They also offer taxidermy classes about once a month, which is where Connie learned her craft.
"I met Connie through the shop," Wessel says. "I remember her taking classes, and she frequents the store. We always talk and have full half hour conversations every time she is in."
Lail-Preciado is currently working on several projects, including the restoration of a 1950's travel trailer, where she plans to store her designs. She is also using her carpentry skills to refinish furniture to fill the trailer.
Another piece she is working on is a broken radio cabinet. She gutted it, refinished it, and is now making a taxidermy scene within it that features a rat laying across a chaise lounge that was originally used in a vintage dollhouse.
Many of her creations serve as functional decorative pieces, rigged with lights in certain areas of the scene.
Lail-Preciado focuses on humanely sourced taxidermy.
"I don't kill anything," she says. "I don't even eat meat. I have friends that hunt, and they constantly ask if I want any pieces they killed recently. I have to explain to everybody that I don't want to kill anything, I just want anything that has died naturally so I can bring it back to life."
She finds pieces of animals, dries them and boils the bones. She also goes to feed stores in Sylmar where they give her the rodent runts that are already dead.
"They just put their hand through and whatever is not moving, they check to make sure they're dead, and then they let me have them. I throw them in a freezer for a couple of days, and then I work on them," Lail-Preciado says.
Always looking to learn more, Lail-Preciado uses books and online resources to enhance her knowledge.
"There are certain things, like popping the skulls out of some animals, that are really hard. I wasn't really sure how not to damage their faces, and Youtube videos have helped," she says.
Though some may find it graphic, it's all part of the art form.
"Everyone's a little uneasy and scared when they start, but then they realize it's science," Bailey of the Bearded Lady says. "Once you see past what you're actually doing, you realize it's a way of appreciating it and giving it life again."
Like an artist picking their color scheme, Lail-Preciado selects certain carcasses based on fur color and pattern.
"I try to make each piece different. When I go in and look for the rats, I am always hoping for certain color combinations," she says. "Once I'm done and have positioned them the way that I want them, just thinking about what little outfit I'm going to stick them in is a lot of fun."
According to Lail-Preciado, working on birds is difficult. She only acquires chicks and ducklings.
"You have to remove the brain and put the skull back in, and then create your own brain out of molding clay," she says. It's very challenging not tearing their faces."
"I've been around death a lot in my life. A lot of people close to me have died, and I just kind of got to the point where it was normal," she says.
She has worked in veterinary offices and volunteered in shelters, so animal death is nothing new to her.
"For me, even in movies, I feel like it's a lot sadder when an animal dies than when a human does, which is really sad," she says.
"I studied mortuary science for a while because I wanted to be a mortician, but having about 70 percent of my body tattooed, I realized that I wouldn't really be accepted in that industry. After studying that, death doesn't really bother me anymore. I don't have a death wish or anything, but it doesn't really bother me," Lail-Preciado says with a laugh.
Lail-Preciado's home is a reflection of her craft. "My house looks like a cross between a hoarders house and an antique store, with 1920's things everywhere," she says. "Anything pre-WWII, I'm obsessed with."
Not your typical "stuffed animals," Lail-Preciado says her 7-year-old daughter tries to play with the pieces she has preserved.
"She thinks they're cute. They're disinfected and everything so they don't have any funky smells, and they're all dressed up. I've built her a few dollhouses and dollhouse furniture so she tries to take them, and I've caught her twice playing with them," she says.
Lail-Preciado works three nights a week at Jo-Ann Fabrics in Porter Ranch.
"I'd say my entire paycheck goes back into the store, buying fabrics and materials because they have almost everything that I need there," she says.
Adding to her range of talents, Lail-Preciado also enjoys performing on stage.
"I do really weird gory burlesque as Connie Munster," she says. " My dad is actually the one who gave me that name because the Munsters have the one niece Marilyn that's normal and everyone else is weird. In our family, I was the weird one and everyone else was normal so my dad called me Connie Munster."
Focusing more on simulated nudity, her burlesque is less sexy and more gory. Wearing costumes she designed herself, she splatters fake blood on the crowd, and pretends to rip out her organs while performing.
"Weird, macabre, that's my thing right there," she says.