by Chelsea Westman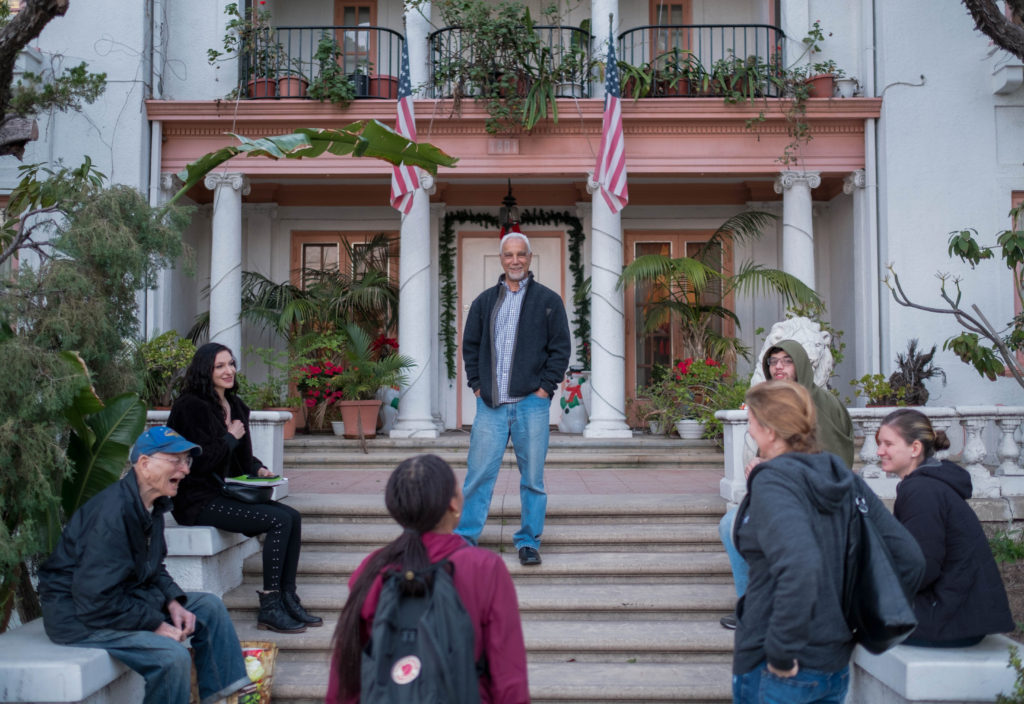 It was around 55 years ago when Ronald Reagan wrote his autobiography Where's the Rest of Me? and ventured off into the world of politics after a bubbly career as a Hollywood actor. The 60s brought a time of turbulence and uncertainty, and Reagan searched for insight on his political journey through a way no one could imagine.
Reagan was a follower in astrology, and it was, in fact, a hip subject to many celebrities during the nearing of his presidency.
He and Nancy Reagan believed that astrology could make a difference in their lives, and they sought out the most recognized astrologist they could find in California. That is when they were greeted by ※the Astrologer to the Stars, Carroll Righter.
Righter was a famous astrologer to many celebrities in the 50s and 60s. He has left a legacy of insight and tradition behind after he founded the Carroll Righter Astrological Foundation in Hollywood.
Fransiscus Cisco Huijbregts is one of the primary teachers and organizers at the foundation and owns more than 1000 astrology books. He said Righter*s work has been recognized by many Hollywood celebrities.
He came out here and basically became the Astrologer to the Stars, Huijbregts said. It was a lot of fun. He started this place in 1964 and he was syndicated in about 166 newspapers. He was at the time an astrologer to Ronald Reagan and was his astrologer from the 40s. He used to come here all the time with both wives before he became Republican.
He said he has known and assisted Righter with teaching up until his passing.
I was here a lot and the last few years I was helping take care of him, Huijbregts said. Carroll used to make the comment, Yes I'm the Saturnian Aquarius and you are the Uranian Aquarius, because I can handle all the electronics. He would sit there on an old manual underwood typewriter.
Righter held exclusive monthly Sun sign parties in his home, which featured live animals or figures that represented the signthat was being celebrated. Huijbregts said a lot of movie stars were in the house and a lot of them came during the parties.
While he was alive, he would have astrological parties and the ones that he kept up the most were the Leo parties. One time he had a real big lion out there and a couple times he had lion cubs. He would have the animal that belonged to the zodiac, Huijbregts said.
Righter has influenced Ronald and Nancy Reagan, as well as Princess Grace. He was often called gregarious Aquarius for his sociable nature and his cosmic knowledge of astrological practices.
Astrology is known as a pseudoscience that relates human behavior and predictive elements to the relative positions and movements of celestial objects in space. The practice focuses on our solar system, and how we are ultimately connected and influenced by the stars.
Darin Hayton, the History Chair at Haverford College, has a Ph.D. in History and the Philosophy of Science. He has studied ancient astrology and has written a book on its applications throughout the Roman era.
Astrology goes at least back to Greek Antiquity, the astrology that we think of it in sort of the zodiac and the astrology in the Western world, Hayton said.
Astrology has been noted for its ancient history, moving into religion and philosophy amongst scholars. It is recognized in several societies as an ancient science, according to Hayton.
What we recognize as astrology, conditions of the major planets, including the Sun and the Moon, dates back to at least the Hellenistic decrees,§ Hayton said. So, we're looking at second, third century B.C.E. Greece, and before that you can see elements that we might say are astrological. But if we think about sort of a core astrology, certainly by the Hellenistic period, it gets a much firmer foundation and more rigorous mathematical structure imposed on it through work of the famous ancient astronomer and astrologer Claudius Ptolemy.
Huijbregts said Righter set this up in his will as an educational astrological foundation, so this house belongs to the foundation.
When Carroll passed away in 88, myself and the trustee here we were directed by Carroll Righter to take all of his files and shred them because he considered them to be private. This is basically where I've been every Tuesday night for more than 40 years, Huijbregts said.
Astrological practices have taken hold in many forms and styles around the world, consisting of different house systems and interpretations of what certain planets symbolize. A house is a region of life§ that astrologers use to describe how the planets positions will impact a person or event. There are 12 divided houses that correspond to the 12 signs of the zodiac.
Hayton said astrology has gone through a number of iterations in development over the last 2000 years.
What you have are a series of steps, Hayton said. There's a lot of development and different ways add to it and extend the way that astrology can be applied in the domains where it is thought to be useful; to include things like politics, religion, medicine and weather. So, the position of the stars and the position of the planets and the condition of planets. Using eclipses, conjunctions, that type of thing as evidence and data for understanding what might happen to us here on earth.
Jack Taube, another primary teacher, explains what astrology means to him in terms of spiritual practice.
The horoscope is a roadmap or blueprint of your life of the things that you are going to experience and the things you are going to go through, Taube said. In astrology, we involve the metaphysical and the spiritual along with the practical things of life. In my life I could see astrology has a played a role. Unfortunately, we find out the mistakes we make in life by going and making the mistakes.
Many practitioners in astrology believe in reincarnation. Taube said astrology revolves around karma and it not either good or bad, it just is.
I have been acquainted with my past lives, Taube said. Many of my incarnations have been military. Military science has always been a big part of my life academically We bring in things from that past incarnation into this life; the talents that we have.
Taube said the planets and zodiac describe medical astrology as well.
Each sign has different qualities and the signs rule your physical body. From your head to your feet are ruled by a certain sign and a certain planet. So, we are a combination of things and the thing is to be able to read that combination.
Taube said astrology has been used in politics, finances and sports. He said the planets and zodiac describe medical astrology as well.
Dan Khoury, the third primary teacher, taught at the foundation and left to teach at the New Age Bible and Philosophy Center in Santa Monica until it closed and then found himself back again teaching under Righter's roof.
I came around in 92. I received my first book on astrology when I was in Vietnam. I picked up Linda Goodman's Sun Sign, which was very popular at that time, Khoury said.
Khoury reflected on the time of the Sun sign parties and the attention they brought to the foundation.
They would close down the streets and the limousines would come drop off everybody, Khoury said.
Khoury said there never is a moment in time that is the same and astrological charts depict individuality.
Normally you think the solar system is flat, Khoury said. It's moving forward through space. Even though you may say that Venus is in the same sign as another person, it is also in a whole different space. It's not the same cycle ever, so that shows you how individual we are and how we focus into bringing all this stuff together and that's what these charts do.
Khoury said astrology is the understanding of the connectivity of signs and understanding it's really a form of how things evolve.
※With a good astrology, you can understand the details of the flow of these situations and how personality is expressed in certain ways, Khoury said.
Heather Conlon is a regular atendee who has been coming for about three months by herself. She said she feels more balanced with each visit.
I just love it, Conlon said. It was the first time I was here and it was at this little cocktail hour cut show we call it I felt like people were speaking my language because I'm always at work going Mercury is in retrograde and I have a sign on my door. No one there understands this language and so it is so heartwarming.
Conlon says people are so much more than their Sun sign.
I can see things in a chart now that work, Conlon said. People start pulling out people's charts and I can see Venus in the second house of income, and I go 'Oh, your wife's the breadwinner and he goes, She is!' How did you know that? Venus is your love and the second house is your earned income.
Huijbregts said that we are all fundamentally working with the same planets and same aspects.
Going back historically, it's a means by which you can practically see that everything is connected. That is the nature of it, and once you realize that everything is connected, then you can start seeing how everything relates,§ Huijbregts said.