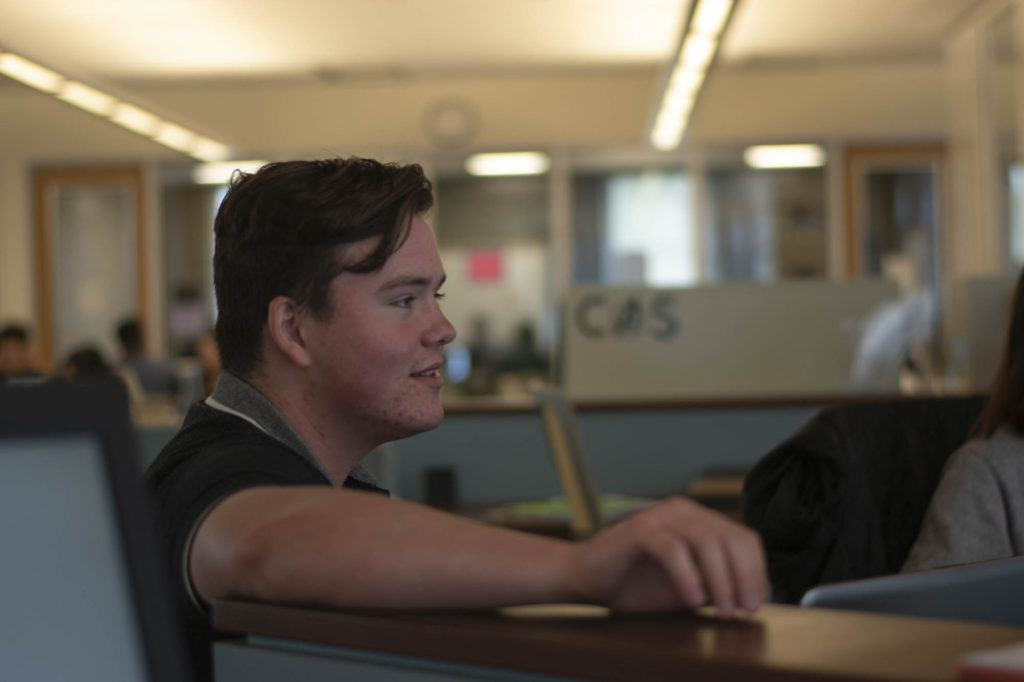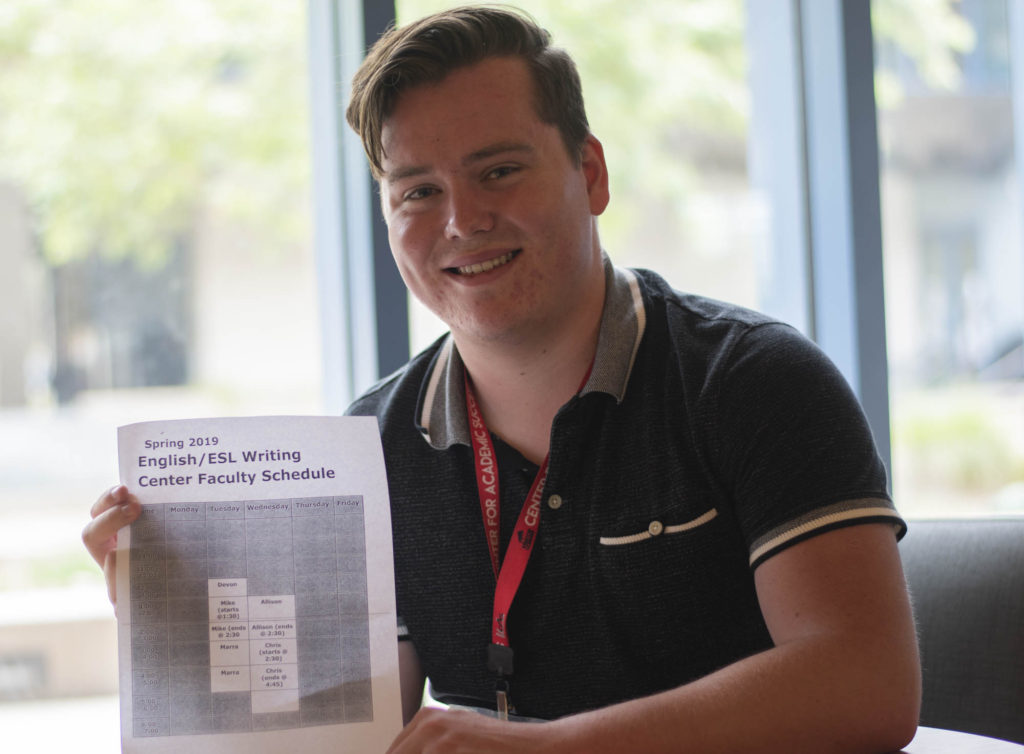 As anxious students flood the Center for Academic Success (CAS) building in preparation for their first exams, a whirl of relief comes to the scene.

Shuffling through papers and monitoring the LCD screen before him, History and Music Tutor David McGarry greets the newcomers with an eager expression. He swiftly guides the students toward their designated tutoring stations and leaves them feeling in the right place at the right time.

McGarry has been a tutor at Pierce College for six semesters and plans to keep staying a part of the team for a while. He is a junior undergraduate at California State University, Northridge working for his Bachelor's in Music and is currently taking courses for Opera.

"I'm tutoring for the music theory classes right now and the musicianship classes. If anyone has any issues with that, they can come down to the center and just ask during my office hours," McGarry said.

He is primarily a singer and looks up to idols like German tenor Jonas Kauffman.

"There is a process through which you quiet some of the voices in your head and enhance some of the other ones. It's just a matter of experience and training," McGarry said.

McGarry used to attend Pierce before he transferred and knew someone who was involved with the student government that got him the job on campus.
"What inspired me is just listening. You can have great teachers but what drives you, at least forme, is you hear something, and you want to be able to do something like that," McGarry said.

He said he previously taught workshops to students in need.

"I had a History of Western Civilization course that I tutored a few winters ago," McGarry said. "It was a small class and we had weekly workshops. I think up to three-quarters of the class showed up for one of the workshops."

McGarry said the most difficult part of tutoring is coming up with different explanations for the same concepts.

"Students are very different," McGarry said. "Their learning styles, their comprehension styles.Many of them come from different educational levels and different backgrounds. Just being able to explain the same concepts cogently in four or five different ways to different students or even to the same students sometimes is undoubtedly an asset when you are working with so many different people."

Saad Kahn, an English tutor, said David has a serious side but is pretty good at being a"goofball" and knows how to have fun.

He has tutored four different subjects and has worked up to 25 hours a week while working at Starbucks, according to Kahn.

"Some of the stuff he does, either in last Fall or Spring, was tutoring four different subjects. He tutored English, History, of course, Music and I forgot the other one," Kahn said.

As students complete their educational plans, they are often constricted to enrolling in courses they have never experienced before.

"There's really no way that you can pull yourself up by the bootstraps in subjects that are really foreign to you. The necessity of having a mentor who is a specialist in whatever discipline it is is very important," McGarry said.

McGarry said there are tutors from Pierce, CSUN, University of California, Los Angeles and University of Southern California.

"You can work here as long as you're a student at some higher level institution as long as you're a full-time student," McGarry said.

The requirements for employment are an A in the class and a letter of recommendation from a faculty.

"We attempt in our own way to help students learn how to foster educational skills and many ofthose are cross-disciplinary and many of those skills are truly universal to any job," McGarry said.

Business tutor Nora Soleimani transferred last year from Pierce and is at CSUN as a junior as well. She said McGarry is adaptable in many different fields.

"As far as covering breaks or anything when we've needed him, he's definitely someone who is incredibly versatile. You can just kind of throw him into the lions and he'll know what to do," Soleimani said

Soleimani said tutors like McGarry can assign extra credit study sessions or any resources they need for exams.

"I've seen him bring in his actual equipment and just try to help people out. He would have little study sessions to try to help people intimately on an educational level as much as possible," Soleimani said.

Soleimani said McGarry is an important part to the large tutoring cohort at CAS.

"He is just so kind to everybody. He's kind and he's helpful and I think those are two things we need a lot of in the world," Soleimani said.

McGarry said finding the right path is essential to student success and does the best he can to show them the way.

"The destination which so many of us seek is somewhat an illusion in many ways. In the end, all we can do is seek to move slightly down the path avoiding the pitfalls and that's really what we try to help students through here," McGarry said.