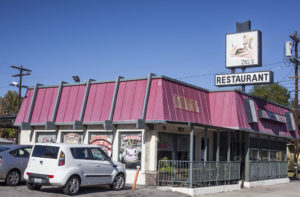 On the corner of White Oak Avenue and Vanowen Street, Zig's Restaurant is a small mom and pop diner that is often overlooked by many San Fernando Valley residents.
The diner exudes tranquility and peace of mind. Its big windows allow sunlight to peek in from every direction.
With several options, such as booths, outside seating and countertop stools, it is likely visitors will find a place that suits their preference.
Different options and sample photos decorate the diner's menu. Their all-day breakfast and lunch meals range from pancakes and bacon, to burgers and hot wings.
Although the wait for the food was a bit longer than expected, considering the size of the location, the meal is worth the delay.  The burgers are twice the size of a McDonald's cheeseburger with 10 times the flavor. The meat is jampacked with juices, the buns are soft and ornamented with seeds at the top. The fries, ordered separately as they do not offer combos, are as soft as marshmallows. Despite no salt on the side order, it is sprinkled with seasoning salt.
The chicken wings, which only come in one flavor, are marinated in their special house buffalo sauce and are accompanied with celery and carrots. Though the chicken is not saucy, it is still tasty. The customer is also given the option between a parmesan cheese topping or pure sauce, which is good for cheese lovers.
Not only are the lunch options delicious, but breakfast is always offered for those who prefer to have the most important meal of the day, all day. Combinations include classic favorites, such as omelets, french toast, pancakes, eggs and bacon.
One of the kids breakfast options comes in a Mickey Mouse shaped pancake, adorned with chocolate syrup. Combining a well-known character with a pancake as fluffy as a teddy bear, topped with chocolate, is the perfect way to get a child excited for a meal.
With its comfortable environment and homey feel, it is difficult not to feel at ease eating here, enjoying the appetizing bites.
Zig's Restaurant is located at 6821 White Oak Ave. Reseda, CA 91335 and is open daily from 7 a.m. to 4 p.m.