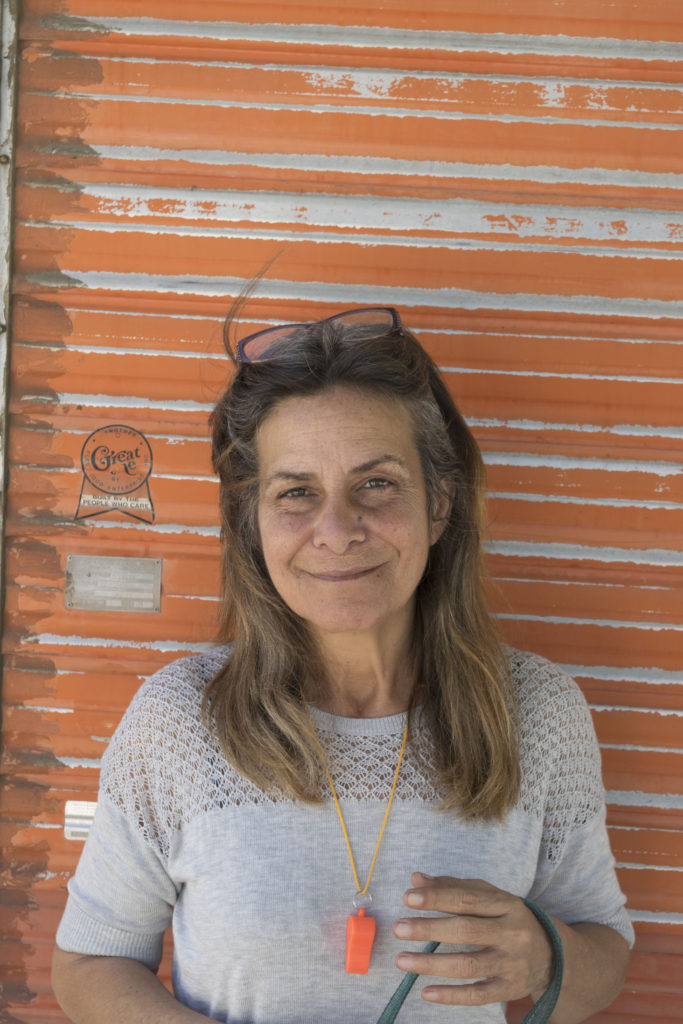 For the average Angeleno, a typical Thursday morning usually involves prepping for school or work, fighting traffic and grabbing a quick bite and a cup of coffee.
For Dori Accordino, Thursday is when she drives her Lincoln Town Car to St. Charles Borromeo Church in North Hollywood because it's the place she knows there's a free meal.
Walking into the Holy Family Center at St. Charles, no one would probably guess she once owned a growing day spa and that she dated pop music legend Prince.
Now living out of an RV, Accordino said her childhood portended a bright future. At 9, she was already studying music and singing. In her teens she began taking acting classes to help round out her skills to be a performer.
In class, she met the assistant of the vice president of Warner Brothers, who helped her secure a job at the entertainment corporation. One day, while on the job, a girl approached her and led her to Prince.
"She walks me over to him. He was very shy then. I said, 'Hi, I'm Dori.' He said, 'Hi, I'm Prince.' From there, it's history," Accordino recalls.
Prince invited her to his show that same night at The Roxy Theatre in West Hollywood. Accordino accepted the offer and joined the crowd.
The year was 1977. Both Accordino and Prince were 19 years old, and although they did not know it at the time, Accordino says they were soon to fall in love.
"We sat in the car for four hours after and talked, just talked," Accordino says. "We got to know each other a little bit and we really liked each other."
While getting to know one another, Accordino expressed her love for music and mentioned her songwriting to him. Prince offered to listen to her work.
"He flew me out to Minneapolis to visit him. I brought one of my songs, 'Heart Attack,'" Accordino says. "So he put music to that and kept it."
Although she says Prince was her first love and soulmate, Accordino believed she could not maintain the relationship due to his constant traveling. She wanted someone local that could be there for her. During one of Prince's concerts at the Hollywood Forum, she decided to call it quits.
"I went to his show and he saw an engagement ring on my hand. He said, 'What's that?'" Accordino remembers. "I said, 'Well, yeah because you're always gone and I'm always here.' He was pissed."
Throughout the years, Accordino has kept her memorabilia close to her camper, which includes a letter Prince wrote to her. It begins with "Hello Love," and ends with "Help me, I think I love you."
Although she says she still had feelings for him, she moved on with her life. Years later, she decided to open a spa specializing in therapeutic massages, facials and nails. As her business began to thrive, she says her business grew until she hired 10 employees. However, her life got derailed when she suffered from an aneurysm that left her in a coma for three weeks.
"I was working in the studio one night at home and I felt kind of weird, so I went down to the bathroom," Accordino says. "I looked at myself in the mirror and I had black blood under my skin and I fainted. That's how I ended up at the hospital."
Although her coma lasted three weeks, Accordino remained in the hospital for almost a year, receiving treatment for her back and feet. Today, the left side of her body is paralyzed and, while still able to walk, she has a noticeable limp.
The prolonged hospital visit caused her to lose her Studio City home and to file for bankruptcy. She also lost her spa, which she had opened four years before her aneurysm.
Homeless and broke, she wound up living in an RV.
Rebecca Inez, a homeless woman visiting the same church for a Thursday morning meal, says that homelessness can occur to anybody.
"You think, 'That's never going to happen to me,' but then it does." Inez says. "It can happen to anyone. It's one of the toughest things to overcome in life."
Professor of journalism at CSUN and Pierce College Dave Blumenkrantz is working on a documentary on the homeless population. He believes that Accordino's story is a common tale.
"Many of the homeless people I've met in the course of this documentary project, whether in a facility where they are seeking some sort of assistance, or just in passing in the streets and in the encampments, have shared similar experiences to Dori's," Blumenkrantz says.
Blumenkrantz has gone to the center several times, searching for visitors willing to sit in front of the camera and share their story for his project.
It was during one of his trips to the facility that Blumenkrantz first came across Accordino, who stood out to him.
"Dori struck me as a particularly interesting person, not only because of her musical background, but her optimism and cheerfulness," Blumenkrantz says.
Accordino hopes that positive attitude will benefit her with future endeavors. She plans to continue playing music and record a hit record with the help of a guitarist friend. She also hopes to publish a book one day to get her story out to the world.
For now, Accordino can usually be found traveling the city in her RV and enjoying a free hot meal on Thursday mornings.