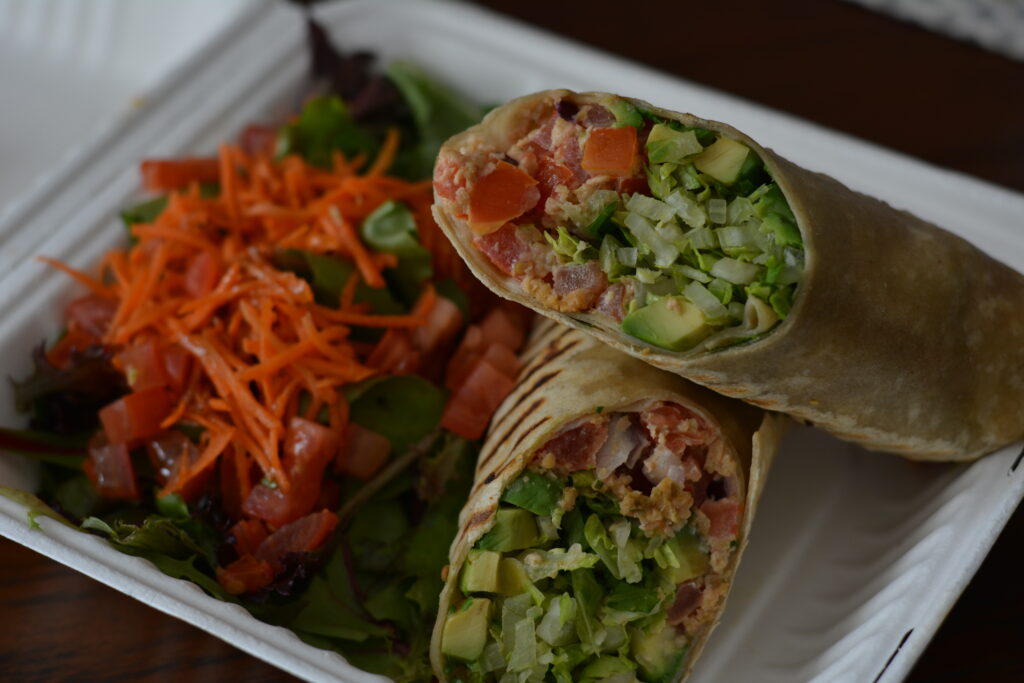 Juicy Ladies is an all-organic juice bar and vegan cafe with locations in Woodland Hills and Pacific Palisades.
I ordered delivery from the Woodland Hills location through Grubhub and got the "full of fruit" smoothie and the vegan bacon avocado wrap.
These healthy options were packed with fresh ingredients and had good flavors. However, at their price point, I was unimpressed, especially considering I did not feel full after eating them.
The "full of fruit" smoothie, priced at $9.25 for a 16 ounce cup and $10.75 for a 20 ounce cup, contained bananas, strawberries, blueberries, raw honey and apple juice.
It was a gorgeous dark magenta color and tasted as good as it looked. Once I took my first sip, I couldn't get enough. It was the perfect balance of tangy and sweet and had a great soft consistency–not too thick and not too watery.
The vegan bacon avocado wrap, priced at $14.99, had tomato, vegan bacon bits, avocado, onions, lettuce and veganaise (vegan mayonnaise). It was served in an Ezekiel wrap with a side of mixed greens salad, which I opted to pair with lemon dressing.
I found the wrap to be mostly subpar. It looked like a fresh garden with bright green lettuce and avocado and orange tomatoes. Unfortunately it tasted like a garden, too.
It had too much lettuce, which gave it a harder texture and made it dry. It could have used either more avocado or more veganaise to add more flavor and make the texture softer. After every bite, the filling came out of the bottom, which made me think perhaps this dish would be better as a salad.
I personally don't like raw onions, and their addition to the wrap overwhelmed it with sourness.
I found the side salad basically inedible because the lemon dressing was too oily. I could not taste the lemon at all.
The vegan bacon was the standout ingredient in this meal. It was crunchy and smoky. Somehow, it both looked and tasted like pork.
Although I didn't get to visit the physical location for this meal, I have visited the Juicy Ladies on Ventura Boulevard and Shoup Avenue once before. I found it to be a relaxing casual
atmosphere where you could do work or just wind down.
Perhaps the ambiance and organic ingredients justify their high price point, but I found that the taste alone could not.
Their Woodland Hills location at 22423 Ventura Blvd. is currently not open for dine-in, but they are open for takeout and offer no-contact delivery. Their Pacific Palisades location at 17361 Sunset Blvd. is temporarily closed.