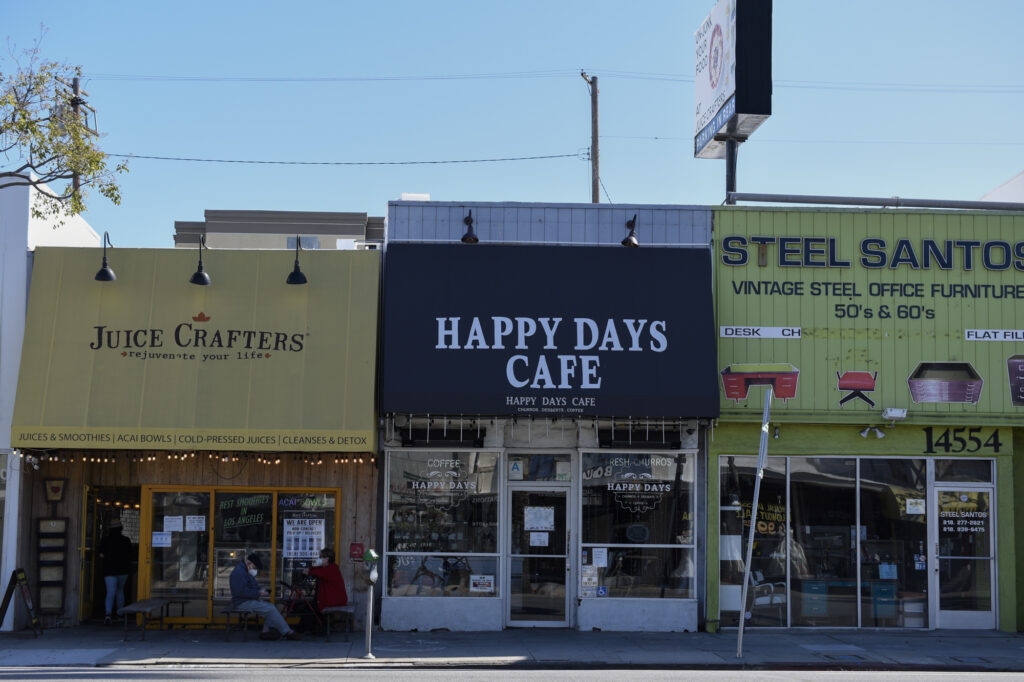 It's easy to miss the white boutique with a bold black canopy nestled between other businesses in a strip of Ventura Boulevard in Sherman Oaks.
But Happy Days Cafe invites its customers in with neon lights visible through its wide windows and the scent of cinnamon and chocolate wafting through the door.
Inside, there are decorative dishes hanging on the back wall, with one of the walls being made entirely of red brick. Antique and rustic fixtures can be found throughout the cafe, such as a brass weighing scale and suspended lights.
Happy Days Cafe is known for their signature styled churros, desserts and coffee. Their savory treats bring a burst of flavors to the tongue. Their menu has a simple, unchanging aesthetic and the dessert items come packed with an abundance of sugar.
For some, this petite cafe may be priced a little high for their dessert items, but the flavors are as savory as they come.
The Crepe-tastic ($9) comes with strawberries and bananas topped with nutella, dulce de leche, house strawberry mango sauce and whipped cream. This crepe is an explosion to the taste buds and it is more than a mouthful to engorge.
The Churro Donut ($6) is caked with nutella, along with chocolate and sprinkles on top. It comes with a side of whipped cream and strawberries to sweeten it further. A bite into this warm chocolate custard-filled churro donut will produce a creamy sweet richness to the senses.
When you think it couldn't get any sweeter, there is an option to try their Churro Waffles ($6) as an ice cream sandwich.
If you aren't craving any type of desserts or coffee, Happy Days Cafe offers its House Panini ($11.95), which is their only food item. It contains kale pesto, mozzarella, baby spinach, sundried tomatoes on ciabatta bread, along with a side salad with balsamic vinaigrette.
On a cold day, this cafe is known to attract coffee lovers for their affordable beverage options, such as the Americano ($3) and Spanish Latte ($5). Or if you want to feel fancy, they even offer Rose Water ($4) at leisure.
Due to the onset of COVID-19, Happy Days Cafe will not be allowing customers to eat inside, but they are open for take-out and offer an online delivery option. They package the food in simple containers with a secure brown paper bag that can last until the ride home.
Unfortunately, the richness of the warm desserts can fade quickly if one decides to opt for the take-out or delivery option. The desserts are handled with care on simple plates and include add-ons, such as ice cream, fresh fruit or drizzles. The choices for drizzles include: dulce de leche, chocolate, nutella or guava
The cafe is open for business every day at noon and they close at 11:30 p.m. Monday through Thursday, 2 a.m. Friday through Saturday and 12 a.m. on Sundays. They are located at 14552 Ventura Blvd, Sherman Oaks 91403.