Zero-waste store provides homegoods and personal care products for conscious consumers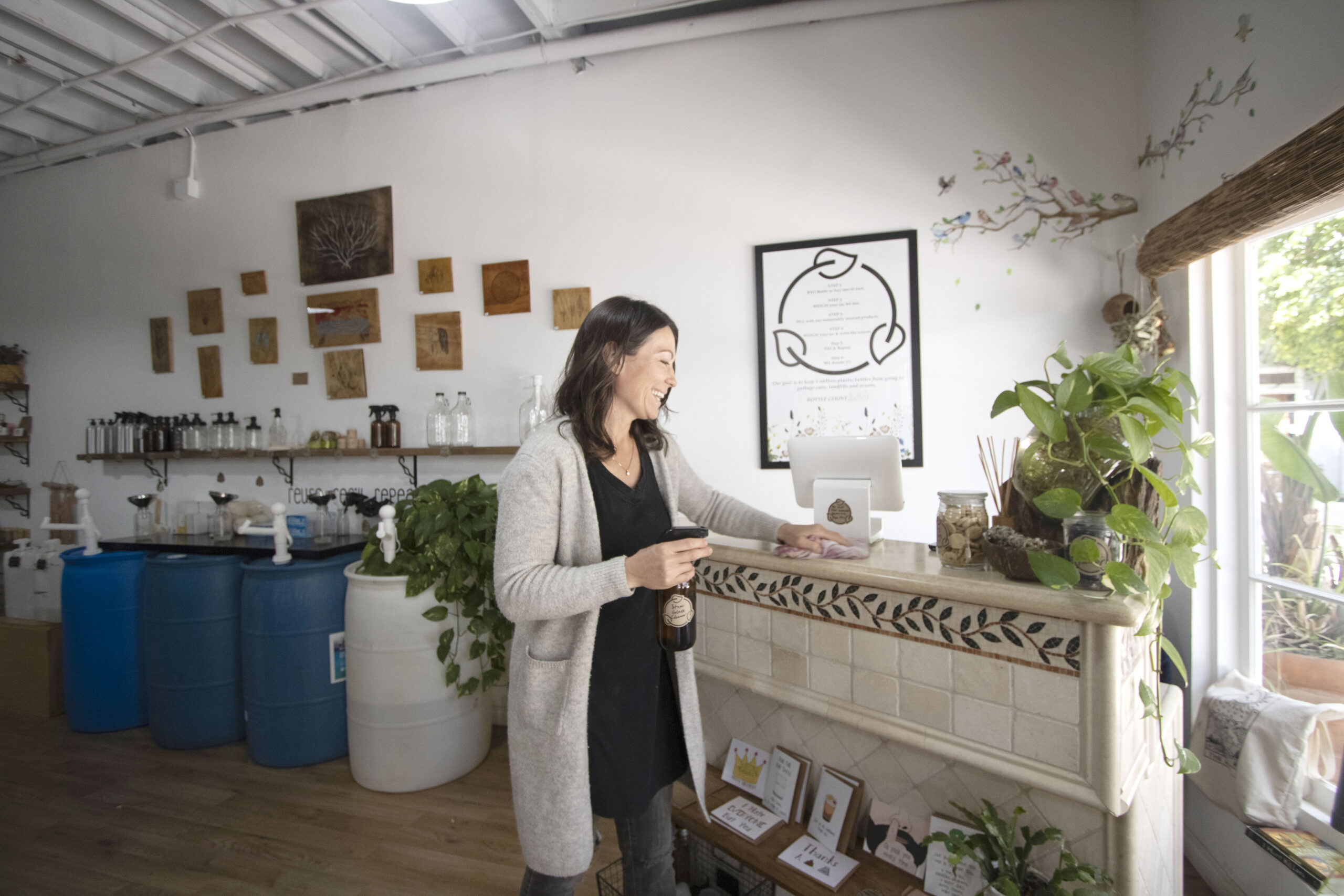 Laura Yochum, a former corporate hotshot, began to notice how much plastic she was accumulating after her frequent backpackinging trips. She took a good look at her garage and pulled out every disposable piece of plastic.
Now, she has taken her commitment to reducing waste in her life to the local community.
That commitment came to fruition with Prostainable, a refill center and homegoods store located in Woodland Hills and Granada Hills.
"I realized we don't need all these things, we can survive with very little, and it started making me realize the waste we were accumulating," she said. "So I took an assessment of my house and was extremely overwhelmed."
After realizing how much plastic she had, she took a pause, left her corporate job and became committed to reducing waste.
This led to the beginning of Prostainable. It began as a farmers' market booth only operating on weekends. She was trying to find out what the community wanted and what products they wanted to use.
Yochum's booth was growing in popularity when COVID-19 struck.
"I had about 12 products, and then the pandemic shut us down completely," she said. "We weren't allowed to come back because we weren't food, we weren't an item that people needed to survive, although shampoo is very important."
The farmers' market booth shutting down did not stunt Prostainable's popularity, because people were willing to travel to get their refills.
"It forced me to open a tiny store in Woodland Hills," she said, adding that the original space was only 100 square feet. "We were only open on weekends."
She said it was too small and the new store had lines of customers trailing out the door.
Yochum was ready to go all in on her eco-friendly project.
"I told my partner I could do this, I could run this," she said. "I am great at this—product development is my background, education, sales, all of it. So I said I would try it, I always wanted to have my own business. But to be able to establish the first in the Valley, I'm really proud of that."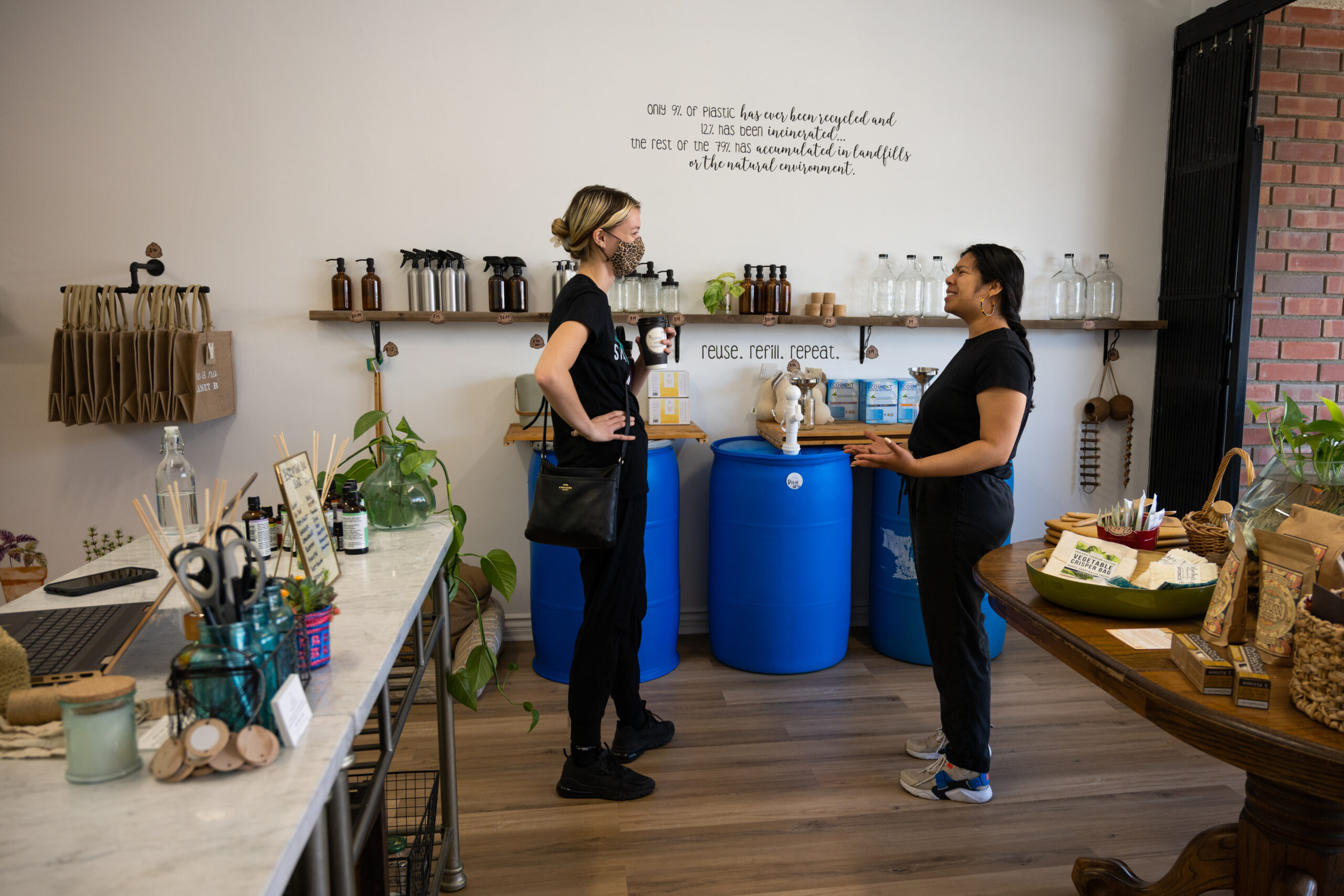 Prostainable Woodland Hills was born in July 2021 and became one of the first refill shops in the San Fernando Valley.
Prostainable was created with the mission of making customers feel good about living in a sustainable home.
Robyne Leif, a regular customer, has followed the store from the previous location in Topanga and will continue to shop here as long as they remain.
"I like everything because it's natural, they're friendly, their product is awesome," Leif said.
Prostainable has a variety of household essentials, including shampoo, dish soap and multi-surface cleaning powder.
Everything is either made by Yochum or manufactured elsewhere. All items are vegan and organic, except for a face wash that has honey, but it is supplied by a local farmer.
Victoria Therim, a first-time customer, appreciates the sustainable containers.
"I think it's a novel way of being biologically responsible but also in repackaging ways that aren't typical," Therim said. "Like a bar for shampoo or a bar for conditioner, it's not the norm."
Prostainable aims for no waste, no plastic, no single use items at all, so if something is spilled in the store, don't ask for a paper towel.
All packaging is done by recycled bags, boxes and anything donated by customers. There are no packaging peanuts or bubble wrap, nothing that goes straight to the bin.
Anne-Marie Bonneau, author of the book "The Zero-Waste Chef," said these businesses help the trend toward a zero-waste lifestyle.
"The idea of bringing your own refillable container is already better than constantly buying more one use plastics, because that piles up in the landfills, or worse, it trickles into the ocean," Bonneau said.
With this zero-waste mentality, Yochum said her company has helped other businesses become more sustainable.
"We pack online orders using 100% reusable material," she said. "Our customers donate grocery bags and paper. Also, from the shipments that we receive, we keep the boxes, the paper, the filling. We use a water base craft tape (which is more eco-friendly than regular tape)."
People were coming from far areas to the Woodland Hills store and it gave Yochum the idea for a new location.
"I used to drive to other refill shops, and I just realized that the Valley is not a small place," she said.
Yochum added a Granada Hills store, which was a crowdfunded project and was the creation of the supporters that she has built since her farmers' market booth.
Yochum hopes to spread her message of reusing, reducing and recycling.
"Individually, I'm not going to save the planet, but many of us can help a lot," she said. "If my stores are one of the stores doing this, then we are part of the bigger solution."