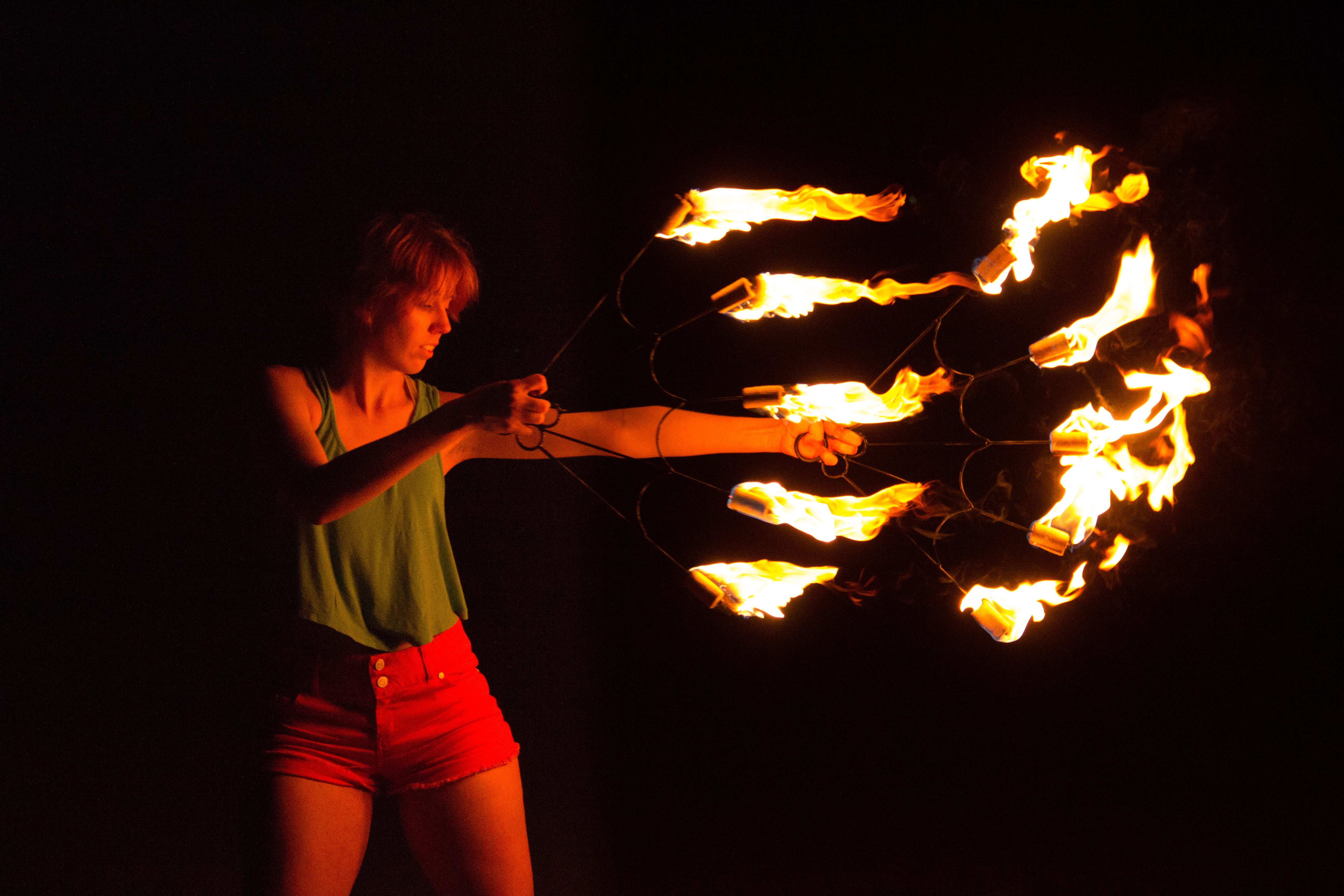 A hot light swirls around a young woman, feeling not the cold grasp of the night but the warm embrace of   the flames. Faint roars of the hot element are heard as it paints the night with its orange light. The young lady, with hair auburn as the element that she controls, is focused on the glowing heat tipped at five points of two metal fans. She spins her body and creates a cocoon of fire. With a quick whip, she extinguishes the flames and smiles. This young lady is Sydney Brushwood, a 22-year-old psychology major at Pierce College.
Brushwood recalls her first time fire spinning in the Culver City Fire Club at the age of 19. "I tried out the fire sword. It's a beginners tool. I have caught on fire a handful of times, but they were tiny and I wasn't in any danger."
"I was really worried," recalled Josh Badger, Brushwood's boyfriend, about the first time going to the fire club. "[I would think] she'll go up in flames. It was a lot of fire."
Brushwood said that she wears cotton-based clothing such as leggings and a tank top. She would sometimes wear jeans instead of the cotton leggings. Long nomex gloves are worn with her outfit to protect her hands from the heat.
After becoming comfortable handling the fire, she moved on to using a staff, a pole with flammable tips at both ends. She then graduated to metal fans and a juggling item called a diabolo, a tool of two attached cups spun on a string connecting two sticks that the user handles.
"She did baton twirling in high school I think, and she's got a natural grace with staff as a result," said Scott McCoy, who runs the fire club in Culver City.
"I do want to perform professionally," said Brushwood. "But my real interest is psychology. I want to be a psychology teacher, to be a real influence."