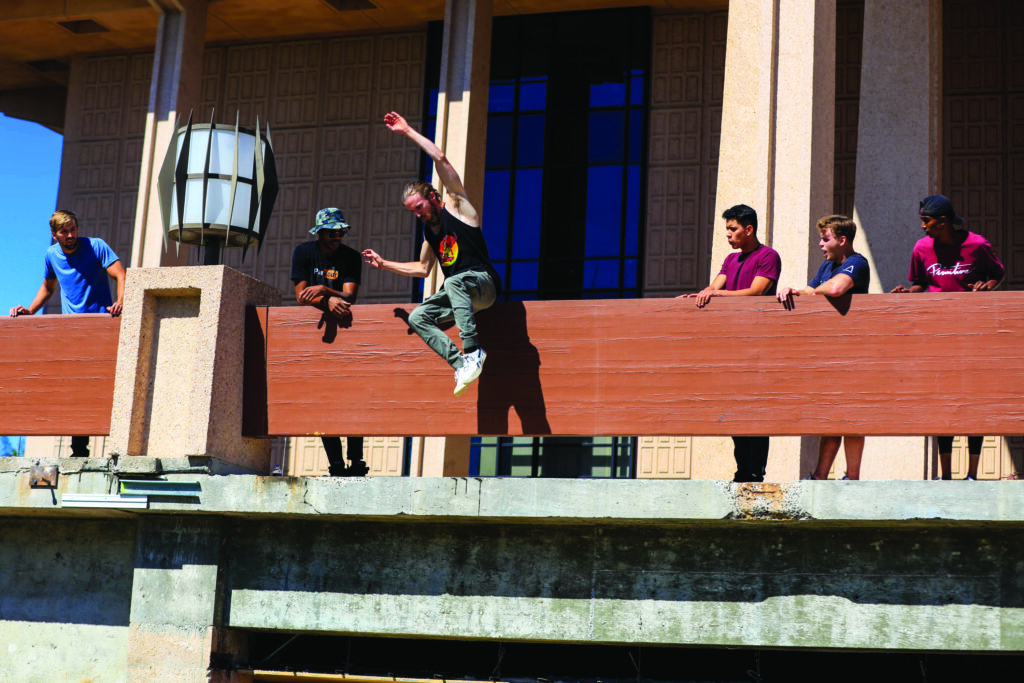 It started with simple warm-ups; small jumps to clear, vaults off a tree and safety landings from one ledge to another. It soon escalated into climbing onto a temporary walkway through construction and then over a guardrail at the California State University, Northridge Library balcony.
Six people had managed the challenge. But what goes up must come down.
A man with long hair in a ponytail and a sharp beard took a moment to mentally prepare as the rest stood by waiting.
The group held a collective breath as they watched Joseph Unruh, a co-organizer of Los Angeles Parkour's Saturday Jams, vault over the guardrail onto the walkway six feet below. The cracking sound from Unruh's feet hitting the plywood was soon followed by cheers and applause.
The University Library Lawn had been taken over by about 30 traceurs—people who perform parkour and free-running activities—jumping from rooftops, vaulting over any obstacles they find and flipping over each other for one Saturday afternoon.
"Parkour is taking what we all did as kids and turning it into a discipline," Unruh said.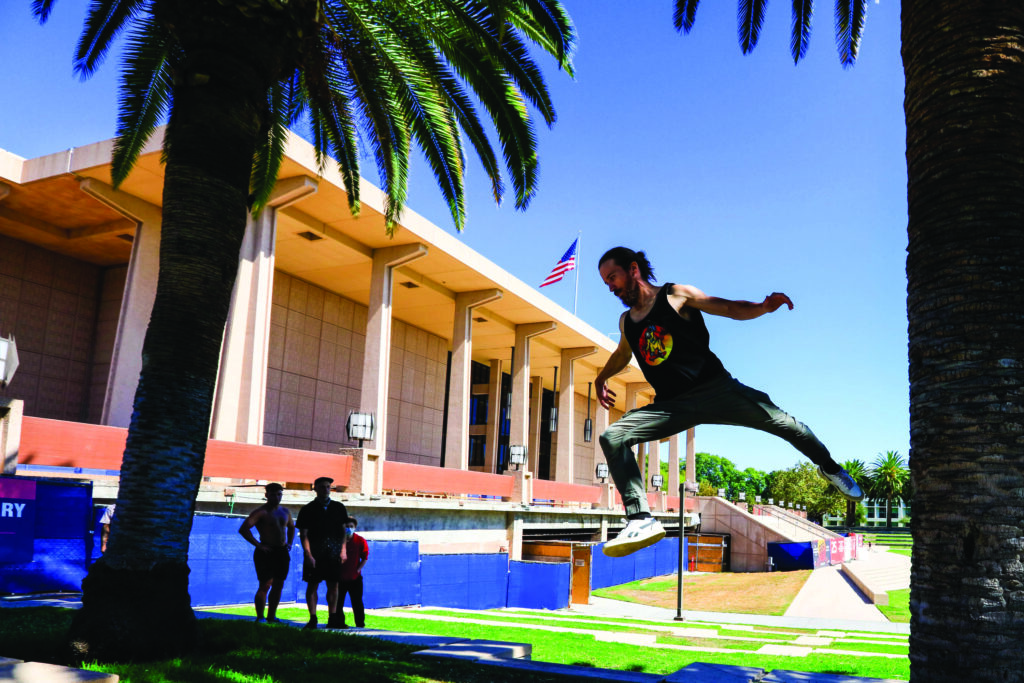 Los Angeles Parkour's Saturday Jam participants ranged from newcomers trying to learn a new sport to pro-tricking athletes and ex-Ninja Warriors. Unruh said that it's a good mental environment for someone at any skill level.
"You'll have people like Bailey [Payne] that come and do crazy flips," Unruh said. "Then you have other people that are more beginners. It's just a great way for those skill levels to kind of mix in and grow off each other."
What began as a way for Unruh and Jacob Cormier to continue parkour training during the COVID-19 pandemic has become a weekly Saturday Jam that continues even as the indoor gyms reopen.
"They needed something like this to see each other regularly," Cormier said.
Unruh and Cormier were training at UCLA one weekend when they ran into other athletes doing the same thing. They realized that with more participants, the training sessions cultivated greater uplifting feelings and decided to keep that momentum going.
"Our group of five people turned into 30 people that all just happened to be there training," Unruh said. "We said, 'Dude, this is so awesome, why don't we do this every week?'"
Cormier said that they are mindful of the places they host the Jam, choosing spots that are in open air with enough space for participants to follow CDC guidelines while also presenting a challenge.
"We're going to go to spots where we know we're not going to get kicked out," Cormier said. "Because what we learned was the important part is just to have people together."
Cormier said that like most things, parkour is something that traceurs should practice frequently with other people.
"You have to make time to train together regularly or it doesn't matter how cool your content is," Cormier said. "You have to just spend time with each other."
Cormier hopes to one day build parkour parks across Southern California to help trainers start a business without the need for a facility.
"My mission is to kind of change the paradigm of how coaching works within the sport," Cormier said. "At the present moment, a lot of [coaches] have to rely on gyms."
The Saturday Jams attract many different traceurs of different skill levels. Australian singer Ky Baldwin said he enjoyed his first time attending.
"I'm able to try new things and be in a different landscape," Baldwin said. "There's so many different people here that I can learn from and try new things."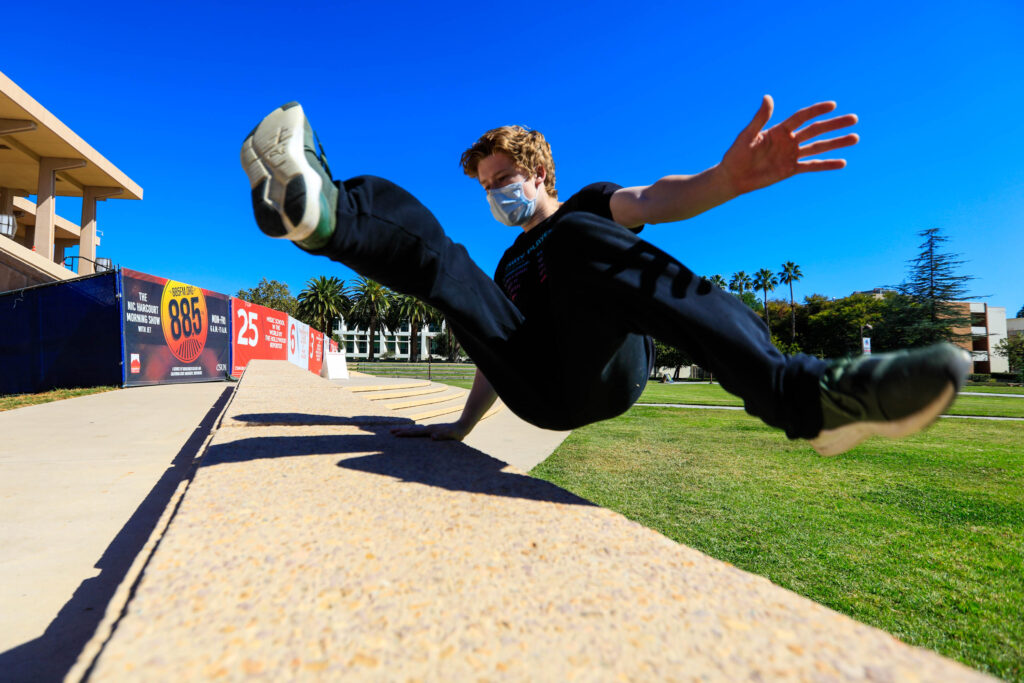 Unruh said that performing parkour is more of a mental challenge rather than a physical one, and Los Angeles Parkour Saturday Jams helps traceurs occupy a positive mental space.
"The passion comes when you unlock new challenges," Unruh said. "You push your limits and just get to hang out with a bunch of awesome people that are in the same mindset."