The LA neighborhood expands its flavorful landscape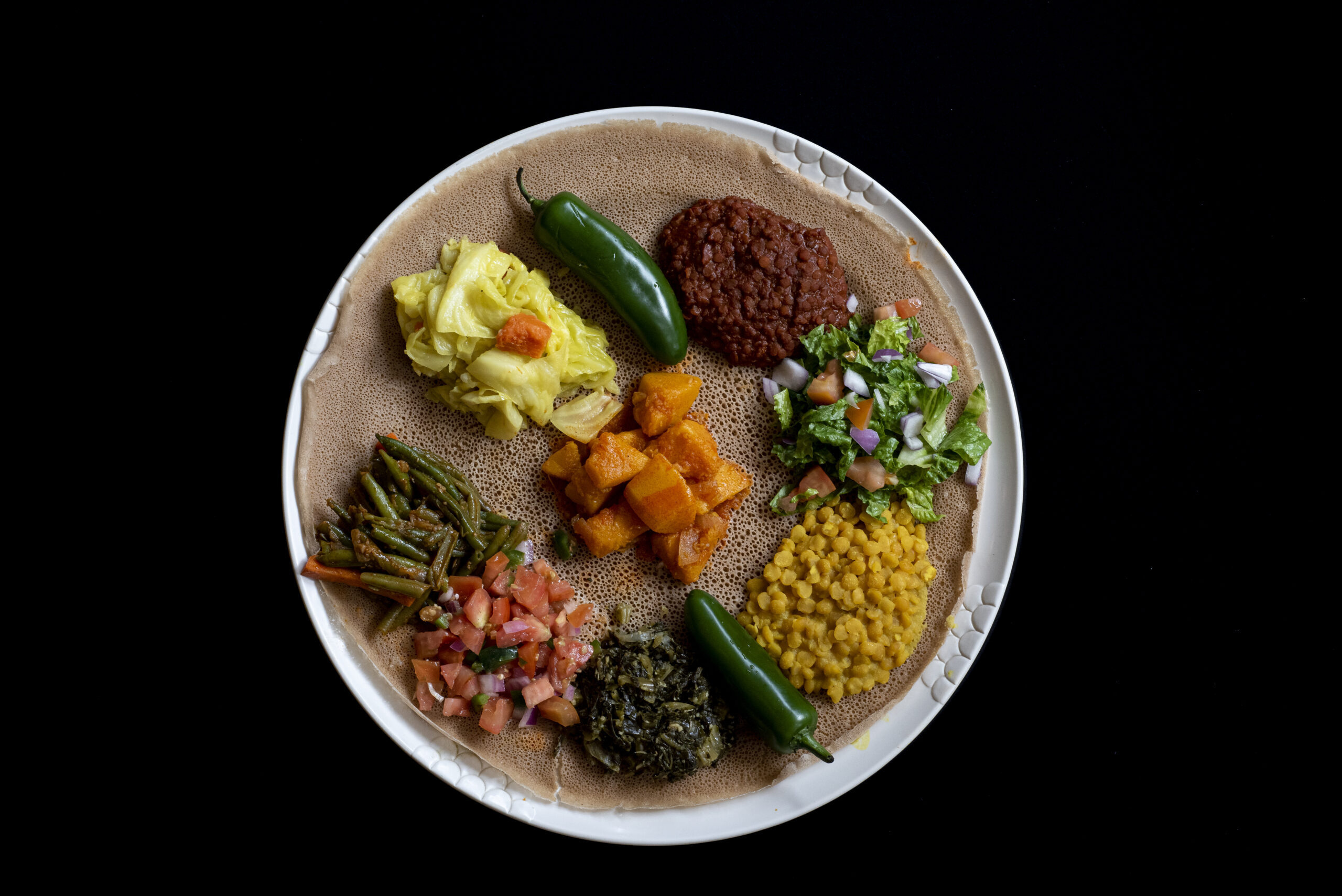 For those who experience its array of restaurants and shops—one after the other—it may be hard to imagine that there was a time when South Fairfax Avenue between Olympic Avenue and Whitworth Drive in Los Angeles had no elements, color or appearances of Ethiopian life.
But in 1985, an Ethiopian dreamer arrived with a vision to bring to life a diverse community through her spices, traditional stews and breaking bread together.
Rahel Woldmedhin helped found the distinct district known as Little Ethiopia, located in the Carthay Square neighborhood.
"I had read a story from Washington, D.C., that in one block there were over 10 restaurants, and that they were very, very successful," Woldmedhin said. "So, I decided to come to this area because of the bigger reason to be united—to make a community."
She owned Messob Ethiopian until 2000, and then decided to pursue her dream of creating a community inspired by her vegan dishes after learning more about the meat industry's practices and environmental impact. Woldmedhin started a new business next to Messob with new recipes—Vegan Ethiopian Cuisine restaurant.
Love and resilience are at the heart of vegan food creations, and they are the backbone that kept her inspired after receiving a cancer diagnosis in 2014.
Her daily routine during that time was chemotherapy treatments in the morning, working in the kitchen by mid-day, serving customers until closing and staying late prepping lentil stews and other foods for the next day.
She believes that work and family kept her motivated to fight cancer and her vegan plant based dishes helped her body heal and build up her immune system.
"I have two grandchildren. I want to fight. I want to be there for my grandchildren's high school graduation." Woldmedhin said.
Today she is cancer free.
Although many traditional Ethiopian restaurants on the block offer vegetarian and meatless options, Woldmedhin said hers is the only one that is 100% vegan. There are no dairy, cheese or egg byproducts on her menu. The dishes are made from natural Ethiopian spices, plant based chicken and meat and gluten-free flatbread (injera) and cheesecake.
"My first year after opening Rahel Vegan restaurant was the hardest because many Ethiopians that passed by my doors didn't know what vegan cuisine was at that time," Woldmedhin said. "It was a revolutionary take on the traditional Ethiopian dishes they were used to."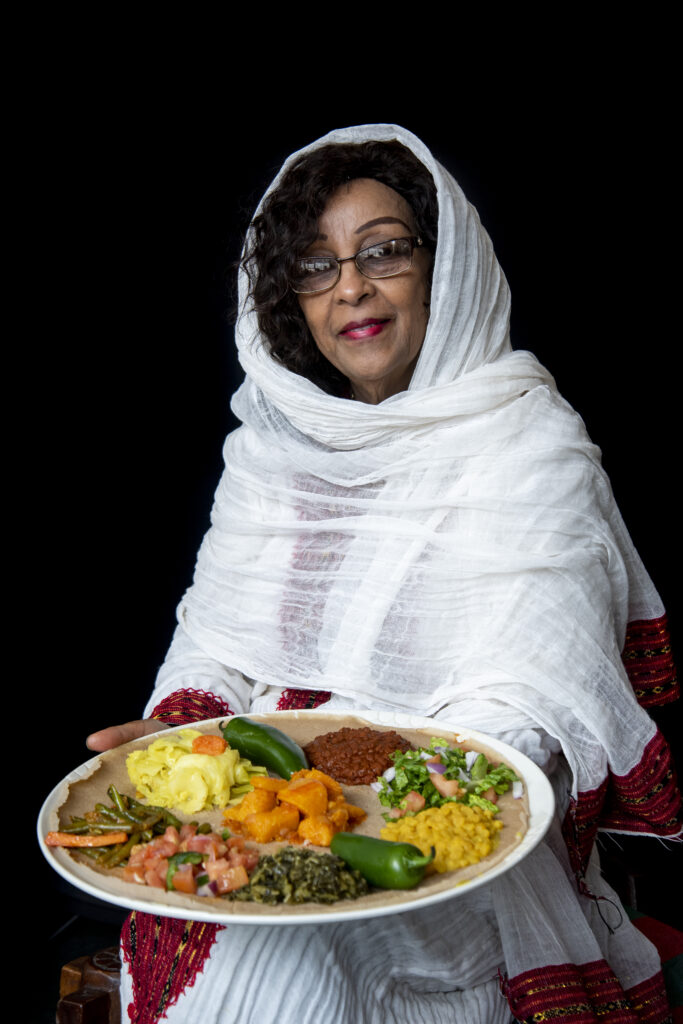 Today, Little Ethiopia has become a melting pot of many races that live nearby, commute into the mid-city, or are in town visiting looking to try something new.
The business grows
Negest (Nikki) Legesse helped organize the Little Ethiopia Business Association, which brings awareness to Little Ethiopia.
Legesse advocates for more community involvement and continues to bring awareness to Little Ethiopia by partnering with the neighborhood councils, Levitt Pavilion (a local non-profit) and restaurant owners.
"Little Ethiopia is a gateway to the many tourist locations in Los Angeles. We are at the center of the heart of L.A.," Legesse said. "You can visit LACMA, Downtown L.A and the Observatory after dining out in our community of Ethiopian restaurants."
Prior to COVID-19, one of Legesse's favorite events to bring awareness to Little Ethiopia was the annual Unity Parade, which included food vendors, dancers in traditional costumes and bands playing while marching down South Fairfax Avenue.
"The cultural parades were amazing to see so many people from the community who would come out and participate," Legesse said. "One year, we had an elephant in the parade. It was costly but worth the smiles on the kids faces and awe of the people. I want people to know us, like us and learn from us. We have a rich culture, and we are welcoming and friendly to all."
Little Ethiopia Cultural & Resource Center (LECRC), operated by Legesse, hopes to be back in business with live street events and the Unity Parade after the state reopens fully in the summer. In the meantime, she and her staff are providing online classes to teach families and younger generations Ethiopian traditions.
Another person raising awareness is Harry Kloman. He is a journalism professor at the University of Pittsburgh and an adviser to the student newspaper, The Pitt News. He is the author of "Mesob Across America," a book about the Ethiopian history, culture and cuisine.
"My first Ethiopian cuisine experience was wonderful. It just all tasted so good that I wanted to eat and know more about it. I was hooked," Kloman said. "The presentation was different, the large platter with the soft injera underneath it with all of the stews on top, eating it with the bread. Above all, it was the taste. It was so delicious."
Kloman said Ethiopian communities and restaurants have laid roots in several cities throughout the nation.
"Little Ethiopian in L.A is part of the bigger Ethiopian community spread throughout the U.S., although the history started in Long Beach, Calif." he explained.
The majority of restaurants that built the neighborhood's foundation decades ago are still standing, but Little Ethiopia has evolved to include new tastes.
Soul Delicious, which began as a soul food pop-up, gained traction and a fan following. It's now one of the new hot spots. Soul Delicious is the creation of Annalisa Mastroianni Johnson, a San Fernando Valley native and Pierce College alum, who started in the catering business more than 20 years ago as a personal chef.
"I started in 1997, as a gourmet catering business to people who were on specialized diets, through my trainer," Johnson said. "I was able to meet high profile celebrities that were looking for healthy options while working on films, which evolved into providing meals to corporate businesses as well."
One of the more popular dishes at Soul Delicious is oxtail which comes with multiple meat chucks simmered in a meat broth, topped with garlic, onions and parsley garnish.
"It's been amazing to see how the younger crowd has been receptive to my food," she said. "I think it has a lot to do with the fact that it tastes a lot like home for many of them that are new to Los Angeles."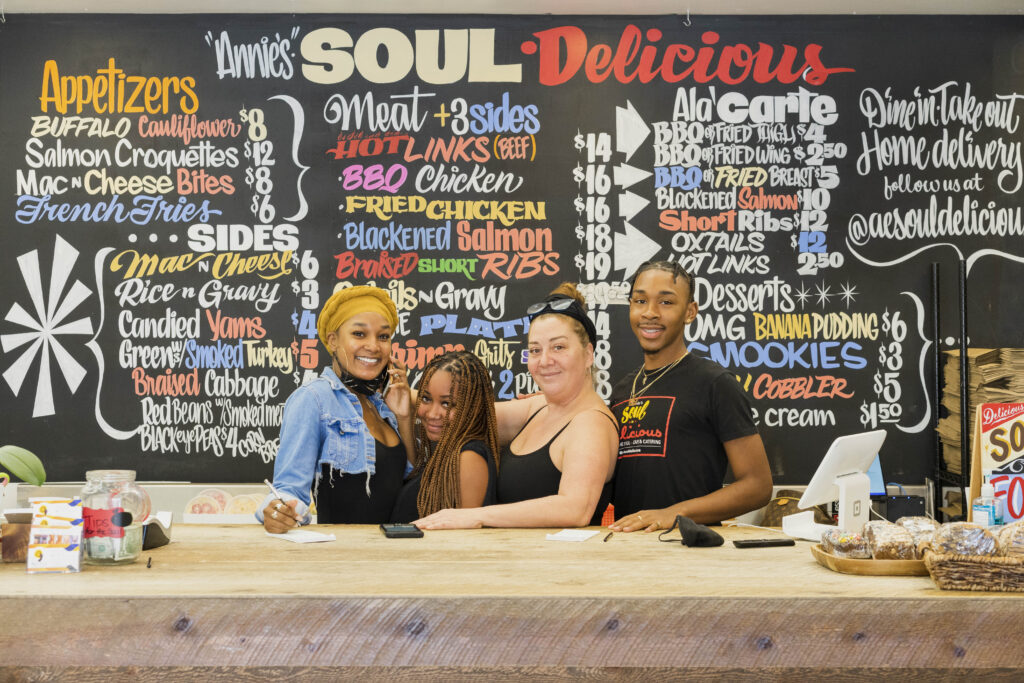 Due to COVID-19 restrictions, Soul Delicious has remained open for take out and outdoor dining.
A walk today through Little Ethopia is a vision of a diverse, food inspired community that continues to grow."When I started Soul Delicious it was all about love," Johnson said. "We don't care much about anything else. I'm at the point in my life that I get to do what I love and get to be who I want to be, and if people get to know me they will know that it comes from the heart out of love for the community."