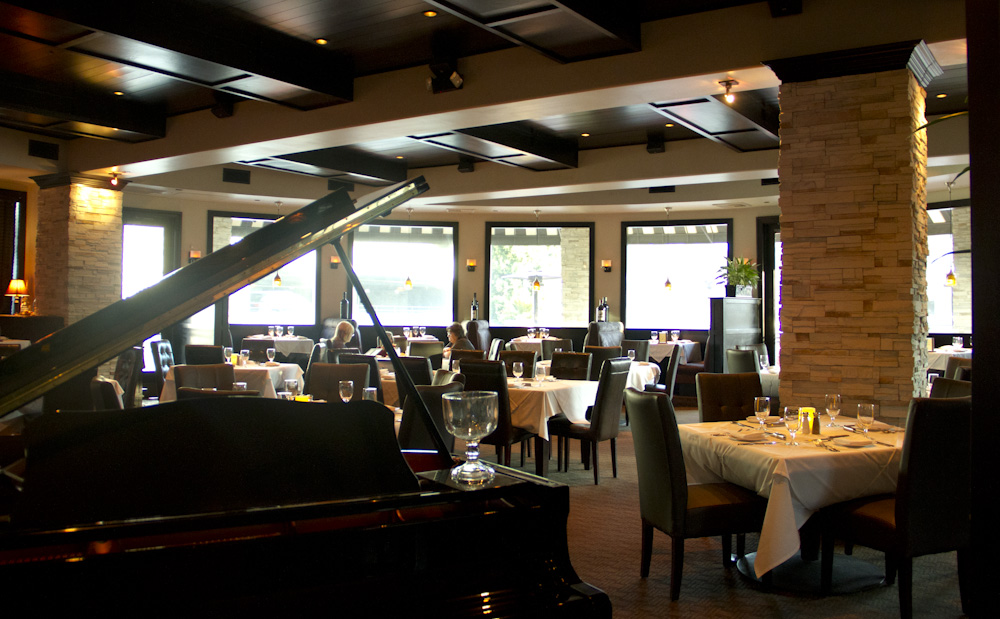 Written by Chaez Pearson
In the heart of Valencia is a street called Town Center Drive where the majority of the town's entertainment takes place. This street has a mall, movie theater, luxurious gymnasiums, a plethora of smaller shops, as well as some of the best restaurants. At night, the neon lights up and the city center's atmosphere is like no other. It attracts a great number of people to the nightlife to come relax at the local bars and eat some of the finest food. Even though places like Lucille's, Lazy Dog, BJ's, and Bucca Di Beppo are some of the standout eateries at Town Center Drive, Larsen's Steakhouse is head and shoulders above the rest.
Walk into this luxurious restaurant, where reservations are preferred, the guest is initially greeted by an outstanding ambience that includes dark wood, stacked stone walls, leather and suede booths, gorgeous chandeliers, and a pianist playing soothing melodies. All of this contributes to the elegant warm feeling that a guest experiences when walking into this steakhouse. Impeccable service, extensive menus, and an outstanding atmosphere all come together perfectly to make a great restaurant.
Inside Larsen's Steakhouse a guest can only feel like they truly belong only if they're dressed appropriately. A person shouldn't be wearing jeans and a tee shirt; the men for the most part wear some form of slacks or pressed pants, a collared shirt and formal shoes. Ladies could feel at home in a dress or even a classy blouse accompanied by a stylish bottom. This steakhouse almost screams for the customer to dress in a more formal manner just from the architecture and attentive staff greeting incoming diners.
Sitting down reveals a luxurious booth with flawless dining utensils waiting on the table. The server comes immediately to greet patrons, fills their glasses up with sparkling water, and asks if there anymore drinks that can be brought out prior to the ordering of appetizers and the main course. The server shows Larsen's extensive wine list, cocktail suggestions, and even favorite beers that can be served also.
The house Cabernet and Hefewiesen are good choices to go alongside the Spinach, Shrimp, and Artichoke dip appetizer. Served with toasted baguettes, the slices of spinach, shrimp, and artichokes are accompanied by a Cajun and honey mustard sauce for dipping. The cuts of shrimp are soft and perfectly cooked to melt in a person's mouth immediately upon entering, followed by a kick of unique taste. This appetizer alone could have easily fed four people.
The entrees are brought out in style and fashion by multiple servers in order to pin-point exactly what the guest needs to go with their meal. Being served by more than one person expedites the entire process and brings the meal to life for the guest.
A 12 ounce filet mignon with bernaise comes out, as well as salmon covered in lobster sauce. The sides of garlic mashed potatoes and creamed corn are also along for the ride. This meal is easily a contender for any restaurant goer's top five dishes. The way the filet mignon comes apart when bitten into for the first time is unforgettable. Salmon is prepared to perfection coated with the amazing lobster sauce which is outstanding.
The sides of the garlic mashed potatoes also taste great because the garlic was not so overwhelming that it took away from the dish. The creamed corn is also cooked extensively well because of the way it isn't too creamy in between each piece of corn. All of these dishes complimented each other well and made for a fantastic meal and dining experience.
Clearly this establishment is run well by some great individuals and the leadership must be great because the service from start to finish was very unique and positive. Go to this steakhouse at any time, especially for special events. It will definitely be a meal to remember.
Larsen's Steakhouse
24320 Town Center Dr. Valencia, CA 91355
Phone: (661) 288-1002
Hours: Monday – Thursday & Sunday @ 5 – 10 p.m.
Friday & Saturday @ 5 – 11 p.m.