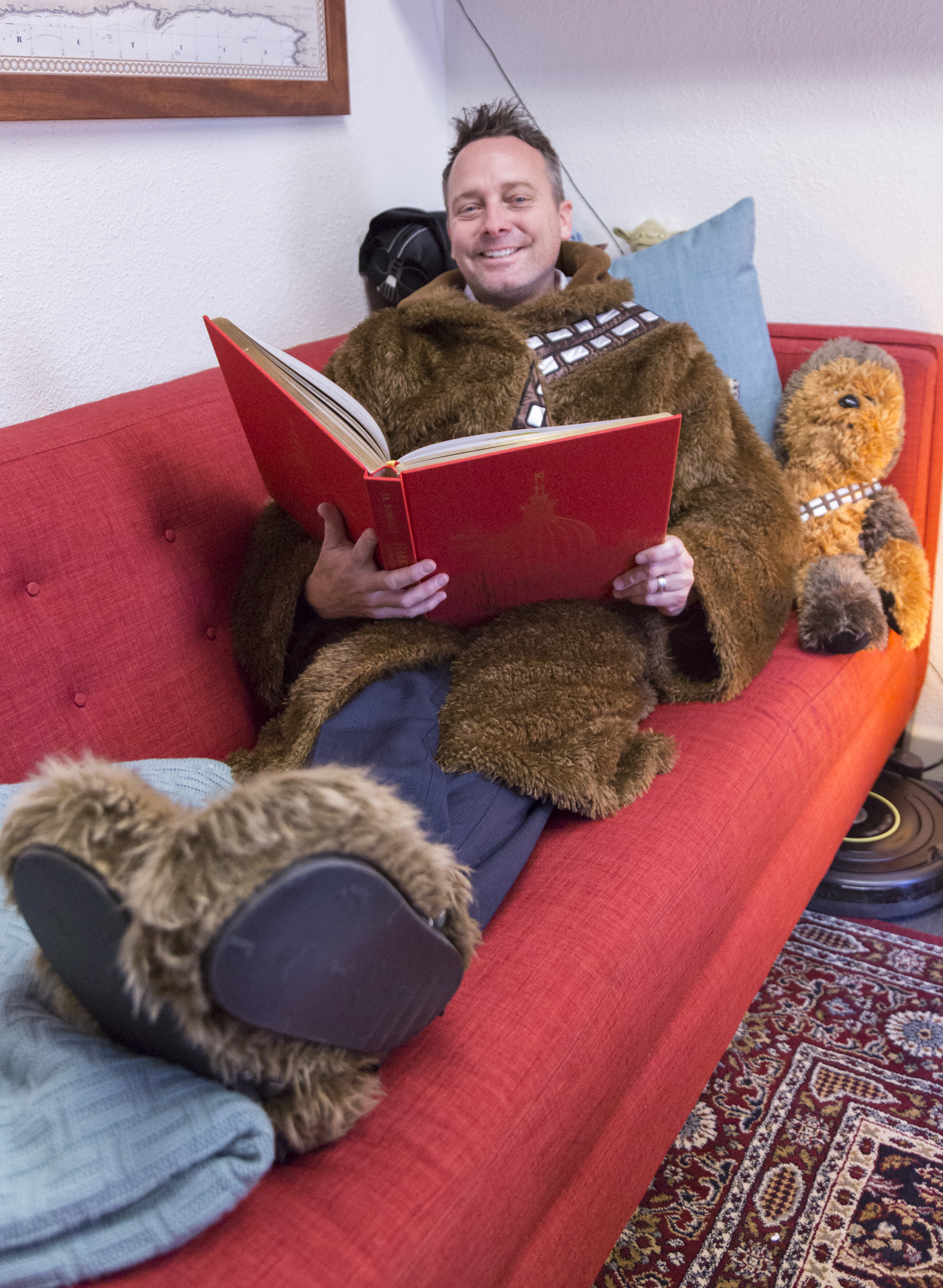 Perhaps you missed his office because it was obscured behind a brick wall with a sign reading Platform 9 3/4. Maybe you weren't looking for a train station leading to a magical institution, but the entrance to English instructor Mickey Harrison's office bears an uncanny resemblance to the place.
Harrison has only been a full-time instructor at Pierce College for a year, but has already made an impression on his colleagues and students. He was honored Teacher of the Year last semester.
"I was extremely surprised that I won Teacher of the Year, especially after only my first year as tenure faculty," Harrison said. "I think, first and foremost, I try to create an atmosphere where my students feel safe to speak their minds. I believe it's the culture I create in the classroom that gives the students the confidence to be the best people they can be."
Harrison is a self-proclaimed Harry Potter and Star Wars enthusiast, and his office certainly shows that.
Shelves filled with several versions of the Harry Potter series trace the perimeter of the square room above, from the American and British versions to the Russian and Japanese translations.
Hidden in the room are other fan artifacts such as the Sorting Hat from the Harry Potter series and a life-sized BB-8 from the Star Wars series.  
Kate Sobejko who has only taken one class taught by Harrison, children's English literature, said that she enjoyed the class because of how relatable Harrison's interests are to her.
"I absolutely love that he's into some of my favorite fandoms," Sobejko said. "He loves to show how much he loves them and he references them a lot during class."
She said she would like to take more classes with him but that, because she is an English major, she has already taken most of the lower-level classes he teaches each semester.
"He is very fun, outgoing and helpful. He makes the class very relevant and fun to be in,"  Sobejko said. "He's very knowledgeable about the books he reads and he loves the subject."
Maria Nunez, an English major applying to transfer to UCLA this semester, took the same English literature class as Sobejko and has been in contact with Harrison for help with her UC transfer essays.
"He's helped a lot of students with their personal statements and I know he really cares about helping his students get to where they want to be," Nunez said.
Harrison received his bachelor's in English from UCLA and has helped many students apply and gain admission to that university.
Now a full-time instructor at Pierce, Harrison is concurrently going for his doctorate in English at Pepperdine University.
A student himself, Harrison understands the importance of establishing a personal connection with instructors and professors in a college setting. Harrison thinks that creating a dialogue in, out and between the classroom helps students become well-rounded individuals.
"I try to create trust with my students. I think face-to-face interaction with students, as opposed to getting an education online, is something that students are longing for," Harrison said. "They want certain personal relationships."
Sobejko recalls Harrison's classroom setup and instruction as rather unique compared to most classes at Pierce.
"What I try to do in my classroom, more than anything else, is how to argue about issues, not argue with individuals," Harrison said.
According to Sobejko, the classroom was set up in a circular formation to encourage participation and discussion between students.
Each section of the required reading for children's literature was taught and presented by the students. Each group would print out handouts that contained discussion questions and activities for the class.  
"His class is very discussion-based and that's very good because you all get to put your input about the works. He's always there to help if you need it," Sobejko said. "I really enjoyed his class. He's very kind, understanding and smart."
According to Sobejko, Harrison was informed of his win for Teacher of the Year, during the children's literature class and was given a warm round of applause from his students.
"I think he won becauses he's very charismatic, honest, and he clearly shows that he loves his students," Sobejko said.