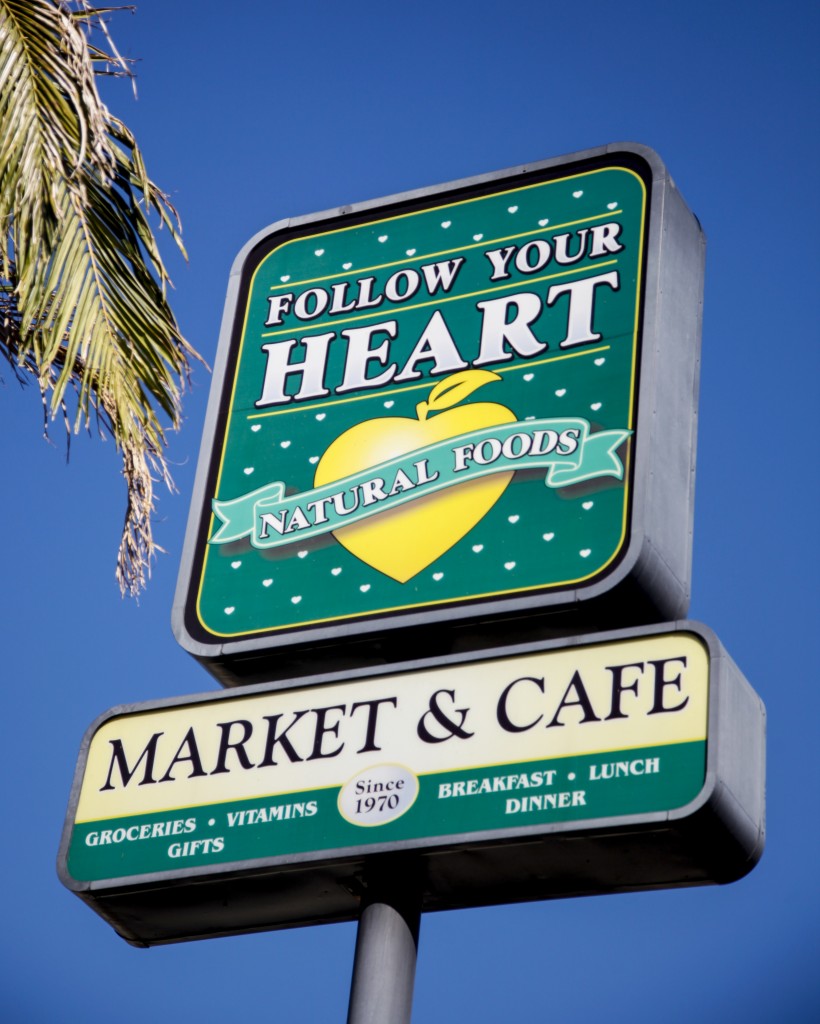 Written by Jeremy Nation
Passing the threshold from the busy street gives an impression of being inside a small snobby place in New York. Inside a niche health food store, one might be surprised to find Follow Your Heart's restaurant section nestled away in the back where a more adventurous shopper might pick up some fermented kombucha tea or raw milk. Come here ready to spend a lot of money on some carefully selected vegetables. The narrow aisles seem to be full of the smell of exotic spices and aromas which would be at home in any Mediterranean cupboard.
Bodega changes to Bedouin camp inside the actual restaurant. Clearly the aroma in the store issues from the kitchen exclusively. Walls are lined with various crystal lamps; selenite, amethyst, and himalayan salt add to the holistic medicine vibe. A local artist's work is on display, their paintings marked down to $190, an end-of-summer sale. Beyond the wall people shop for their specialty foods in relative isolation to the restaurant goers, but they all seem to coexist in a very easy going way.
It's hard to interact with the staff of Follow Your Heart and not feel like they totally buy into what this store is about; healthy, quality, vegetarian cuisine. Founded in 1970, Follow Your Heart has served a growing vegetarian community culminating in their own line of vegetarian foods. The restaurant commits itself to ethical social and environmental synergy, and it shows. The staff is almost eerily friendly, making for attentive service, including constantly monitored water refills.
The cornbread appetizer comes with a choice of vegan butter, indiscernible from regular butter and a necessary component to a dry menu item. If properly married however, the vegan butter and cornbread go quite well together.
Up next is "Evi's Vegan Special," comprising of delicate squash filled with quinoa with orange, and pomegranate pilaf topped with a citrus sauce, alongside curried cauliflower, green beans, peas and tomatoes complementing marinated and broiled Chinese eggplant with a side of chickpeas tossed in kale and avocado in a creamy ginger dressing. This is too much food to eat in one sitting, so expect leftovers.
The meal also comes with a salad which is un-tossed, forcing the patron to mixed it to be palatable. A large quarter of tomato isn't easy to cleanly cut into bite sized pieces with the available butter knife, leaving something to be desired in a major way, for the price of the food.
The flavors of the main entree work together for the most part. The pilaf's smokey sweetness melds well with the citrus sauce over the quinoa for an altogether pleasant taste. The squash is also sort of sweet and soft, so overall it stands alone. Unfortunately, standing alone on a plate with three other items doesn't fit the whole synergy vibe of the restaurant. It's easy to keep going back after the green sauce over the Chinese eggplant, and even better, the chickpeas and curried cauliflower follow in tradition, bringing the smokey flavor all around. The only thing that baffles is the sweetness of the squash; while the squash should be the star of the dish it's actually lost in the medley which the other items achieve on the plate.
Some might not find vegetarian cuisine to be comfort food and their wallets are going to agree with them. For what it's worth, however, the food is absolutely delicious, and some of the more carnivorous folks out there might find their taste buds in for some welcome culture shock at the hands of Follow Your Heart's chefs.
Corn Bread $2.75
Evi's Vegan Special $14.95
Leftovers: 7/10
Follow Your Heart
21825 Sherman Way Canoga Park, CA 91303
Phone: (818) 348 3240
Hours: 8 a.m. – 9 p.m.
Weekend Brunch: 8 a.m. – 3 p.m.