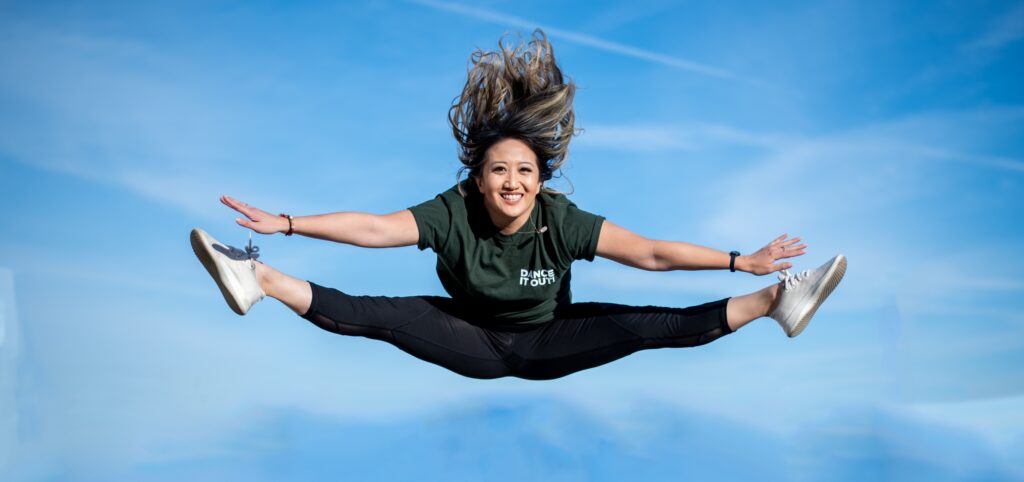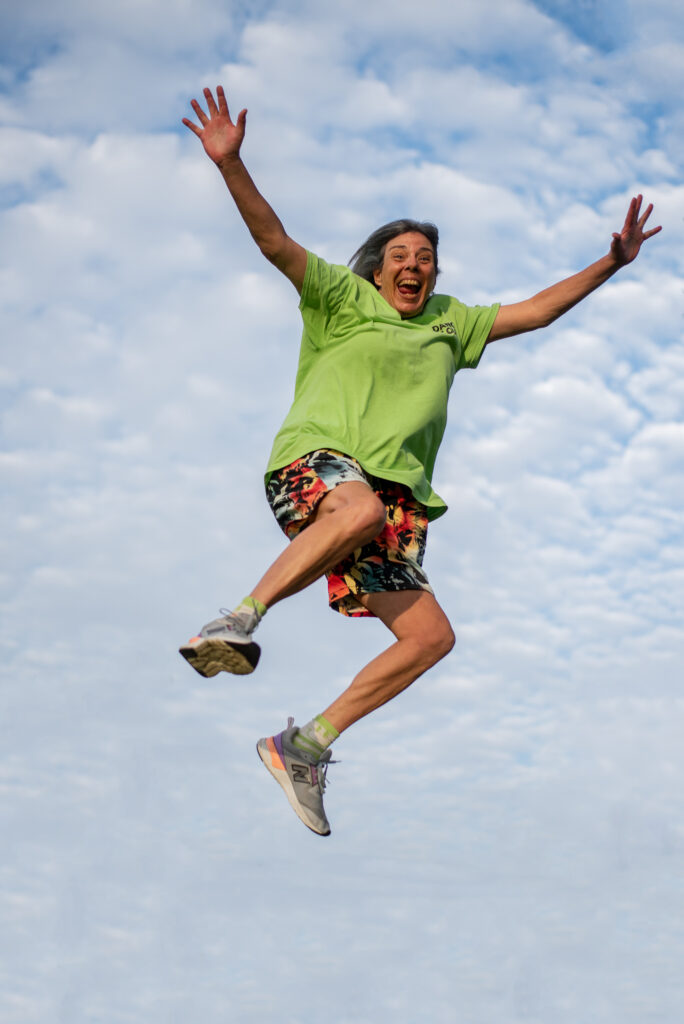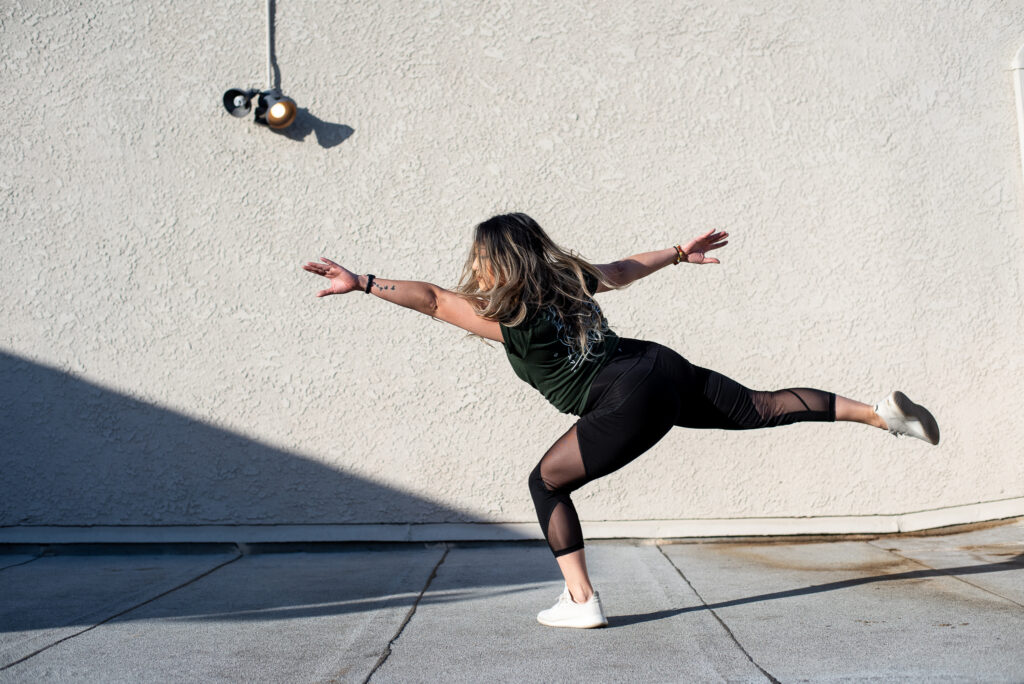 Inhale, exhale.
Inhale, exhale.
Inhale, exhale.
The dancers then bring their clasped hands from the top of their head down to their heart.
With that, as it has for years, the class ends.
Kellie McKuen said when she first did this move, it felt magical and ancient.
"It feels like we're still all joined even though some of us aren't there," McKuen said. "The ritual had been passed down to us and we learned it, and now we pass it on to others."
McKuen attends classes at Let's Dance It Out, a dance studio offering therapeutic movement classes that mainly works with people with special needs.
McKuen, 58, has been going to Let's Dance It Out for 20 years. She said attending the classes has helped her with one of her biggest challenges—walking through a crowd of people.
"I'm able to choreograph my way through a huge crowd," McKuen said. "I've even had agoraphobia and I've managed to work my way through it. It's not so much that I've overcome it. I've learned how to manage it by looking at it in a dance therapy sort of way. When I'm in dance mode, it's a lot easier to more gracefully find my way to maneuver through it."
McKuen said being in dance mode fills her with positive energy and joy.
"I never feel alone," McKuen said. "I always feel like my dance family is around. So it's an awesome feeling."
Before she started taking the classes, McKuen said she was introverted and shy and had a difficult time connecting with others. She's most grateful for the interpersonal skills that Let's Dance It Out has taught her.
"Just in the last decade I've learned how to make and sustain very positive, loving and very valuable friendships," McKuen said. "I didn't really understand how to talk. I didn't really see the purpose in it. And now that I actually can, I'm so grateful and happy with my life every day with not having to enjoy my life all alone. I have others that I've known for many, many, many years sharing all these wonderful experiences with."
The classes have grown her self-esteem and helped her to embrace being on the autism spectrum.
"I've now learned to embrace having an autistic spectrum disorder," McKuen said. "I don't think of it as a disorder. I feel that it's a positive difference and I would like people to know that I think it's beautiful, the differences we have."
Let's Dance It Out was originally called Dance for All. Dance movement therapist Kathy Cass co-wrote the curriculum for the program.
She said the program is transformative and recalled a time when she worked in a psychiatric hospital and witnessed a change in a patient. The man would come to every class session disheveled and depressed and stay in the corner of the room.
But by the end of his hospital stay, he was helping lead the class. He would initiate movement and encourage group members to do the same.
"He had this twinkle behind his eye and he was able to move and stretch and kind of play with others in the group," Cass said. "He was little by little embodying being a leader and being a supporter of others, which was so inspiring to see."
Cass said in addition to the internal effects on the dancers, these classes also impact people's interactions with others.
"It's not just what happens in the room," Cass said. "It's how that glow, that joy, that shift affects their relationships as well. So there's this lovely ripple, the butterfly effect."
McKuen has experienced this shift and has been able to create "a beautiful alliance of friendships" with people outside of the dance studio.
"I'm still awestruck by it," McKuen said. "I really didn't understand how much I was missing out not having it until I had it. I'm so grateful to all my friends."
McKuen said the classes, such as those that focus on empathy, would be beneficial not only for people with developmental issues.
Vicki Alvarez, co-creator and program director of Let's Dance It Out and a postgraduate dance movement therapist, noticed progress in McKuen during a class about empathy.
"She joined the meeting, and she got really upset," Alvarez said. "And she was able to self regulate on her own and started to realize, 'No it's not just my emotions involved. There's other people around me, and I'll have to be aware of that.' And she brought that in with us during a staff meeting one time and was just telling us, 'I've learned so much in this curriculum and it's really helped me in my own life.' And that was just so heartwarming. I got tearful when she told us because it was such a beautiful moment."
Alvarez runs the program with Clorinda Rossi-Shewan, lead facilitator at Let's Dance It Out and a licensed psychotherapist. Both with backgrounds in professional dance, they have been running the program since 2016 and were the ones who rebranded Dance for All as Let's Dance It Out.
According to Rossi-Shewan, a typical session begins as such:
After the dancers greet each other as they come in, a roll call is taken and the dancers answer the question of the day—"what's your favorite color?" or "what did you do last weekend?" for example. Then, they do a warmup and instructors introduce the theme of the day. Dancers will take turns expressing the theme. Finally, there is a cool down with relaxation and a goodbye dance from each dancer.
Rossi-Shewan and Alvarez sometimes base the themes of the classes on what's going on in their lives.
"One of the classes I created together with Vicki was about self care because during that time in my life, I felt like there wasn't a lot of that and I was very stressed," Rossi-Shewan said. "So how can I explore that and be there for myself and take care of myself? That's how I incorporated what was going on with me."
Alvarez said bringing her experiences into class ends up helping her in addition to helping the dancers.
"We're inspired to create classes because of our own experiences," Alvarez said. "When I had created one of those empathy classes, it was being able to see how other people feel and how can we embody that in a way that's not just a verbal conversation. It comes out all the time. All of the things that I've gained from this class and the experience I've had with the dancers and their responses, it totally helps me with being able to facilitate in other places in my life."
According to Alvarez, the curriculum's objective seeks to promote social, behavioral and cognitive skills. The dancers work with one another and practice interpersonal communication, identify their feelings, problem solve and make decisions.
Currently all the dancers are adults with the youngest in their twenties and the oldest more than 50. Classes that normally happen in their Santa Monica studio are now on Zoom because of COVID-19, but some dancers haven't been able to transition to online classes.
Rossi-Shewan said her favorite thing about the program is how everyone involved has become like a family.
"The dancers themselves have given us so much," Rossi-Shewan said. "It's such a loving, caring environment that sometimes I go in on a Saturday and I'm so tired from my week and I leave with a smile on my face because they're just so pure and just excited to be there. To have fun with them just fills your heart with joy."
These classes are different from dance therapy sessions, according to Cass. Dance therapy involves looking at an individual's diagnosis and working toward a goal of healing instead of setting up a lesson plan. It is provided in hospitals, schools and nursing homes and can be used to help people with psychiatric issues.
Cass said the most rewarding part of her work is its transformative effect.
"So there's this connection with people that you don't necessarily get to see and feel, the difference in people from before they walk in the room," Cass said. "They move and they breathe, and they play and then create together. And when they leave, you can see the difference in their posture, they're breathing deeply, their gaze has changed. This is profound."
Cass said the most special thing about dance therapy is the relationship that can be built between people.
"You don't need the language all the time," Cass said. "The nonverbal connection, it cuts through so many of the defenses that you can become closer, deeper connected with people in a way that it's just amazing. And that's why you can work with people who are non verbal, people with Alzheimer's or people who are on the spectrum. So the ability to connect and to elicit joy—it's just incredible."