Kevin Slackie/The Bull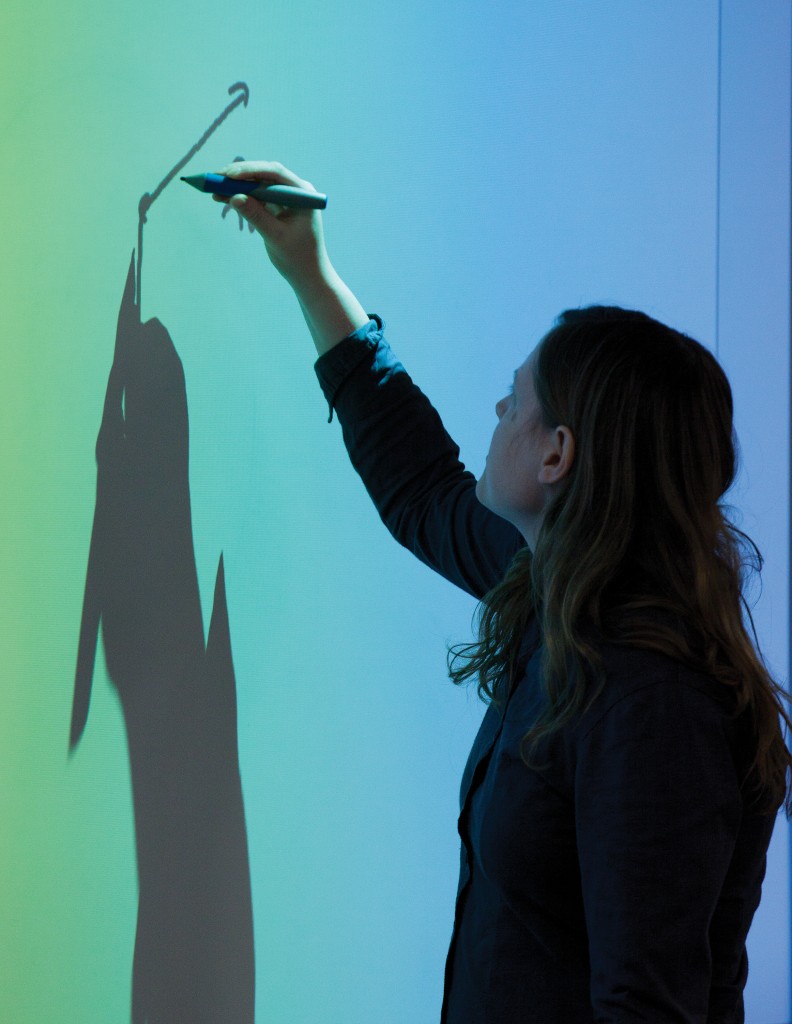 Pierce College is under construction in more ways than one. A group of teachers calling themselves the "Smart Classroom Taskforce" are striving to make a difference in every classroom at Pierce.
Bill Duxler, David Schamus, and Bob Martinez helped create the "North of Mall" project. The project you've already seen going underway is not just rebuilding, but in fact creating state-of-the-art 'SMART' classrooms.
These SMART Classrooms have three components: There is a computer, a SMART Board and survey system. The three connect together to provide what Bill Duxler, Pierce College's Chair of Physics and Planetary Sciences Department, hopes will revolutionize the way teachers will be able to present material to their students.
Students don't have to worry about the boards costing them a dime either. "The SMART Classrooms have been paid for by tax payer approved bonds, so any rise in tuition is the state's deal," says Mark Henderson, Pierce College's IT Manager. The "North of Mall" project doesn't end at its namesake either. The Smart Classroom Taskforce (SCT) hopes to make every classroom on the Pierce campus a SMART Classroom. So just how do these classrooms work?
One thing that has always seemed to elude technological advancement is the whiteboard. They became popular in the 1990s and have seen no advancement since. Even that was an improvement over blackboards, which were first introduced in
1801.
This is where the SMART Board comes in: It connects to a computer and overlays the computer's screen onto a touch screen. This opens up many possibilities for teachers.
"We have a demonstration SMART Board in one of classrooms for the faculty, and every teacher that uses it is excited afterward," said Duxler. This is because of the staggering amount of features the board has.
The SMART Board's main attraction is that it combines a white board, projector and computer. Having the Internet readily available for a teacher to use is a small feature for the smart class. A teacher will be able to save anything they put onto the SMART Board and send it to Modular Object Oriented Dynamic Learning Environment, also known as Moodle. Moodle is essentially an online extension of a classroom, which many students are finding useful. "I use what my teacher puts on Moodle all the time," said Oscar Gonzalez, a physics 6 student.
Don't think that this gives a student a free pass to miss class, as Pierce is not legally permitted to have the audio from a class on its website without closed captioning, according to Schamus, an assistant professor in Pierce College's Computer Science, Information and Technology Department. The SMART Board's other features are still impressive.
The SMART Board can use its own software alongside anything that is already on the computer. This means that not only can teachers still use PowerPoint and Word, but they can also implement the dynamic SMART software.
This software allows someone to draw a diagram on the SMART Board with a special pen or even with their finger. These special pens don't use ink and don't smell like dry-erase markers.
SMART Boards are not only technologically advanced, they are also better for the environment than their predecessors. The pens used with the SMART Board are only there so you can still make the right motions when writing. There's no chalk dust or marker fumes, and no markers means no marker solvent evaporating into the atmosphere. Students with dust allergies don't have to worry about the SMART Board either. Aside from dust, the SMART Board stays relatively clean as well.
According to Schamus, all it takes to run the SMART Board is already present in almost every classroom at Pierce. The only necessary addition is the SMART Board itself and some software. Sadly, the SMART Board uses more electricity than its forbearers but less physical resources; that alone makes the SMART Board more eco-friendly. Just being "green" is not enough for the SMART board to edge out its competition.
Duxler held a demonstration for the SMART Board to show how easy it is to use. Everyone who tried the SMART Board knew how to use it in 10 minutes or less. Margaret Wessling, a Physics 6 instructor at Pierce, said that it makes teaching easier. One of Wessling's favorite features is the Clicker Response System. With it, Wessling can ask her students a question and get their answers back anonymously and in real time. This allows her to see if her students understand the content being taught.
Students who have classes with the SMART Board also agree that it is a step forward. "It does make the class easier because she can always go back and put new things and then save it and email it to us," said Ani Jehidzian, one of Wessling's students. This feature was a favorite amongst most of Wessling's students, however, the students did find a few drawbacks to the SMART classroom.
The major complaint on the SMART Classroom was that the board is tiny. With classrooms having as many as four white boards, the downgrade to just one seems steep. For now, the SMART Board at Pierce is a test of sorts. The SMART Boards at Pierce will measure 6.5 ft × 4.2 ft.
The other problem with the SMART Board is that it is bound to a single function at any given time. This can feel limiting to teachers who are used to having a white board display some information while they provide the rest via projector. The SMART Boards that Pierce will have can have two people work on them simultaneously, which would address the problems students have with the current SMART Board.
According to Duxler, "Pierce College students are going to have some of the most advanced, beautiful SMART Classrooms that any student could have anywhere in the country."