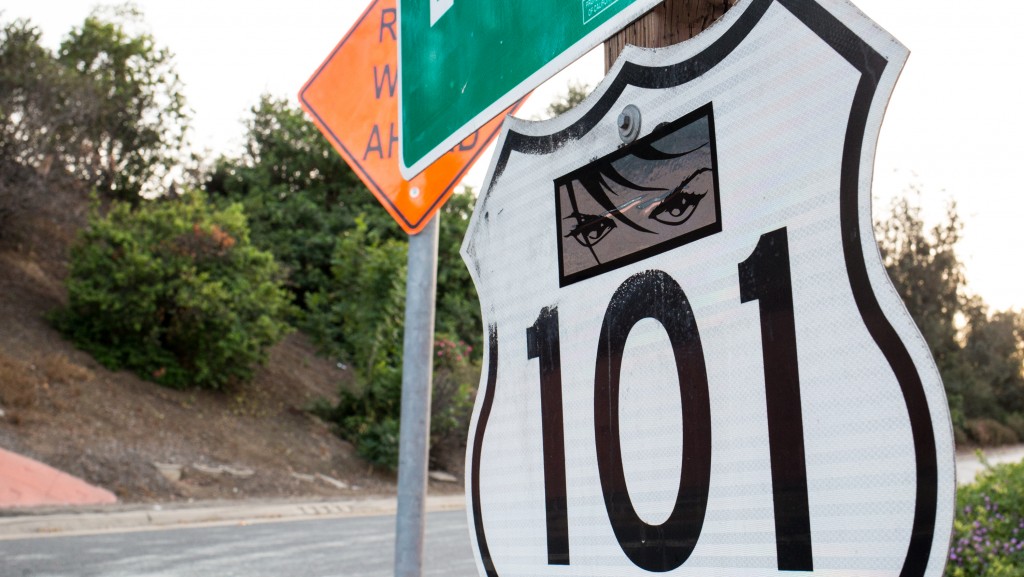 Half of the crew slinks to the site with their tools while the other half keeps eyes on the surrounding area. If any security or police show up they'll have to make a quick getaway. The location has been scouted ahead of time, the preparations have been made and the time has come to execute the plan.
Be it art or vandalism, All Aspects Apparel takes daring and controversial approaches with their "eyes" logo to promote their brand and ideals.
"The eyes are something mysterious," said Jeremy Lieber about the company's logo. "You don't know if it represents something bad or good."
Provoking thought has been the prominent focus of the San Fernando Valley clothing company since its inception in 2010.
"The posters aren't there to sell t-shirts," Lieber said. "It's there to make you question what am I doing and why am I doing it and what am I looking at and why am I looking at it?"
The tight knit group met in the Valley at Granada High School, and started printing shirts for fun.
The idea of All Aspects, however, first flourished when the group decided to make senior class sweaters and t-shirts.
"The school did make their own sweaters, but we made ours and far more people wore ours," said Lieber, who has been dubbed the mastermind behind the label.
Today, All Aspects ships regularly across the country and recently began to expand into the international market, according to Liber. As the company grows, popularity doesn't seem to be the immediate goal.
According to the group, catering to creative thinkers and obtaining followers toward their movement is what they're really after. The street art that accompanies their brand helps attract those thoughtful enough to seek it.
Using a simple yet enticing logo, All Aspects has made their mark on the streets of Los Angeles and has even stretched the coast of California, the biggest of which is a large poster seen off the 5 Freeway close to Downtown.
"That one is up next to Obey's. The cool thing is their recent catalog has a picture of their poster with our eyes still up there," said Sam Fischer, another member of All Aspects.
The process is a lot more organized then one might think. It all starts with reconnaissance, followed by rough measurements, printing and execution. During the installation, a small group works on the piece while others keep watch in a car.
The crew maintains constant communication in case of any trouble. And there are most definitely close calls.
"Cops don't care what your intentions are," said Fischer. "They just want to arrest you for graffiti or vandalism."
Whether it's wrong or not, the All Aspects crew think of what they do as art first and foremost.
Street art goes back to the cavemen, according to David Blumenkrantz, a photographer and visual communications professor at CSUN and Pierce. Paintings have been found dating back 40,800 years where man has made his mark with handprints and drawings of animals on cave walls.
"What you've seen in more recent years is commercialization of it a little bit," said Blumenkrantz. "These guys are straddling the line between being rebellious guerrilla artists and also marketing their image."
It's a risky venture, but seems to be working. With their subliminal advertising, the reward outweighs the risk.